Republicans Win Majority of Governorships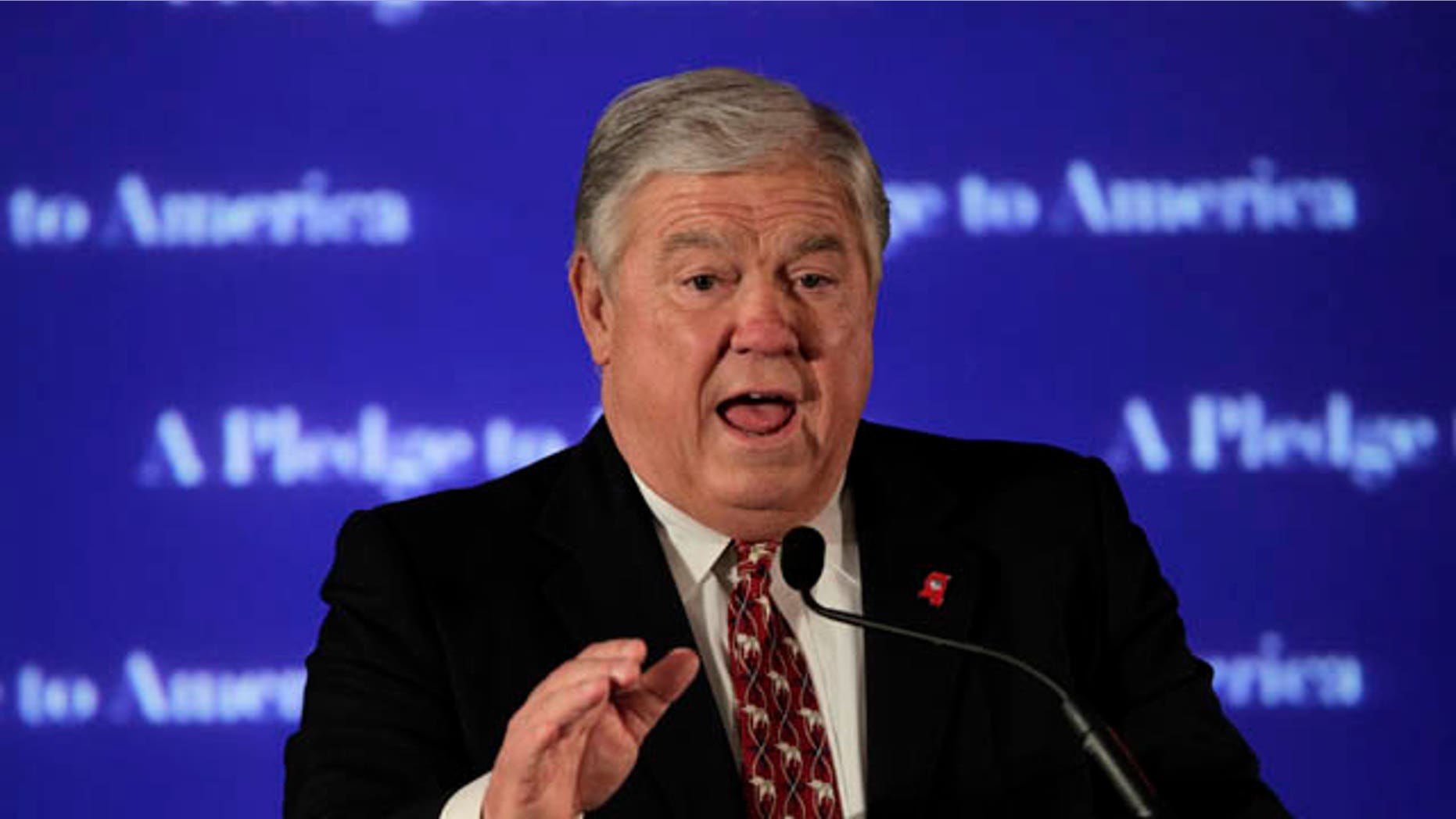 The Republicans won the House, the Democrats kept the Senate, and the GOP won the tiebreaker, capturing a majority of the nation's governor mansions.
Republicans on Tuesday wrested control of at least 10 statehouses from Democrats as they rode an anti-incumbent wave that will give them more than 30 governorships.
Democrats controlled 26 of the 50 statehouses before Tuesday's election, and Republicans needed to win 20 of the 37 contests to seize a majority. They won in Pennsylvania, Michigan, Tennessee, Kansas, Oklahoma, Wyoming, Iowa, New Mexico, Ohio, and Wisconsin -- all of which currently are run by Democrats.
"Four years ago, Republicans controlled just 22 governorships," said Mississippi Gov. Haley Barbour, chairman of the Republican Governors Association. "The fact that we've already reached a majority tonight is a testimony to the four-year plan our governors and staff developed and executed.
"Republicans won historic victories in statehouses across the country tonight because voters are tired of the out-of-control spending and expansive growth of government," Minnesota Gov. Tim Pawlenty, the RGA's vice chairman, said in a written statement. "Only two years after President Obama's sweeping victory, voters have strongly rejected his administration's job killing agenda. These governors-elect will fight for fiscal sanity. I congratulate them on their tremendous victories."
Democrats were able to point to a few bright spots, including key gubernatorial victories in California, New York, Massachusetts and Maryland.
In California, Jerry Brown won his old job back by defeated billionaire businesswoman Meg Whitman.
In New York, Andrew Cuomo surged past Tea Party Republican Carl Paladino to win the the same post his father, Mario Cuomo, had held two decades ago.
In Massachusetts, Gov. Deval Patrick, won a second term, defeating Republican Charles Baker and two other candidates. Patrick and Obama share Chicago roots and Harvard Law degrees, and national Republicans tried hard to topple him.
Maryland Gov. Martin O'Malley withstood a hard-fought challenge from his predecessor, former Republican Gov. Robert Ehrlich. And New Hampshire Gov. John Lynch and Arkansas Gov. Mike Beebe, both Democrats, were also re-elected.
Denver's Democratic mayor, John Hickenlooper, was elected Colorado governor despite a challenge from both Republican challenger Dan Maes and immigration hard-liner Tom Tancredo, a former Republican House member. Hickenlooper replaces Democratic Gov. Bill Ritter, who did not run for re-election.
But in other races, Democrats weren't as successful.
In Democratic-leaning Pennsylvania, Republican Tom Corbett defeated Democrat Dan Onorato to replace Democratic Gov. Ed Rendell, who was term limited.
In Michigan, Republican businessman Rick Snyder, who vowed to turn around the state's devastated economy, defeated Lansing Mayor Virg Bernero, a Democrat. The current Democratic governor, Jennifer Granholm, did not seek re-election.
In Ohio, another closely watched race, and one of the fiercest, Republican Jon Kasich, a former chairman of the House Budget Committee, defeated Democratic Gov. Ted Strickland.
In New Mexico, Republican Susana Martinez became the first Hispanic woman to become a state's chief executive. She will succeed Democratic Gov. Bill Richardson, who could not seek re-election because he was term-limited.
In Oklahoma, U.S. Rep. Mary Fallin, a Republican, became the state's first female governor. She defeated Democratic Lt. Gov. Jari Askins to replace term-limited Democratic Gov. Brad Henry.
In Tennessee, Republican Knoxville Mayor Bill Haslam defeated Democratic businessman Mike McWherter to win the state's open governorship. Democratic Gov. Phil Bredesen was term-limited and could not run.
In Kansas, conservative Republican Sen. Sam Brownback defeated Democratic state Sen. Tom Holland to win the governorship. Democrat Kathleen Sebelius was elected in 2002 and again in 2006 before joining Obama's Cabinet as secretary of health and human services. Lt. Gov. Mark Parkinson replaced Sebelius but did not run for a full term.
In Wyoming, former U.S. attorney Matt Mead, the Republican nominee, defeated former state Democratic chairwoman Leslie Petersen. And Republican Utah Gov. Gary Herbert won another two years in office
A Tea Party-backed South Carolina Republican, state Rep. Nikki Haley, was elected to replace term-limited Republican Gov. Mark Sanford. Haley won over state Sen. Vincent Sheheen.
In a high-profile race for which both parties spent millions, Texas Republican Gov. Rick Perry, who has already served 10 years, defeated Democrat Bill White, a former mayor of Houston.
South Dakota's Republican lieutenant governor, Dennis Daugaard, defeated Democratic challenger Scott Heidepriem to succeed term-limited Gov. Mike Rounds, keeping the seat in GOP hands. Alabama also remained in the Republican column as state Rep. Robert Bentley defeated Democratic nominee Ron Sparks. Republican Gov. Bob Riley is term-limited.
In Nebraska, Republican Gov. Dave Heineman was easily re-elected over the Democratic candidate, lawyer Mike Meister.
Both national parties spent heavily on the race. The Republican Governors Association said it spent $102 million this year, roughly half of it in 10 states it deemed crucial to the 2012 presidential contest: Arizona, Colorado, Florida, Iowa, Michigan, Nevada, New Mexico, Ohio, Pennsylvania and Wisconsin. The Democratic Governors Association spent roughly $50 million.
The Associated Press contributed to this report.