Republicans Win Governor's Races in New Jersey, Virginia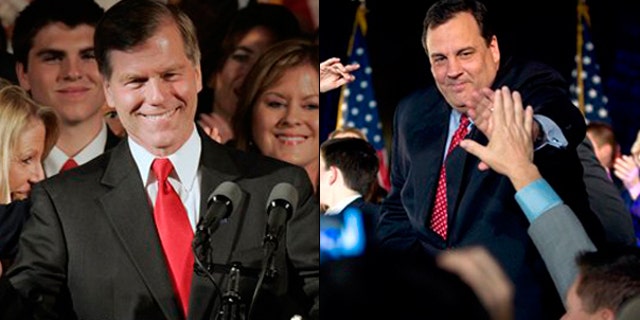 NEWYou can now listen to Fox News articles!
Republicans swept to victory in the New Jersey and Virginia governor's races Tuesday, scoring a pair of decisive wins in states that voted for President Obama a year ago.
The Democrats were able to prevent a shut-out, though, pulling out a narrow victory in a closely watched congressional election in upstate New York. Democrat Bill Owens beat Conservative Party candidate Doug Hoffman in that race.
The Republican victories nevertheless marked a potential turnaround after two consecutive cycles of midterm losses. In New Jersey, Republican Chris Christie beat out Democratic Gov. Jon Corzine, even though Obama campaigned heavily for the incumbent in the closing days of the race and the state has not elected a Republican governor since 1993.
In Virginia, Republican Bob McDonnell beat Democrat Creigh Deeds by a huge margin, heading up a successful GOP ticket. McDonnell's victory ends eight years of Democratic control of the governorship.
The victories could spell trouble for Democrats' legislative agenda in Washington and stand as harbingers of GOP gains in the 2010 midterm elections. Republicans claimed the races Tuesday served as a collective rebuke of Democrats' policies on Capitol Hill and at the White House.
Democrats, though, dismissed such readings. The races also turned heavily on local issues.
In the Garden State, Corzine had suffered from low approval ratings, stemming in part from voter discontent over high property taxes.
In his victory speech, Christie said the state was "in a crisis."
He added, "Tomorrow, together, we begin to take back New Jersey."
With 99 percent of precincts reporting, Christie had 49 percent and Corzine had 45 percent. Independent candidate Chris Daggett trailed with 5 percent.
The crowd chanted Obama's 2008 campaign slogan, "Yes we can," as Christie took the stage.
Corzine earlier called the race a "long, hard-fought campaign" in his concession speech and pledged to ensure a smooth transition.
In Virginia, the Republican had been favored to win the race after leading by double digits in almost every pre-election poll. The race hinged in large part on economic concerns -- McDonnell pitched himself to voters as the "jobs governor."
With all precincts reporting, McDonnell had 59 percent and Deeds had 41 percent.
In his victory speech from Richmond, McDonnell pledged "actions and results" over the next four years, promising to pursue job creation while keeping taxing, spending and regulating to a minimum.
"We will leave Virginia better than we found it," he said.
Republican Lt. Gov. Bill Bolling also won a second term Tuesday, defeating Democrat Jody Wagner. And Republican state Sen. Ken Cuccinelli was the winner of the race for state attorney general, beating Democratic state Del. Steve Shannon.
Republican Party leaders were quick to claim the victories as a sign that Americans are rebelling against Democratic policies in Washington. Republican National Committee Chairman Michael Steele said the victories marked a "clear rejection" of "tax and spend policies" in Washington.
"The Republican Party's overwhelming victory in Virginia is a blow to President Obama and the Democrat Party. It sends a clear signal that voters have had enough of the president's liberal agenda," he said in a statement.
The White House on Tuesday afternoon dismissed such speculation as "navel gazing," with Press Secretary Robert Gibbs saying the elections mean very little for the president's agenda or for the midterm elections. But the administration nevertheless intervened in all three of the closely watched elections held Tuesday.
Obama, who was the first Democratic presidential candidate to win Virginia in decades last year, campaigned for Deeds in Norfolk last week. But with Deeds continuing to trail, Obama shifted his attention to the New Jersey governor's race in the run-up to Election Day.
Deeds, a state senator, said in his concession speech Tuesday night in Richmond that he would keep "fighting." He said running as the Democratic nominee was the "biggest honor that I could ever have bestowed upon me."
Exit poll data suggests Deeds suffered from a lack of turnout among Obama's 2008 supporters. More voters who came out Tuesday said they voted for Republican John McCain in 2008 than Obama. However, Obama beat McCain by 6 points in Virginia last year.
The White House also intervened in New York's 23rd Congressional District race, and it may have paid off. Owens was declared the winner late in the night. With 88 percent of precincts reporting, Owens had 49 percent and Hoffman had 45 percent.
Democrats did a little bit of gloating on that race, despite playing down the meaning of the other two contests.
"The only competitive race that was really about the Obama agenda we won," Democratic National Committee spokesman Brad Woodhouse said.
The special election was held to replace John McHugh, a Republican who became Obama's Army secretary, and attracted national attention after Hoffman's third-party bid earned high-profile endorsements from figures like former Alaska Gov. Sarah Palin and others. His surging candidacy led Republican candidate Dede Scozzafava to drop out over the weekend.
Afterward, Democrats helped convince the former Republican candidate to endorse Owens. And Vice President Biden campaigned for Owens Monday.