Republicans Struggle to Hold On in New England Governors' Races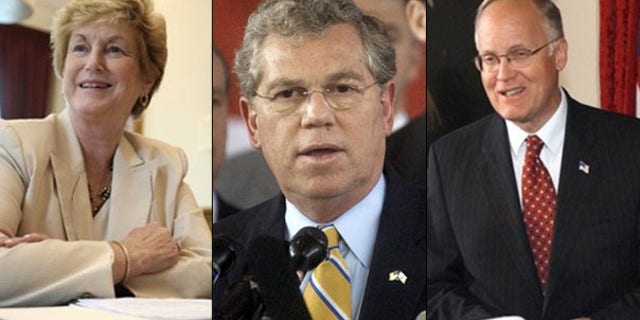 NEWYou can now listen to Fox News articles!
With a cold winter already under way, the frost could be setting in for Republicans trying to generate some political energy in New England.
After the region's last standing GOP representative in the U.S. House of Representatives was voted out in last year's congressional election, Republicans are facing down a tough set of governors' races in 2010.
The inhospitable climate is a product of bad timing as much as the Democrat-friendly nature of the area. While only one Democratic governor, John Baldacci in Maine, is leaving office next year, three New England Republican governors happen to be on their way out -- in Rhode Island, Connecticut and Vermont.
"We are certainly looking at pick-ups," said a confident Democratic Governors Association spokeswoman Emily DeRose. Incumbent Democratic governors in Massachusetts and New Hampshire can both run in 2010, and so far neither has backed out.
After Republican Connecticut Gov. Jodi Rell and Vermont Gov. Jim Douglas announced their respective retirements, the DGA named both states as targets in 2010. In Rhode Island, Republican Gov. Donald Carcieri is term-limited and so had been expected to leave, but Democrats are equally optimistic there, DeRose said.
The vacancies spell trouble for the GOP, since open seats in state houses across the country are thought to have a good chance of switching parties thanks to an anti-incumbency attitude among voters. Republican Gov. Arnold Schwarzenegger is leaving office in California and Gov. Tim Pawlenty is moving on in Minnesota, creating openings for Democrats. Likewise, Democratic Gov. Mark Parkinson is leaving in Kansas, creating a big opportunity for Republicans.
But the latest sign of GOP trouble in the Northeast comes out of Rhode Island, where the Republicans' only announced candidate dropped out of the governor's race earlier this month.
Jennifer Duffy, an editor with The Cook Political Report, said Republicans could face a total wipe-out in New England, though they do have some chances to keep a foothold.
"If these races had taken place in 2008, they'd all be gone, but it's still possible," Duffy said.
Political oddsmakers consider Democrats safe in New Hampshire and standing a decent chance at holding on in Maine and Massachusetts. Rhode Island, Connecticut and Vermont are considered either toss-ups or possible Democratic wins, depending on who is asked.
Going into the 2010 races, both parties say they're hopeful.
"I think New England is an incredibly promising area," DeRose said.
Rhode Island Republican Party Chairman Giovanni Cicione told FoxNews.com that Republican candidate Rory Smith's exit from the race was actually a good thing, since it cleared the way for other potentially stronger candidates to enter.
"He took a shot at this. He's new to politics. He didn't really know the ropes," Cicione said of the Rhode Island businessman, calling him a good contender some time down the road.
Given that Republicans have held the governor's seat in Rhode Island for the better part of two decades, Cicione called 2010 "incredibly attractive" for the GOP.
Complicating that race, though, is former GOP Sen. Lincoln Chafee, who is running as an independent. Chafee's impact is in the eye of the beholder.
Cicione said Chafee's playing to the left and will peel off votes from the Democratic candidate. DeRose said the opposite.
Elsewhere, David Avella, executive director of Republican recruiter GOPAC, said the known Republican candidates in Connecticut and Vermont are strong enough to keep the state houses in the GOP column. Republicans have Lt. Gov. Brian Dubie in Vermont. In Connecticut, Lt. Gov. Michael Fedele and others are running.
Avella said Gov. Deval Patrick could be taken down in Massachusetts as well. There are a slew of potential candidates in Maine, making that race tough for anyone, including Avella, to gauge.
Avella disputed the notion that Republicans are on defense in New England, especially given that voters have repeatedly shown their willingness to elect Republicans to the governorship despite the abundance of Democratic officials.
"We see a lot of opportunity in the northeast for Republicans," he said. "I think we are on offense."
The trend lines are tricky to read.
Based on past elections, 2010 should be a decent year for Republicans nationwide. Whichever party holds the White House typically suffers losses in the first mid-term election in Congress.
Republican wins in the gubernatorial races in Virginia and New Jersey last month were the first positive electoral signs for the party that's trying to find its way out of the political wilderness.
But the GOP presence in New England is tenuous.
With the defeat of former Connecticut Rep. Christopher Shays last year to Democrat Jim Himes, Republicans lost their sole representative from New England in the House.
Duffy said she'd be "surprised" if Republicans lose everything in the upcoming governor's races, but that their success depends in large part on not just the power of their candidates but the course of the Democratic primaries.
If the Democratic contests are particularly bruising, she said, Republicans might have an advantage.
"New England's going to be really interesting," Duffy said.