Republicans fear losing Senate, but so far Dems enjoy no clear advantage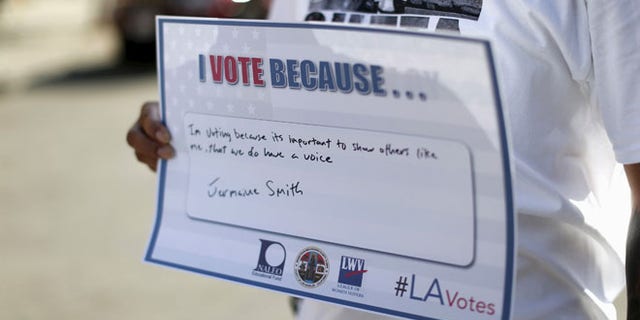 Republicans openly fretting about who in their crowded White House field can emerge to win the party nomination and beat Democrat Hillary Clinton has largely overshadowed their more private concern about losing the Senate this fall.
The GOP must defend 24 Senate seats in 2016, compared to just 10 for the Democrats. It is a situation Republicans started worrying about before the dust even settled on the November 2014 victories that gave them control of the Senate for the first time in eight years.
"There's no doubt about it, it's going to be a bigger challenge,'' Wisconsin GOP Sen. Ron Johnson, whom Democrats are targeting for defeat, lamented just weeks after the 2014 takeover.
And the situation will just get worse if Donald Trump wins the party nomination because Democrats will turn out in droves to help Clinton defeat him, some Republicans say.
"We could get our clocks cleaned," a GOP member of Congress recently told FoxNews.com.
However, political handicappers show no clear advantage in the races Democrats have targeted for victory. And the so-called Trump factor -- to the surprise of most Americans -- has so far failed to materialize.
Beyond Johnson, Democrats are targeting eight other Republicans up for reelection, in their bid in win a net total of four races and retake control of the upper chamber. (Democrats would need five if they lose the White House and the Senate tie-breaker vote that goes to the vice president.)
"Given the success we've had with recruiting really strong candidates in states where Republicans are vulnerable and by expanding the map and fundraising, we have a very strong possibility of winning the majority," Lauren Passalacqua, national spokeswoman for the Democratic Senatorial Campaign Committee, said Tuesday.
The committee, whose focus is to get Democrats elected and reelected to the Senate, has made a priority of defeating Johnson and fellow GOP Sens. Mark Kirk, Illinois; Rob Portman, Ohio; Pat Toomey, Pennsylvania; and Kelly Ayotte in New Hampshire.
And in an attempt to "expand the map" -- which means trying to become competitive in races with longer odds and to force Republicans to spend money in those states -- the DSCC is also targeting GOP Sens. Roy Blunt, Missouri; John McCain, Arizona; John Boozman, Arkansas, and the Florida seat being vacated by Sen. Marco Rubio.
Still, Democrats don't have the edge in any of the nine races, according to the nonpartisan Cook Political Report.
Cook lists Florida, Illinois, New Hampshire and Wisconsin as "tossups" and shows Republican incumbents still having the advantage in Missouri, Ohio, Pennsylvania, Arizona and Arkansas. (Obama won six of those nine states in 2012.)
"We're confident that come November, Republicans will retain the Senate majority," Alleigh Marre, a National Republican Senatorial Committee press secretary, said Friday. "After years of gridlock under Harry Reid, Republicans have flipped the script and will be rewarded by voters who want to see our economy continue to grow, red tape rolled back and our freedoms protected at home and abroad."
Among the successes she cited under the GOP-controlled Congress were the first ObamaCare repeal bill passing in the Senate, the passage of a measure to revitalize the country's highway system and the first balanced budget in more than a decade.
Republicans now have a 54-44 Senate majority. The NRSC reportedly was out fundraised by their Democratic counterparts by roughly $12 million at the end of 2015 but maintained a slight cash advantage.
Jennifer Duffy, a Cook senior editor and Senate expert, pointed out that history shows the challenge in defeating an incumbent senator -- with only three Democrats and no Republicans losing in 2014 and just one, Massachusetts GOP Sen. Scott Brown, losing in 2012.
She also said that Blunt, whom Democrats repeatedly point out has a lobbyist son as his campaign manager, is a "good campaigner," having been first elected to Congress in 1996, and that "a lot of people have Boozman's back."
"He won't get caught off guard," she said.
Duffy thinks that Republicans could in fact win the Nevada seat being left open by Reid, the retiring Senate Democratic leader, who won re-election in 2010 with just 50.3 percent of the general election vote.
The November 2016 contest will likely feature GOP Rep. Joe Heck and Democratic state Attorney General Catherine Cortez Masto.
"It really is an even race right now," Duffy said Tuesday. "But Nevada is a good possibility for Republicans."
The comparable Rothenberg & Gonzales Political Report has almost identical analysis for the nine races.
Duffy is among those who think a GOP primary victory by Trump or Texas Sen. Ted Cruz will have a big impact on the Senate races.
"When we know who the nominee is going to be, we'll look at the races through an entirely different prism," she said.
Yet fears about GOP candidates being hurt by Trump comments that have offended some potential Latino and female voters appear exaggerated -- or at least for now.
A recently released Gallup opinion survey found that since last spring more potential voters started calling themselves Republicans or leaning Republican.
The increase went from 38 percent in April to 41 percent in November, according to the survey of roughly 15,000 Americans over that time period.
"While some observers may have predicted that the controversial statements and positions of leading GOP candidates such as Trump and Ben Carson could hurt the party's image, these results show that on the contrary, the Republican Party's standing relative to the Democratic Party has improved since the spring," wrote Gallup polls managing editor Jeffery M. Jones.
However he also warned that "party preferences can shift over the course of a year, and one party can gain, or lose, an advantage fairly quickly."