Republicans Call Reid's Immigration Proposal Political Ploy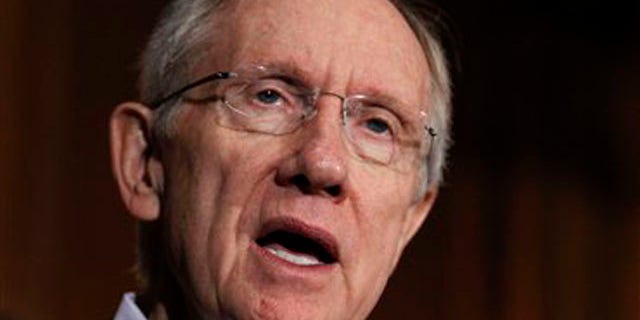 Republicans dismissed as a political ploy Senate Majority Leader Harry Reid's announcement Tuesday that he would attach a proposal giving young illegal immigrants a pathway to citizenship on an upcoming defense bill.
With Reid facing a tough election against Sharron Angle in Hispanic-heavy Nevada, lawmakers criticized the majority leader for adding the so-called DREAM Act to the defense bill. They accused him of injecting unnecessary controversy into the routine spending bill for political gain.
"The Dream Act should be a part of comprehensive immigration reform. Adding it to the Defense Authorization, which already contains an unwarranted repeal of 'Don't Ask, Don't Tell,' is cynical and transparently political," Sen. John Cornyn, R-Texas, said in a written statement.
The Nevada Republican Party described the move as "desperate political parlor games that could only come from a 28-year establishment Democrat seeking a fifth term in the U.S. Senate."
But the DREAM Act has been floating around Capitol Hill since last year and, in the absence of a comprehensive immigration overhaul, Reid said he hoped he could marshal the votes.
Reid blamed Republicans for the inability to pass a sweeping immigration reform bill.
"I've tried to. I've tried so very, very hard, but those Republicans we've had in the last Congress have left us," he said, referring to Republican senators who previously supported an immigration overhaul.
The DREAM Act would allow young people who attend college or join the military to become legal U.S. residents.
The young people must have come to the country when they were under 16 years of age and have been in the country five years. Those who join the military must serve at least two years and complete two years of college.
Those who qualify would be granted conditional residency and after nearly six years would be able to apply for permanent residency. From there, they could apply for citizenship. By offering military service as a pathway to citizenship, the U.S. government also would be opening the door for the medical and education benefits military service entails, a potentially attractive deal for would-be recruits.
Asked about the proposal Wednesday, White House Press Secretary Robert Gibbs said President Obama would continue to support it.
"The administration is supportive of that legislation. The previous administration was supportive of that legislation. And certainly it's our hope that, working with Congress, we can see progress on that," Gibbs said. "And none of that will ... replace what has to happen from a comprehensive level and a comprehensive perspective to deal with the issues around immigration reform."
But Senate Republican Leader Mitch McConnell described the immigration measure, as well as a proposal to repeal the "don't ask, don't tell" policy barring gays from serving openly in the military, as "extraneous."
"It made it needlessly controversial," McConnell said, declining to comment on either proposal's chances for passage.
The Associated Press contributed to this report.