Republican Lawmakers Encourage Health Care Protests at Planned Town Halls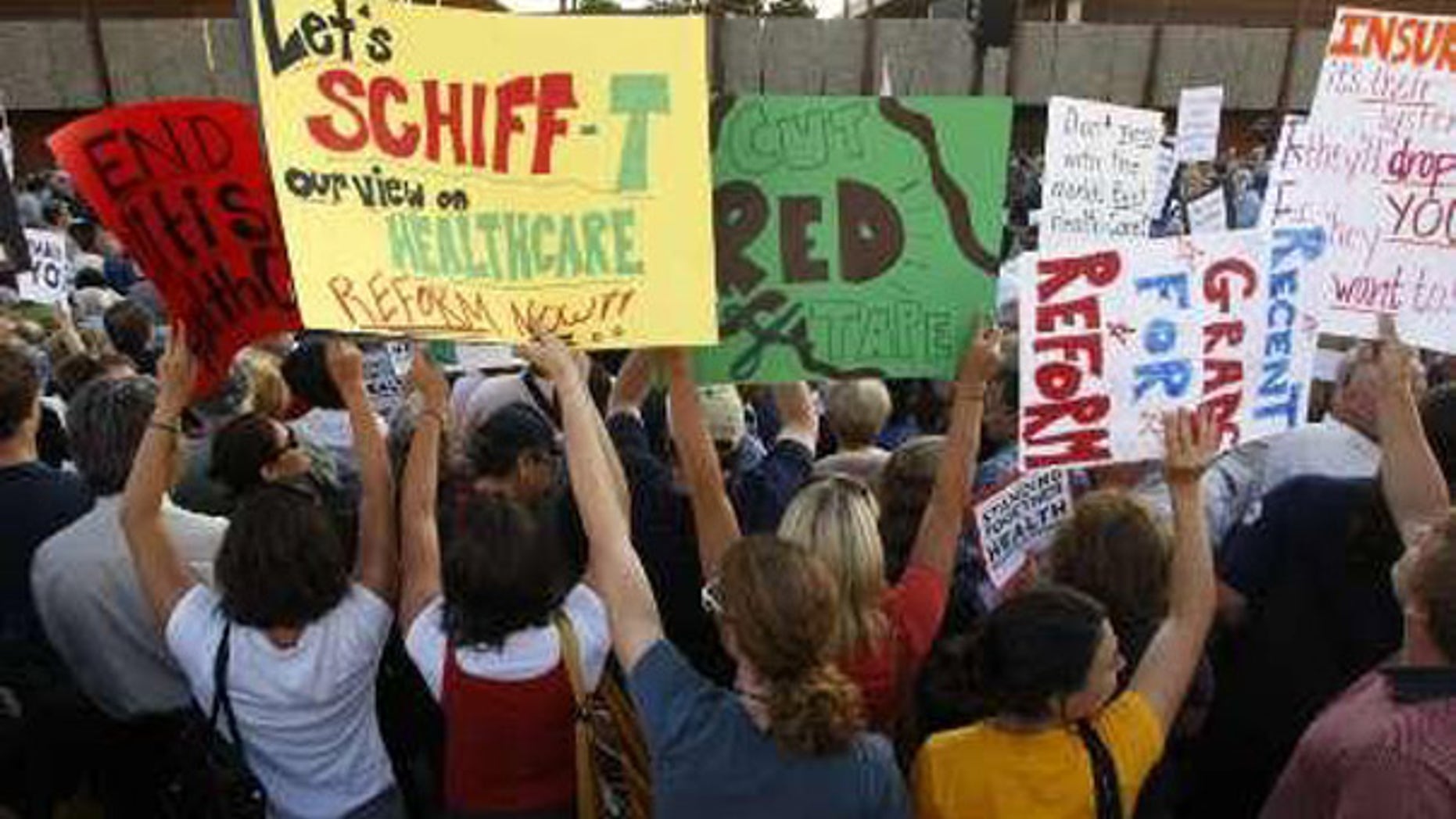 Republican lawmakers are hoping to re-ignite the town hall fury that inflamed the health care debate and nearly derailed the legislation over the summer.
GOP representatives are holding town halls in the next two weeks to rally opposition to President Obama's sweeping health care legislation that narrowly passed the House last weekend. A different version of the bill is now wending its way through the Senate.
"The legislative battle over health care reform is not over," Indiana Rep. Mike Pence, chairman of the House Republican Conference, wrote in a letter to members ahead of the Veterans Day break. Pence urged them to keep reaching out to constituents and host town hall meetings to highlight ways Republicans say the bill will hurt seniors, women and small businesses.
"We must continue to oppose the Pelosi health care bill and stand by the American people in support of Republican-offered solutions that meet the needs of families by lowering health care costs," he said, referring to House Speaker Nancy Pelosi, who shepherded the bill to passage.
House Republicans have scheduled several town hall meetings and Senate Republicans have planned at least 50 in the next two weeks, including one  Thursday night to be hosted by Sen. John McCain, R-Ariz.
The schedule comes after the House passed its version late Saturday in a nail-biting 220-215 vote that drew the support of only one Republican and provoked the opposition of 39 Democrats.
In an attempt to meet Obama's latest deadline of a bill he can sign by year's end, Senate Democratic leaders are moving to advance their version to the floor as early as next week for the start of debate.
Senate Republicans say they hope the town halls will slow down the process.
"The more people know about the Democrat's plans, the less they like what they hear," said Nick Simpson, a spokesman for Sen. Lamar Alexander, chairman of the Senate Republican Conference. "They know that if this plan passes, they will pay more in premiums and taxes, have less choices and see Medicare -- a program 40 million seniors use to receive health care -- cut. A vote for the Democrats' health plan is a tough vote to explain."
The offices of several Senate Democratic leaders, including Majority Harry Reid, did not return calls seeking comment.
In August, Democratic lawmakers were taken by surprise by the intensity of the protests at many of the town halls they hosted. Objections ranged from angry outbursts that disrupted the speeches of Democratic lawmakers to near riots that ended in arrests. In St. Louis, for example, police arrested six people, some on assault charges, outside a forum that was billed as a meeting on aging but was attended by activists on both sides of the health care debate.
The town halls provoked a bitter dispute over the legitimacy of the protests. Democrats accused Republicans of organizing angry mobs with the help of insurers and lobbyists. But the protestors insisted they were part of a grassroots movement that reflected anger and frustration with government spending and growth.
Some of the protestors said they came together during the "Tea Party" anti-big-government demonstrations that have happened this year. Right-leaning groups, including Conservatives for Patients' Rights and Americans for Prosperity, acknowledged that they helped promote the town halls to allow voters to express their concerns.
It's not clear whether tea party activists or conservative groups are involved in the GOP towns halls planned for this month, although they're welcomed.
"Republican senators certainly want to hear from a wide variety of Americans," Simpson said.
But the tea party activists are urging supporters to attend any town halls hosted by Democratic lawmakers.
"Bring as many people with you as you can and be the first ones to ask a question," the Tea Party Patriots advised on its Web site. "Fill up as many seats as possible! Ask tough, specific questions about health care and put the politician on the spot."