Reporter shouts at Sarah Sanders after briefing: 'Do your job, Sarah!'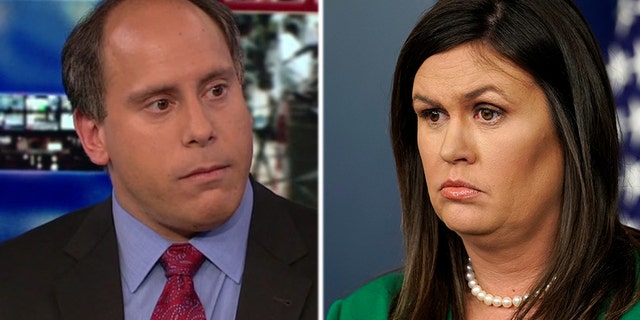 NEWYou can now listen to Fox News articles!
A reporter shouted "do your job" at White House Press Secretary Sarah Sanders on Tuesday, as she wrapped up the briefing after roughly 15 minutes at the podium.
Breakfast Media's Andrew Feinberg confirmed to Fox News that he was the reporter who shouted, "Do your job, Sarah!"
Feinberg took to Twitter following the incident, sending a variety of messages that coincided with the message barked to Sanders.
"Sarah Huckabee Sanders refuses to do the job for which she is paid money raised from US taxpayers. She delays each briefing so she can use a presidential event as an excuse to end it early. She does not respond to emails, she does not meet with (most) reporters," Feinberg tweeted. "Why is she here?"
Sanders declined a request for comment when reached via email by Fox News.
Feinberg added, "Many reporters who cover the White House work for smaller media outlets, and it's clear the administration feels those reporters (including me) are not worth their time."
Not everyone was amused by the outburst and some media members defended Sanders. NewsBusters managing editor Curtis Houck told Fox News she simply can't make the White House press corps happy.
"If she holds regular briefings, they'll devolve into chaos with folks like [CNN Chief White House Correspondent] Jim Acosta and [CNN political analyst] April Ryan playing for the cameras. If she doesn't, there's complaints about a lack of press access to the executive branch," Houck said. "This is yet another example of how the D.C. press want to have their cake and eat it too."
"Your conduct was rude and extremely unprofessional," reporter Jordan Schachtel responded. "It's not your job to shout out to the WH Press Sec and tell her how to do her job. Props for shooting your shot for the CNN/MSNBC gig though!"
Washington Examiner reporter Paul Bedard added, "And WH reporters wonder why @realDonaldTrump cancelled their Christmas party."
NATE SILVER DISMISSES RUSSIAN TROLLS' INFLUENCE ON 2016 ELECTION
Feinberg followed up by claiming that he hasn't been able to get a single meeting with Sanders since she replaced Sean Spicer as press secretary.
"When I find her in her office she is invariably heading to a meeting and tells me to 'shoot me a note,'" he wrote. "Do I get a response to that note? Never."
Feinberg then complained that he is not part of the pool rotation and, therefore, has to ask special permission to join "so-called 'pool sprays.'"
"Has a single one of those requests been granted in the year and a half she has been in the @PressSec job? Never," he wrote. "Her office also arranges invite-only pen-and-pad briefings with senior officials (Chief of Staff, Nat'l Security Adviser, etc) on occasion. I am at the White House nearly every day but do I ever hear about them before I see nearly every other reporter coming out of them? No."
'SNL' TOUGHER ON TRUMP THAN PAST PRESIDENTS -- BUT HERE'S WHY THAT MAY NOT CHANGE
Feinberg is managing editor of the little-known Breakfast Media and once worked at a Russian state-owned news site called Sputnik. He went on to declare that "one can argue that the White House press secretary has a limited amount of time and attention," but other reporters are ignored, too.
"By ignoring me and others like me, she effectively ignores those Americans who read our work and rely on us for news each day," he wrote.