Reported Russia probe source at center of whistleblower complaint over Pentagon contracts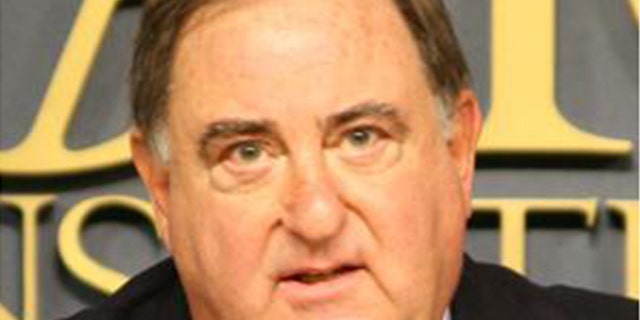 The professor who reportedly assisted the FBI's Russia probe as a confidential source is at the center of a Defense Department whisteblower complaint that alleges government contractor abuses, as well as excessive payments with taxpayer dollars, according to interviews and documents reviewed by Fox News.
The complaint was filed by attorney Sean Bigley on behalf of Pentagon lawyer Adam Lovinger. Earlier this month, conservative watchdog Judicial Watch announced it was suing the Defense Department on behalf of Lovinger to force the release of emails and other electronic messages after Lovinger had his security clearance suspended.
"[The complaint] pertained to the misuse of contractors by the Department of Defense, specifically what he perceived as the use of contractors to conduct foreign relations in violation of U.S. law, as well as … gross waste and excessive expenditures that were being lavished on these contractors to do very little work," Bigley said.
Bigley, who is representing Lovinger pro bono, said his client flagged the concerns about contractors -- including Stefan Halper, the professor -- as early as 2016, to Lovinger's leadership at the Office of Net Assessment (ONA), which is like an internal Pentagon think tank. He said Lovinger was specifically concerned Halper was being used by the ONA to "conduct foreign relations in violation of U.S. law -- specifically he was being sent out unsupervised around the globe to meet with foreign diplomats and report back" his findings.
In May, Halper was the subject of multiple media reports linking him to the Russia probe, with The Washington Post describing the academic as "the FBI source who assisted the Russia investigation and is at the center of a standoff between congressional Republicans and the Justice Department ... a well-connected veteran of past GOP administrations who convened senior intelligence officials for seminars at the University of Cambridge in England." The complaint was first filed in September 2017 and was updated after the Halper reports.
An email reviewed by Fox News shows that Halper wrote to the ONA in October 2016 about a series of upcoming engagements scheduled in a foreign country. While the nation's name is redacted, the email shows Halper lined up "14 meetings ... with various parts of the political and military community," and a specific appointment to consult with a brigadier whose name is also withheld.
Lovinger told his leadership that he was concerned Halper had crossed the line into diplomacy and foreign relations, and it would cause further damage to their office. "[P]rofessor-led talks harmed [Office of Net Assessment's] reputation among segments of the [redacted] national security elite we encountered, including some very senior [redacted] officials in [redacted] government," Lovinger's email continued, "[redacted] has had to spend alot of political capital to get the [redacted] government to take ONA seriously again, and we're still not out of that hold yet."
The Code of Federal Regulations, Subpart 7.5, called "Inherently Governmental Functions," states that contractors are prohibited from taking on U.S. government functions, such as the "conduct of criminal investigations," the "command of military forces," and "the conduct of foreign relations."
A review of government spending records shows that Halper was paid more than $600,000 for two contracts in 2015 and 2016 for academic papers related to Russia. In the 2015 paper titled, "The Russia-China relationship: The Impact on the United States' Security Interests," Halper listed more than three dozen sources, including General V.I Trubnikov, a former head of Russian intelligence, as well as former CIA Director Michael Hayden.
A similar contract, reviewed by Fox News, awarded to a different academic for a paper on Chinese approaches to war and conflict was granted much less, about $130,000 in taxpayer funds. "Mr. Halper was officially contracted to prepare academic studies on issues of U.S. foreign relations," Bigley said. "When you compare the amount that he was paid to the work, we believe that the descrepancy was the result of the other work Mr. Halper was performing for the DoD."
After Halper's name emerged in media reports, Lovinger's attorney said he offered to provide more documents to strengthen their formal September 2017 complaint. He told Fox News he believes his client "unwittingly stepped into something much bigger," and the Halper connection explains the "ferocity" of the alleged retaliation against his client.
Bigley said that "within weeks to months" after Lovinger first raised his concerns about misuse of contractors in the fall of 2016, "department leadership opened two internal investigations against him, and months later his security clearance was suspended without warning, his prestigious detail to the White House was canceled and ultimately his paycheck was cutoff."
He added, "He now sits at home figuring out how to feed his family and trying to pick up the pieces of his life."
Lovinger ultimately admitted to "inadvertently taking on an airplane, a single, academic-oriented report categorized as 'Classification Pending,'" in 2016. According to the whistleblower complaint, Lovinger "promptly admitted to the mishap," which was described as his only security infraction over a 12-year period at the Pentagon. The complaint stated that a review found the document had "inadequate classification markings."
Fox News reached out via email to Halper, who did not respond. Hayden also did not respond to a request for comment. A Pentagon spokesperson said the department would forward Fox News' request to the responsible office.