Rep. Walsh faces campaign backlash over comments on double-amputee rival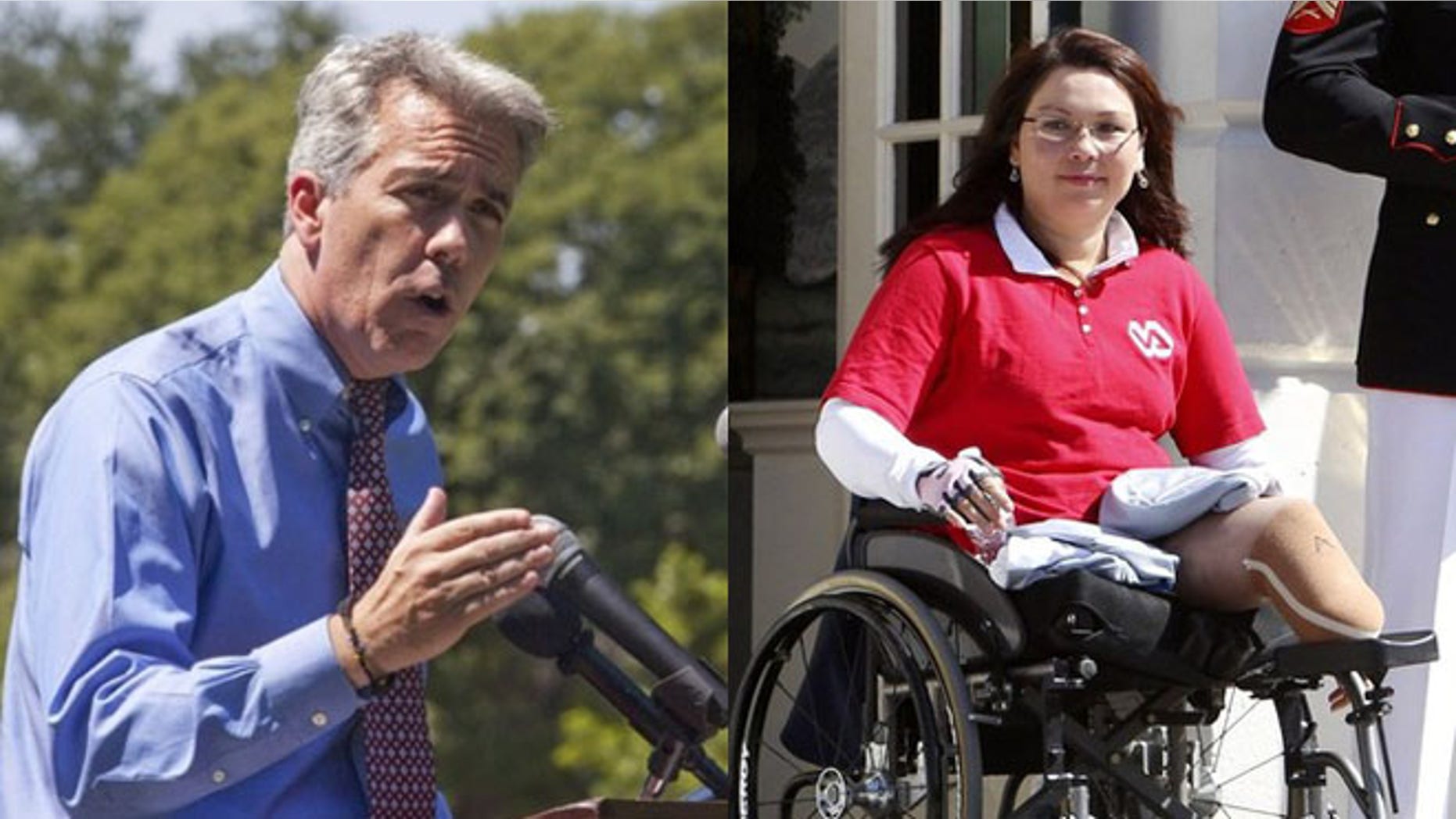 Republican Rep. Joe Walsh is facing a campaign trail backlash after he was caught on camera last weekend accusing his double-amputee opponent of talking too much about her military record.
The Illinois congressman, who is running against Iraq War veteran Tammy Duckworth, has defended his remarks and reiterated that he still thinks his Democratic opponent is a "hero."
But Duckworth has used the gaffe to hammer the incumbent congressman almost daily this past week, even prompting one veterans group to call for Walsh's resignation.
While Walsh says Duckworth is manufacturing outrage, that hasn't stopped the decorated Democratic candidate from turning his remarks into a centerpiece campaign issue.
Duckworth earlier this week called Walsh's comments "irresponsible" and "insulting" to servicemembers.
Atop her campaign website is an online petition seeking support over the comments. "It's time we teach Joe Walsh a lesson about true heroism," the petition says.
In the original video, which was posted online by liberal blog ThinkProgress, Walsh was captured telling an audience Sunday: "Now I'm running against a woman who, I mean my God, that's all she talks about."
Walsh went on to say, "Our true heroes ... that's the last thing in the world they talk about."
Walsh later defended his comments in a string of interviews. He told CNN his Democratic rival is a "hero" and demands respect, "but it doesn't demand our vote." He again said "all she does" is talk about her service.
As Walsh defended his remarks, VoteVets.org chairman Jon Soltz -- whose group has had a history of tension with the congressman -- told MSNBC on Thursday that he should resign.
"He needs to just resign and stop embarrassing his constituents," Soltz said.
Asked about the comments, the Walsh campaign referred FoxNews.com to its earlier statement.
In that statement, Walsh said: "Of course Tammy Duckworth is a hero. I have called her a hero hundreds of times in the past four months. ... However, unlike most veterans I have had the honor to meet since my election to Congress, who rarely if ever talk about their service or the combat they've seen, that is darn near all of what Tammy Duckworth talks about. Her service demands our thanks and respect, but not our vote."
Duckworth lost her legs in Iraq during a 2004 attack on the helicopter she was co-piloting. She went on to serve as an assistant secretary in the Department of Veterans Affairs under the Obama administration.
Walsh was elected to Congress in 2010.