Rep. Trent Franks resigning from Congress
Arizona Congressman Trent Franks has announced his decision to resign from Congress, according to a statement he released Thursday on the matter.
Franks said he will leave his seat on Jan. 31, 2018 following complaints from two of his employees with whom he discussed the subject of becoming a surrogate for him and his wife, who he said had difficulty with fertility.
The House Ethics Committee had previously released a statement announcing an investigation into the congressman regarding possible sexual harassment.
"Pursuant to the Committee's action, the Investigation Subcommittee shall have jurisdiction to determine whether Representative Trent Franks engaged in conduct that constitutes sexual harassment and/or retaliation for opposing sexual harassment, in violation of House Rules, law, regulations, or other standards of conduct," the statement said.
In Franks' resignation letter said he "absolutely never physically intimidated, coerced, or had, or attempted to have, any sexual contact with any member of my congressional staff."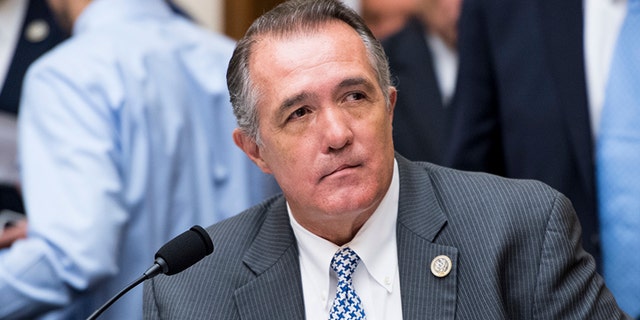 "However, I do want to take full and personal responsibility for the ways I have broached a topic that, unbeknownst to me until very recently, made certain individuals uncomfortable."
The congressman elaborated on his and his wife's difficulty with fertility and adoption through the years and wanted to have another child, in addition to their twins. He said because of his "familiarity and experience with the process" he "clearly became insensitive" about how discussing surrogacy "might affect others."
Franks said he learned of the committee's intention to open an inquiry into the matter and doesn't believe he'd have a fair investigation "before distorted and sensationalized versions of this story" brought criticism onto those involved.
"It is with the greatest sadness, that for the sake of the causes I deeply love, I must now step back from the battle I have spent over three decades fighting," he wrote.
Upon leaving the House floor on Thursday, Franks was consoled by fellow Republican members, including Reps. Louis Gohmert, R-Texas, Robert Aderholt, R-Ala., and Andy Biggs, R-Ariz.
Franks is currently serving his eighth term in Congress -- he was first elected in 2002.
The congressman serves on the Armed Services Committee and the Judiciary Committee and is also a member of the House Freedom Caucus.
He's known to be a staunch fiscal and social conservative with a pro-life stance on abortion. He sponsored House-passed legislation to make it a crime for any person to perform an abortion if the age of the fetus is 20 weeks or more.
Before being elected into Congress, Franks was a small business owner and later served in the Arizona Legislature, according to his website biography.
According to the page, Franks is a strong proponent for smaller government and "believes in personal responsibility, strong national defense, free enterprise, protecting the innocent, and in the timeless truths and principles of the United States Constitution."
Fox News' Mike Emanuel and The Associated Press contributed to this report.