Rangel: "You Gotta Play the Hand That's Dealt You"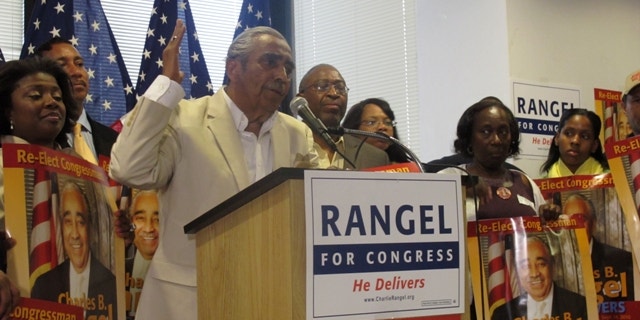 Rep. Charlie Rangel, D-N.Y., isn't taking advice from the Kenny Rogers song "The Gambler" about knowing when hold 'em and knowing when to fold 'em.
"You gotta play the hand that's dealt you," Rangel said. "And I know my hand."
Rangel, who faces an ethics trial in September on 13 counts of allegedly violating House rules, met reporters Thursday in New York for a press conference about his campaign.
Rangel is fighting the ethics charges, contending he wants to explain himself in public
"A public official has a much higher standard than other people. Negligence and carelessness is no excuse," Rangel said. "And I want to have a opportunity to show them that negligence is no excuse and that I cannot do that if these other charges are preventing me from being able to have a hearing."
Rangel's session with reporters comes on the heels of a lavish fundraiser for his campaign Wednesday night at the tony Plaza Hotel in Manhattan.
Among the attendees was former New York Mayor David Dinkins who flipped the bird at one Rangel heckler.
"Mayor Dinkins really expressed my view the best last night," Rangel said of Dinkins. "I can't find a better way to say it."
But the Congressman picked an ironic spot to meet reporters. Rangel called the sessionat the Adam Clayton Powell Jr. State Office Building in Harlem, which is located on Adam Clayton Powell Jr. Boulevard. In the late 1960s, lawmakers accused Powell of misusing Congressional funds for his own use. The House voted to censure and "exclude" Powell from Congress. Powell then won re-election.
Rangel defeated Powell for office in 1970. Now Powell's son, State Assemblyman Adam Clayton Powell IV is running against Rangel in the September 14, Democratic primary.
Photo Credit: Fox News