Ralph Northam's resignation demanded amid yearbook controversy: 'This behavior was racist and unconscionable'
Calls for Virginia Gov. Ralph Northam to resign poured in Friday night after the Democrat apologized for appearing in a "racist and offensive" photo from his medical school 1984 yearbook page.
Northam admitted to being one of the people in the controversial photo, which showed a man in blackface and another in a KKK robe, both holding a can of beer. It was not clear which costume Northam was wearing, and the identity of the second individual was not known.
"Earlier today, a website published a photograph of me from my 1984 medical school yearbook in a costume that is clearly racist and offensive," Northam said in a statement. "I am deeply sorry for the decision I made to appear as I did in this photo and for the hurt that decision caused then and now."
VIRGINIA GOV. NORTHAM FACES BACKLASH FOR COMMENTS ON 3RD-TRIMESTER ABORTION BILL: 'MORALLY REPUGNANT'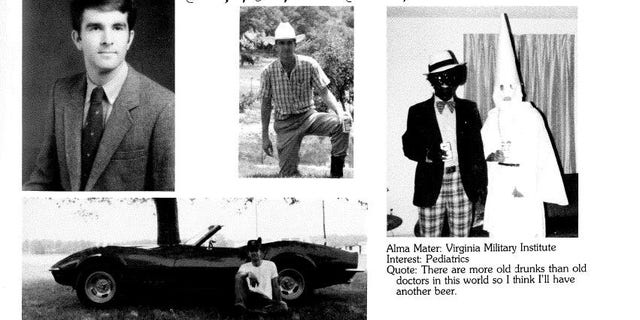 Fox News obtained a copy of the 1984 yearbook page from the Eastern Virginia Medical School library, the year the governor graduated from the school. The Virginian-Pilot, the Washington Post and the Richmond Times-Dispatch also reported they independently confirmed the authenticity of the page.
Politicians and officials on both sides of the aisle said Northam should step down from his position, including presidential hopefuls Sen. Kamala Harris, D-Calif., and Julian Castro, who served in the Obama administration.
"Leaders are called to a higher standard, and the stain of racism should have no place in the halls of government," Harris tweeted. "The Governor of Virginia should step aside so the public can heal and move forward together."
Castro shared that sentiment, saying Northam's political affiliation was of no consequence in this situation.
"It doesn't matter if he is a Republican or a Democrat. This behavior was racist and unconscionable. Governor Northam should resign," he tweeted.
Later Friday, U.S. Sen. Cory Booker, D-N.J., who launched his 2020 presidential candidacy earlier in the day, said the photo has eroded confidence in Northam's ability to lead the state.
"These images arouse centuries of anger, anguish, and racist violence and they've eroded all confidence in Gov. Northam's ability to lead. We should expect more from our elected officials. He should resign," Booker tweeted.
Terry McAuliffe, a former Virginia governor and former chairman of the Democratic National Committee, tweeted Friday night that, "It's time for Ralph to step down."
"The situation that he has put himself and the Commonwealth of Virginia in is untenable. It's time for Ralph to step down, and for the Commonwealth to move forward," McAuliffe wrote.
The Virginia Legislative Black Caucus said in a statement that the yearbook photos "rip the scabs of an excruciatingly painful history and are a piercing reminder of this nation's sins. Those who would excuse the pictures are just as culpable."
The group said it felt betrayed by Friday's revelation and said the legacy of "slavery, racism, and Jim Crow has been an albatross around the necks of African Americans for over 400 years."
New Jersey Gov. Phil Murphy, the incoming leader of the Democratic Governors Association, offered his thoughts during a television interview Friday.
"We're the party of Barack Obama, we're the party of inclusion," Murphy said. "I say it with a heavy heart because I know him [Northam] and I believe he's a good man."
He described the photo as unacceptable in 2019, just as it was in 1984, NorthJersey.com reported.
Northam offered no immediate indication Friday that he planned to step down.
CLICK HERE TO GET THE FOX NEWS APP
White House adviser Kellyanne Conway also tweeted about Northam while referencing the focus Supreme Court Justice Brett Kavanaugh's high school yearbook received during his confirmation fight last year.
"This should be easier work than parsing every word and semicolon in the Kavanaugh yearbook," she wrote.
GOP Sen. Tim Scott noted Northam's apology and said while it was "good," it doesn't rectify the situation.
"To be clear, while a quick apology is good, it does not excuse the choices made by @GovernorVA as an adult enrolled in medical school," the South Carolina lawmaker tweeted. "The people of VA will make their voices heard."
"I hope they will shout far&wide that there are consequences for such showcases of prejudice&hate," he continued.
NAACP leader Derrick Johnson weighed in on Twitter as well, saying that "Black face in any manner is always racist and never okay."
"No matter the party affiliation, we can not stand for such behavior, which is why the @NAACP is calling for the resignation of Virginia Governor @RalphNortham," he tweeted.
California Democratic Rep. Ted Lieu also called for Northam to step down, tweeting that there was "no excuse for the shockingly racist picture."
Rep. Mark Walker, R-N.C. firmly tweeted that "Governor Northam needs to step aside."
Sen. Kirsten Gillibrand, the New York Democrat who has also joined the list of 2020 White House contenders, also tweeted on the subject, saying that "there aren't two sets of rules for our friends and our foes" and that Northam should step down.
Fox News' Alex Pappas contributed to this report.