Rahm's Competition: And Then There Were Twenty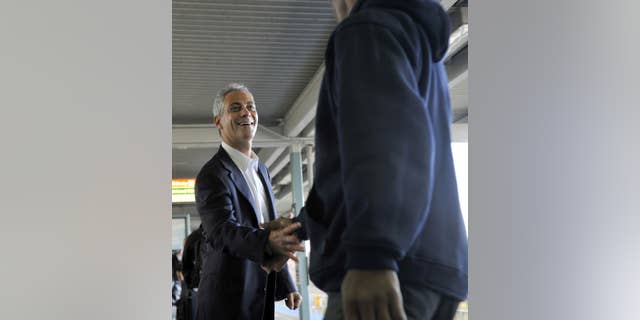 The man chosen by Rod Blagojevich to take over Barack Obama's senate seat now wants to be mayor of Chicago. Short term Senator Roland Burris is one of twenty people who've filed paperwork to get on the city's ballot. Richard Daley, who held the job since 1989, is retiring at the end of his term. The battle to replace him is already turning ugly.
While former White House Chief of Staff Rahm Emanuel is expected to be a frontrunner, Emanuel's tenant, industrial real estate developer Rob Halpin, has also thrown his hat in the ring. "My vision for Chicago is to create jobs through the development of industrial parks" says Halpin.
The 59-year old Halpin is renting Emanuel's home, and reportedly refused to break his lease and move out of the house when Emanuel moved back to the second city. Critics say that since Halpin lives in the house, Emanuel isn't actually a resident and is therefore ineligible to run for the city's top office. Halpin denies accusations that he's only running for mayor in order to embarass Emanuel "I would not risk my reputation by running as a lark. I wouldn't gain anything by trying to frustrate someone else's campaign" Halpin said.
Former U.S. Senator Carol Moseley Braun and Congressman Danny Davis are also among those who say they've gained enough signatures to get on the ballot. The full list of candidates could likely be whittled down once the board of elections verifies all the applications.
Legal challenges to Emanuel's residency are also predicted. "I expect the nominating papers of all the candidates to be examined carefully and objections will be leveled...justice will roll down like water and truth like a mighty stream" Congressman Davis' mayoral campaign statement said.
Election day is February 22nd, 2011.