Races to Watch: Vote Count in Key Western Campaigns Could Last Past Election Day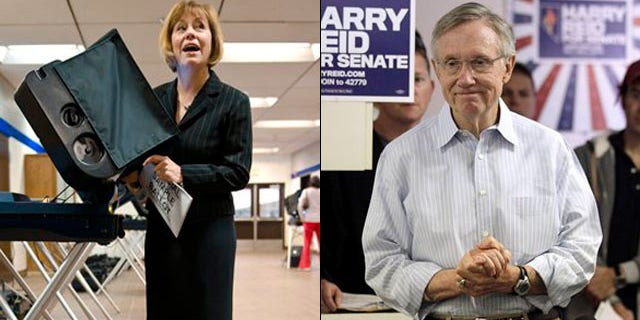 Three hotly contested U.S. Senate races, in Nevada, Washington and Alaska, could be determined soon after the polls close on Election Day -- or they could stretch through the month of November.
Here's a short summary of what to expect in these tight races west of the Rockies:
NEVADA
Nevadans will get an indication early in the evening of what kind of night it's going to be. The race between Senate Majority Leader Harry Reid and Republican nominee Sharron Angle has been one of the tightest and most closely watched, and the campaigns will be scanning the early returns for clues.
At 10:30 p.m. ET, a half-hour after the polls close, initial results could be released from the early voting and absentee ballot process. Voters in Nevada got an early start to the process and over half the voters in Las Vegas -- or about 290,000 people -- already cast their ballots. Election officials with Clark County, where Las Vegas is located, expect another 190,000 voters to go to the polls Tuesday. Because of the interest in early voting around the state, Nevada election officials are expecting 65 percent of eligible voters to participate -- which is about 10 percent higher than in previous off-year elections.
The Nevada secretary of state is reporting an above-average amount of complaints streaming into the office, with an equal number of complaints coming from Republicans and Democrats. The secretary of state has established an "Election Integrity Task Force" composed of state attorney general representatives, FBI agents and U.S. attorney's office agents. They will respond to problems as they come up.
As to the certification of the election, the Nevada Supreme Court is scheduled to review and declare the election "official" on Nov. 23. A losing candidate has three days to file a formal request for a recount and must pay for the estimated costs of the process up front. Only candidates are permitted to trigger recounts, which must be completed in five days.
WASHINGTON
Early voting by mail is also a key part of the electoral process in Washington state. The majority of the state votes by mail -- that's why there will be no pictures of long lines coming out of Washington on Election Day.
The vote-by-mail numbers indicate this election could log the highest turn-out in a midterm for the state since 1970.
While Washington state has been counted in the Democrat column for years, enthusiasm among party voters is relatively low as Democratic Sen. Patty Murray runs for re-election. Election officials have taken a look at the turnout from Democratic and Republican areas in the early voting process and found the numbers are down in the traditional Democratic strongholds. By comparison, early turnout in Republican challenger Dino Rossi's strongholds is higher.
As for the vote count on Election Day, the first indications will come around 11:15 p.m. ET. At that time, the state Board of Elections will release the results of the early voting. Pierce County, which has machines, will release some totals later in the night. No other vote totals will come until 7:30 p.m. on Wednesday. The ballots that are cast on Election Day aren't counted until then.
This could lead to a nail-biter, with a lot on the line depending on how Republicans do elsewhere in the country.
Democrats have hit the trail hard in a bid to keep the GOP from seizing the Senate, even if the House looks in danger of changing hands.
White House spokesman Bill Burton told Fox News Radio that President Obama and the party "feel good" about the effort they've made. He acknowledged that Obama has factored heavily into Republicans' campaigns but would not describe Election Day as a referendum on his policies.
"If you want to go back to the policies that we already know don't work, vote Republican. We're focused on making sure people know that choice," Burton said. "It's been a lot more of a choice that a referendum."
ALASKA
The three-way U.S. Senate race has drawn huge voter interest in Alaska. Figures just released from the state's Division of Elections show that early voting is nearly double that of 2006 -- the previous non-presidential election year. More than 17,000 people have cast their ballots this time -- including absentee ballots.
Complicating the process is the presence of incumbent Sen. Lisa Murkowski, who lost the Republican primary and is running as a write-in candidate. Tea Party-backed Republican nominee Joe Miller and Murkowski could be carving up the conservative vote in Alaska, a scenario some operatives see as a boost to Democrat Scott McAdams.
If a recount is needed, that process doesn't start until Nov. 18. The ballots will be taken from around the state to Juneau where lawyers for the campaigns, as well as the media, will be allowed to watch the process. State law says write-in votes must match the exact spelling of the candidate's name but election officials and the Alaska State Court has ruled that if it looks like Murkowski, it's a vote for Lisa Murkowski.
Fox News' William Lajeunesse, Laura Prabucki, Lindsay Stewart, Dan Springer and Robert Shaffer contributed to this report.