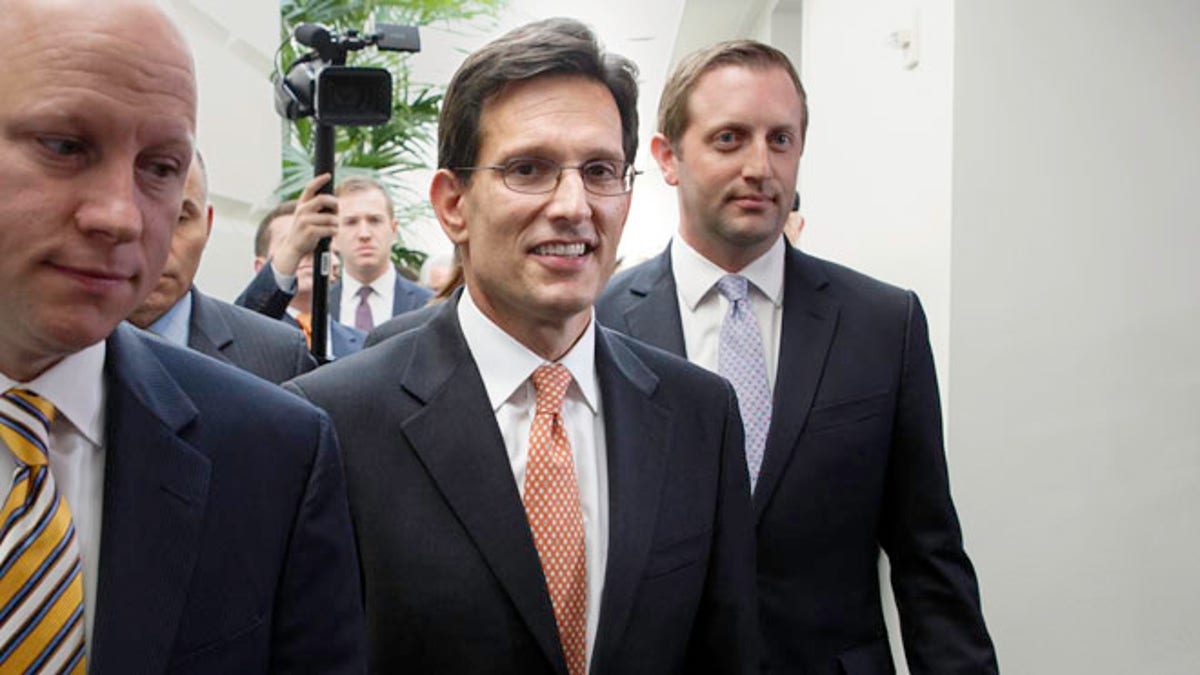 It is said that what is past is prologue.
After Eric Cantor, on the heels of his primary defeat, announced he'll step down as majority leader at the end of July, the past could foreshadow a rocky and unpredictable leadership contest.
The House hasn't had a leadership election in the middle of a Congress since Feb. 2, 2006, when now-House Speaker John Boehner, R-Ohio, succeeded former House Majority Leader Tom DeLay, R-Texas, winning in an upset.
Formal leadership elections are usually held in November, a few weeks after the general election. "Special" leadership elections are unique animals.
House Majority Whip Kevin McCarthy, R-Calif., has very quickly consolidated his power and is the front-runner to matriculate to majority leader in the leadership election on June 19.
But, there could be a problem for McCarthy.
Think of the time between now and next week. Houseguests and fish start to stink after three days. The same is true if a candidate sits out there too long in a leadership race.
On its face, there is nothing "wrong" with McCarthy. But while he is a conservative, he is not viewed as the conservative or the "Tea Party" choice in the conference. And he certainly won't be the choice among talk radio loyalists and the like. It's possible this is just enough time to gin up a campaign against McCarthy.
That's the opening House Rules Committee Chairman Pete Sessions, R-Texas, is looking for -- though like McCarthy, he too has a conservative voting record but is not the "favorite" among Tea Party members, either.
Enter another name: Rep. Jim Jordan, R-Ohio, former chairman of the Republican Study Committee (the most-conservative bloc of Republicans in the House). There is a draft movement for him, and had been for House Financial Services Committee Chairman Jeb Hensarling, R-Texas. Hensarling, though, announced Thursday he will not seek the majority leader post.
If any of these Republicans are able to muscle aside McCarthy for Cantor's job, McCarthy simply remains as the whip, and there is no race for that position.
If that scenario indeed plays out, it sounds a lot like the last "special" leadership race in Congress back on Feb. 2, 2006.
In January 2006, DeLay announced he would not try to re-re-enter the leadership ranks after a leave of absence because of he faced a felony indictment on charges of political corruption. That prompted the leadership contest. At the time, then-House Majority Whip Roy Blunt, R-Mo., (now a senator), hoped to succeed DeLay as majority leader.
But so did then-Chairman of the Education and Workforce Committee Chairman John Boehner and then-Rep. John Shadegg, R-Ariz.
Support for Blunt was a mile wide and an inch thick. He touted well over 100 GOP endorsements, certainly the lion's share of the Republican Conference. But not an outright majority. And that was Blunt's problem. It is said (but was never confirmed) that Boehner helped orchestrate Shadegg's campaign. Shadegg would command mostly conservative votes. And if Blunt didn't get an outright majority (partly because of Shadegg), it would force the tally to a second ballot.
Indeed, the vote went to a second ballot and Shadegg dropped out -- with the alleged understanding that Shadegg's slate of support would go to Boehner.
Boehner won in an upset, leapfrogging Blunt.
So there was never a race for whip.
In this case, if McCarthy advances, expect Chief Deputy Whip Pete Roskam, R-Ill., to face off against Republican Study Committee Chairman Steve Scalise, R-La., for his old job. It's also possible Sessions could vie for that job.
But if McCarthy loses, there will be no race for whip this time.
Looking back in time further still, ex-House Speaker Denny Hastert was on the Hill Wednesday and told Fox News he saw "echoes of how I got to be speaker."
"I came in here one day and thought it was just going to be an average day and walked out as speaker," he said.
Such was the case on Dec. 19, 1998, when then Speaker-designate Bob Livingston, R-La., whom the House GOP had tapped to succeed then-Speaker Newt Gingrich, R-Ga., announced he would not become speaker in January and would resign. As the House was voting on Articles of Impeachment for President Clinton, it came to light that Livingston had been involved in an extra-marital affair.
The House GOP leadership scrambled and tapped Hastert, who was then the chief deputy whip, to become speaker.
Hastert became the longest-serving Republican speaker in the history of the House of Representatives.
Capitol Attitude is a weekly column written by members of the Fox News Capitol Hill team. Their articles take you inside the halls of Congress, and cover the spectrum of policy issues being introduced, debated and voted on there.