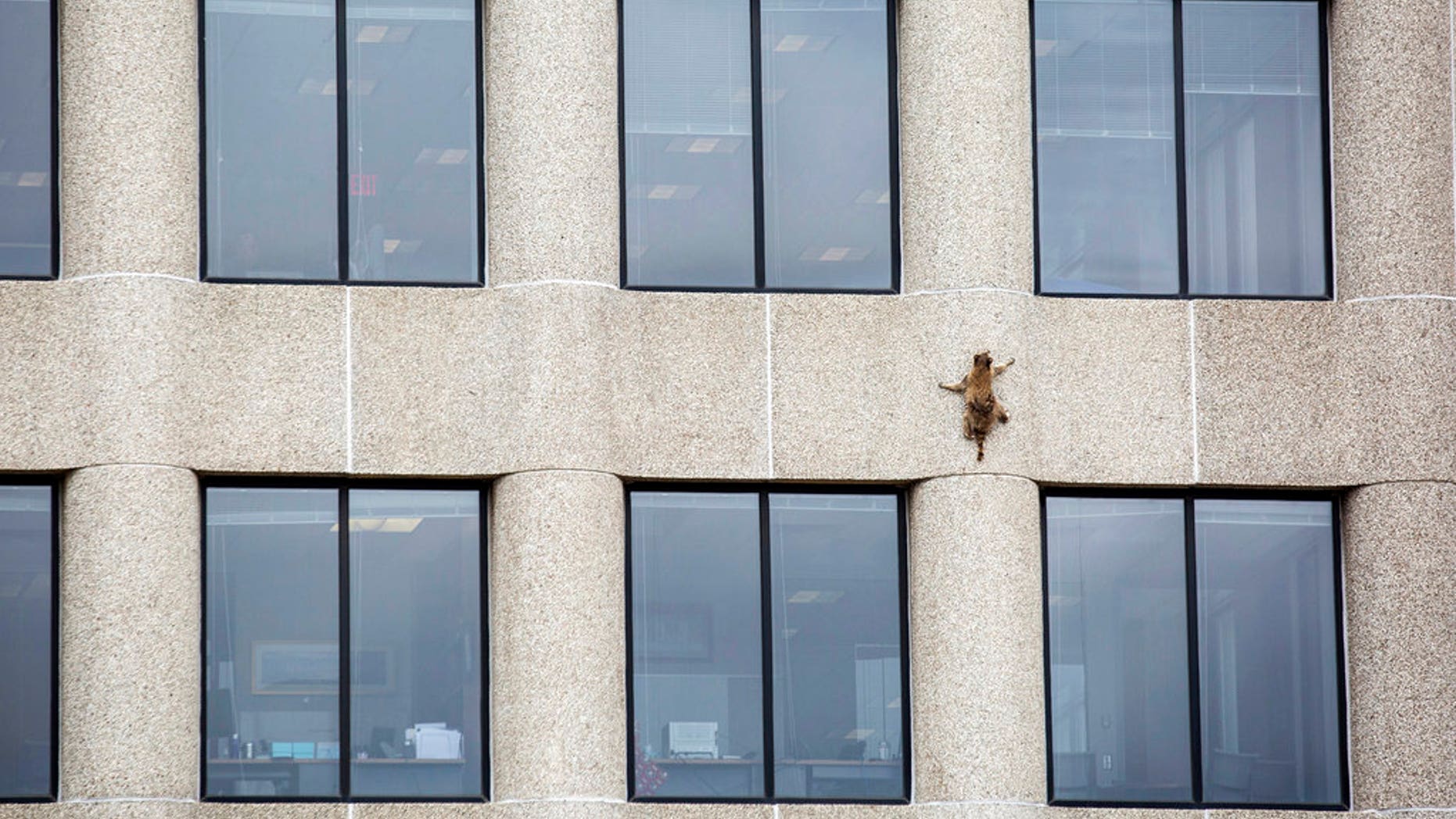 **Want FOX News Halftime Report in your inbox every day? Sign up here.**
On the roster: Raccoon Congress - I'll Tell You What: We'll see what happens - NRSC won't back Stewart - Ryan cuts a deal on DREAMers to avoid revolt - In NOLA, the potholes are so bad that they fight back
RACCOON CONGRESS
Watching American politics in the past decade has sometimes felt a little bit like watching that skinny little raccoon scale the side of the UBS Plaza in St. Paul.
The courageous Procyon scaling the 25-story building was sometimes scary, sometimes thrilling, sometimes hilarious but always imbued with a feeling of helplessness.
We have come to take for granted that there is some responsible, capable institution or individual to intervene and save the day. As a Minnesota Public Radio reporter's account ricocheted around the world, social media users demanded to know why the fire department, the bank that's name is on the building or even a civilian in a helicopter could not intervene to save the #mprraccoon.
But there is no higher authority for the rescue of wayward ringtails on skyscrapers, the raccoon had to work it out for itself.
A familiar trope in American politics today is about how Republicans are knuckling under to the demands of President Trump. Except for the handful of mostly ready-to-retire Republicans who have spoken out against Trump's various excesses – be they ethical, policy-oriented or behavioral – members of the GOP are mostly content to either cheer for the man in charge or quietly work to frustrate those demands they see as dangerous.
Watching Mitch McConnell and Paul Ryan try to deal with Trump's efforts to undermine the investigation into his campaign has been a great deal like watching our acrobatic raccoon friend. Inch by excruciating inch, they have sought to preserve the integrity of the investigation while avoiding open rupture with a president who feels decreasing obligation to keep up appearances about the whole affair.
It has been similarly nerve wracking to watch their Democratic counterparts try to keep their caucuses from falling prey to the will of the mob and turning into the 24-hour impeachment network. Paw by paw, foothold by foothold, they proceed hoping that somehow they will make it through this ordeal.
It is easy to say that the problem here is Republican fecklessness or Democratic disunity. It is even easier to say that the problem is Trump himself. All of those things may be true by degrees, but these are still mostly symptoms of a larger problem in our politics.
We have come to confuse traditions with institutions.
It does not matter whether or not this president or any president welcomes professional sports champions to the White House. It doesn't matter, particularly, whether the president is polite or courteous to his fellow politicians. It doesn't matter if members of the opposite party stand up and bark like seals during a State of the Union address. It doesn't even really matter if the president tells the truth.
Now, that is not to say that these things are unimportant (well, maybe sports pep rallies at the White House as an exception) but it is to say that these things are the mortar, not the bricks.
We have had a bad tendency in recent years to spend too much time thinking about things that don't matter. If the president's boorish conduct with his Canadian counterpart can rupture the U.S.-Canadian alliance and trade relationship, that says more about what's wrong with our system than it does about boorishness.
Congress has retreated to a point of pitiful meekness with presidents of both parties. Since the 1930's, Congress has turned the already powerful presidency into a term-limited monarchy in which they work with him or against him depending on partisan affiliation. What they almost never do is take their own initiative.
The real "deep state" in Washington is made up of the thousands of federal bureaucrats of the federal branch who chug and whir their way along regardless of which party is in power. And for decades, Congress has been content to outsource their work to these folks.
We now have our second consecutive president who either cannot or will not work in a collaborative way with Congress. In Washington, that collaboration has come to mean mostly paying lip service to separation of powers and congressional authority. Lawmakers may have devolved their own power, but they will never devolve their love of flattery.
We live in an era of weakened institutions, and none of them is so weak these days as Congress. That's a problem because, as it happens, our system of government depends on Congress leading the way, not scrambling after the whims of demagogic executives from alternating parties.
Congress is supposed to be the rescue crew, not the raccoon. 

THE RULEBOOK: HATERS GONNA HATE 
"The benefits of the integrity and moderation of the judiciary have already been felt in more States than one; and though they may have displeased those whose sinister expectations they may have disappointed, they must have commanded the esteem and applause of all the virtuous and disinterested." – Alexander Hamilton, Federalist No. 78
TIME OUT: SUPERDAD
Time: "Superman, perhaps the world's most instantly-recognizable superhero, has a new name guiding his adventures: Brian Michael Bendis, an award-winning comics writer who recently joined DC Entertainment after a long period at rival Marvel, where he was the driving force behind the 'Ultimate Marvel' universe. Bendis sat down with TIME to discuss the iconic superhero, who recently had his 80th birthday. Bendis talked about why comic books are a crucial form of entertainment, why he's excited to be taking on such a legendary (and notoriously difficult to write) character, and how he plans to portray Superman's efforts to have a 'normal' family life with his wife and child. 'You get to really focus on what's unique about Superman and his relationship to his son, and his relationship to his family. And we're going to really dig into that in the coming months because they've been living a traditional family life, but they are by no means a traditional family,' said Bendis."

Flag on the play? - Email us at
HALFTIMEREPORT@FOXNEWS.COM with your tips, comments or questions.
SCOREBOARD
Trump job performance 
Average approval: 41.4 percent 
Average disapproval: 52.8 percent 
Net Score: -11.4 points
Change from one week ago: up 1.8 points 
[Average includes: Gallup: 42% approve - 54% disapprove; Fox News: 45% approve - 51% disapprove; NBC/WSJ: 44% approve - 53% disapprove; Quinnipiac University: 40% approve - 51% disapprove; IBD: 36% approve - 55% disapprove.]

Control of House
Republican average: 40 percent
Democratic average: 48.4 percent
Advantage: Democrats plus 8.4 points
Change from one week ago: Democratic advantage up 1.8 
[Average includes: Fox News: 48% Dems - 39% GOP; NBC/WSJ: 50% Dems - 40% GOP; Quinnipiac University: 47% Dems - 40% GOP; IBD: 47% Dems - 40% GOP; CBS News: 50% Dems - 41% GOP.]

[Watch Fox: President Trump sat down with Bret Baier for the first time since October 2016. You can see what happened on 'Special Report' at 6 o'clock ET tonight.]

I'LL TELL YOU WHAT: WE'LL SEE WHAT HAPPENS
This week, Dana Perino and Chris Stirewalt read the tea leaves regarding Tuesday's primaries, discuss the latest stories surrounding Scott Pruitt and the duo share some great stories about Charles Krauthammer. Plus, Dana answers listener mail and Chris reviews the latest Dierks Bentley album. LISTEN AND SUBSCRIBE HERE

NRSC WON'T BACK STEWART
Politico: "President Donald Trump may be excited about Corey Stewart's primary win in the Virginia Senate race, but Senate Republicans certainly aren't. The Senate GOP's campaign arm hasn't endorsed Stewart, who has made defending Confederate monuments a central plank of his political career. And its chairman said that the committee has 'no plans' to spend any money on Stewart in his race against Democratic Sen. Tim Kaine (D-Va.). 'At the senatorial committee we're focusing on Missouri, Indiana, North Dakota, Montana, West Virginia and Florida. There are great races around the country. [Virginia] is not the map,' said National Republican Senatorial Committee Chairman Cory Gardner (R-Colo.). 'We have a big map this year, and what I've laid out in races that I've talked about, Virginia's not on it.' … And [Sen. John Thune, R-S.D.] like other Republicans expressed ignorance of Stewart despite his affinity for earning press with stunts like protesting outside the RNC in 2016, which got him ousted from Trump's official campaign apparatus."
Sanford sunk - WaPo: "Rep. Mark Sanford, one of President Trump's sharpest Republican critics in Congress, was ousted by a primary challenger on Tuesday after Trump waged an extraordinary last-minute effort to defeat him. The South Carolina representative lost to state legislator Katie Arrington, who won Trump's support just hours before the polls closed on Tuesday. Trump lashed out against Sanford, declaring him 'nothing but trouble' in a tweet and referencing his 2009 extramarital affair. Sanford becomes just the second House Republican to lose in a primary this year. The president's broadside marked the first time he targeted a congressional Republican incumbent in the midterms. In Sanford, Trump chose a well-known former governor, who, among other criticisms, held him partly responsible for a shooting at a congressional baseball practice by stoking national tensions."

Nevada Dems pick moderate in race for governor - WaPo: "A conservative state attorney general and a center-left Clark County commissioner will face off in Nevada's race for governor, both candidates offering a sharp break from moderate Republican Gov. Brian Sandoval. In the Republican race, State Attorney General Adam Laxalt… defeated state Treasurer Dan Schwartz in a landslide. Democrats … plan to challenge him as an opponent of the Affordable Care Act — a contrast with Sandoval — who has intervened in political matters on behalf of powerful donors. Democrats, meanwhile, nominated Clark County commissioner Steve Sisolak after a competitive and draining race against fellow commissioner Christina Giunchigliani. Liberal groups and Hillary Clinton both endorsed Giunchigliani, who attacked Sisolak as a tool of real estate developers. But Sisolak, who had led the successful effort to bring an NFL franchise to Las Vegas, won convincingly in Clark County, overwhelming Giunchigliani's advantage in the rest of the state."
Tarkanian, Hardy get nod for rare GOP House pickup opportunities - Roll Call: "Republicans are largely on defense this election cycle, but they're targeting two open seats in Nevada, where voters selected their general election candidates Tuesday night. In the 4th District, two former one-term seat holders – Democrat Steven Horsford and Republican Cresent Hardy – easily won their respective primaries. In the 3rd District, perennial GOP candidate Danny Tarkanian and Democrat Susie Lee advanced to what is also expected to be a competitive fall race. Republicans are eyeing both districts, where the Democratic incumbents won by slim margins in 2016 despite a good year for the party in the Silver State. But Democrats are confident of holding both seats due to strong candidates, increased party energy and competitive races at the top of the ticket."

Mainers opt to keep 'ranked choice' voting - AP: "The nation's biggest test of ranked-choice voting resulted in confused voters, scores of spoiled ballots and fears of impending lawsuits. But there was no widespread chaos, and proponents were already talking up expanding the system Wednesday, even before the votes were fully tallied. Growing ranked-choice voting in Maine alone will take a long-odds amendment to the state's constitution, but backers said that's just a step along the way to getting more states on board with a system they believe gives voters more options and more voice. 'Ranked-choice voting is the change we need to get more voice to the people, and it's here to stay,' said Kyle Bailey, manager for the ranked-choice voting campaign. Residents voted Tuesday to retain the voting system, nullifying a legislative delay and allowing it to be used in November's federal elections in Maine. … [Bangor municipal clerk Lisa Goodwin] estimated Bangor saw 150 spoiled ballots, compared to 25 to 30 in a typical election."
Dems flip Wisconsin statehouse seat in deep red district - [Milwaukee] Journal Sentinel: "Wisconsin Democrats came one step closer to gaining control of the state Senate by picking up a seat held by Republicans for more than 40 years, while the GOP held on to an Assembly seat in a pair of special elections Tuesday. Caleb Frostman topped Rep. Andre Jacque in the 1st Senate District and Jon Plumer defeated Ann Groves Lloyd in the 42nd Assembly District. Frostman will be the first Democrat to represent the northeast Wisconsin district since the 1970s — a win Democrats are hailing as more evidence of a so-called blue wave ready to flip more Republican-held seats in elections later this year. But Plumer's victory over Lloyd helps Republicans counter the narrative that Democrats are primed to sweep elections in Wisconsin and around the nation this fall. While the winners of the contests will hold their seats for only a few months before they must run again in November for a full term, their performance Tuesday will be heavily scrutinized by politicos and voters trying to predict the outcome of the fall elections."
McCaskill used private plane for RV 'road trip' - WashTimes: "The McCaskill campaign bus apparently hit the … air. In a report Tuesday, the Washington Free Beacon determined that the private plane of Sen. Claire McCaskill, Missouri Democrat, took the same routes as her much-touted 'Big Blue' RV for a May 29-31 tour by 'Veterans for Claire' in the week following Memorial Day. Mrs. McCaskill said then that she was 'very excited to hit the road.' But according to a report by the Free Beacon's Brett Scher, based on flight-data crowd-sourcing sites, the campaign's plane traveled between the same Missouri towns the RV did. 'On Tuesday, May 29, for example, McCaskill's tour took her from Waynesville in central Missouri, west to Springfield, and then further west to nearby Joplin, according to the campaign's blog. The plane, according to the tracking data for the day, took the same route as the campaign RV,' Mr. Scher wrote. There were more similarities for all but the last leg of the 'road trip,' the Free Beacon reported."
RYAN CUTS A DEAL ON DREAMERS TO AVOID REVOLT 
NYT: "After frenzied late-night negotiations, Speaker Paul D. Ryan defused a moderate Republican rebellion on Tuesday with a promise to hold high-stakes votes on immigration next week, thrusting the divisive issue onto center stage during a difficult election season for Republicans. The move by Mr. Ryan, announced late Tuesday by his office, was something of a defeat for the rebellious immigration moderates, who fell two signatures short of the 218 needed to force the House to act this month on bipartisan measures aimed more directly at helping young immigrants brought to the country illegally as children. Instead, the House is most likely to vote on one hard-line immigration measure backed by President Trump and conservatives — and another more moderate compromise bill that was still being drafted, according to people familiar with the talks. Had the rebels secured just two more signatures for their 'discharge petition,' they would have also gotten votes on the Dream Act, a stand-alone bill backed by Democrats that includes a path to citizenship for the young undocumented immigrants known as Dreamers, and another bipartisan measure that couples a path to citizenship for Dreamers with beefed-up border security."

McConnell brushes back Trump efforts to end preexisting condition coverage -The Hill: "Senate Majority Leader Mitch McConnell (R-Ky.) said Tuesday that 'everybody' in the Senate wants to maintain protections for people with preexisting conditions, even as the Trump administration seeks to have such protections overturned in court. 'Everybody I know in the Senate — everybody — is in favor of maintaining coverage for preexisting conditions. There is no difference in opinion about that whatsoever,' McConnell said at his weekly press conference with reporters. The Justice Department wrote in a filing last week that it would not defend ObamaCare's protections for people with preexisting conditions, siding in large part with a challenge to the law brought by a coalition of Republican-led states. Twenty Republican states sued the Trump administration in February, arguing ObamaCare was unconstitutional because Congress repealed the tax penalty associated with the law's individual mandate."

Florida Dems fret that Nelson is getting out-hustled by Scott - Fox News: "When Florida Gov. Rick Scott announced he was running for Senate, the incumbent, Sen. Bill Nelson, confidently assured his supporters that he would emerge victorious again in November. Privately though, Democrats are worried Nelson is getting out-muscled early on by the governor. The Democrat, who has held the seat since 2000, will face the toughest political campaign of his life leading up to the Nov. 8 election. Scott announced his candidacy April 9 to much fanfare, telling hundreds of supporters that packed into an Orlando warehouse that the concept of sending career politicians to Washington 'has got to stop.' That announcement kicked off what is expected to be the most high-stake and expensive Senate race in history. Nelson has comfortably held the seat for almost two decades, and political analysts say that could work against him – because many younger voters don't know much about him."

REPORT: TRUMP LAWYER TO COOPERATE WITH FEDS
ABC News: "Michael Cohen, President Donald Trump's longtime confidant and former personal attorney, is likely to cooperate with federal investigators, as his lawyers are expected to leave the case, sources said. To date, Cohen has been represented by Stephen Ryan and Todd Harrison of the Washington and New York firm, McDermott, Will & Emery LLP, but a source representing this matter has disclosed to ABC News that they are not expected to represent him going forward. No replacement counsel has been identified as of this time. Cohen, who has been under criminal investigation for months, which is separate from the special counsel case, has been rushing to meet U.S. District Judge Kimba Wood's Friday deadline to complete a privilege review of over 3.7 million documents seized in the April 9 raids of Cohen's New York properties and law office. Cohen, who is under federal investigation now with no legal representation, is likely to cooperate with federal prosecutors in Manhattan, sources said."
McCabe files suit ahead of potentially damaging report on his conduct - Fox News: "Lawyers representing former FBI Deputy Director Andrew McCabe filed a suit against the Justice Department and FBI on Tuesday, alleging that they wouldn't give up files connected to his ouster. McCabe's lawyers claimed the Justice Department has denied access to the sought-after information out of concern that the documents could be later used against them, the lawsuit said. The suit also named the office of the DOJ inspector general. 'We don't create or adjudicate under secret law or procedure,' David Snyder, a lawyer representing McCabe, told The Associated Press. A representative for the Justice Department did not immediately respond to Fox News' request for comment. McCabe was fired in March just a few days shy of his retirement by Attorney General Jeff Sessions after it was reported that McCabe leaked a story to the press and later lied about it to former FBI Director James Comey."

PLAY-BY-PLAY
Triple Cali? California voters will get to vote on plan to split state - LAT

McConnell makes history as longest serving Senate Republican leader - Fox News

China tariffs could come as soon as Friday - Politico

AUDIBLE: MEET NINA, PINTA AND MARIA… 
"It's all because Donald Trump was the Christopher Columbus for me. He found the way and I jumped on it." – Brothel keeper Dennis Hof speaking to the AP after winning a GOP primary for Nevada's state legislature Tuesday.  

FROM THE BLEACHERS
"I've been watching the San Francisco mayors race and the ranked choice voting seems to have probably led to a 'centrist' mayor, London Breed. Even though the two 'Progressive' candidates lined up with each other against Ms. Breed, her narrow lead has been increasing. Maybe Ranked Choice works, maybe it doesn't but it seems that in this case folks are choosing the more middle of the road (for San Francisco) candidate." – Bill Newton, Berkeley, Calif.

[Ed. note: Great observation, Mr. Newton! San Francisco has, along with other Bay Area cities, used ranked choice voting since 2002 and while there are many who grumble, the method generally seems to be popular. What I find interesting about the current race is that the candidates who formed compacts to try to game the system seem to have shot themselves in the foot. Though I do wonder about the tendency in general for political machines to essentially fix elections by running multiple stalking horse candidates. Aim for a plurality, but do so with what amounts to a running mate who is then rewarded with a sinecure in the new administration. But I promise I am paying close attention to the idea.]
Share your color commentary: Email us at
HALFTIMEREPORT@FOXNEWS.COM and please make sure to include your name and hometown.
IN NOLA, THE POTHOLES ARE SO BAD THAT THEY FIGHT BACK 
[New Orleans] Times Picayune: "A cement truck trying to fix a pothole in the French Quarter got stuck in another pothole Tuesday morning, according to WWL-TV. According to the report, the truck got stuck on Burgundy Street near Ursulines Avenue A video from WWL shows the truck at an angle, with one of its tires stuck in a hole near the gutter. The truck was pulled out later in the day, WWL said. Watch the full report."
AND NOW, A WORD FROM CHARLES…
"There could be no greater irony: For all the sublimity of art, physics, music, mathematics and other manifestations of human genius, everything depends on the mundane, frustrating, often debased vocation known as politics (and its most exacting subspecialty – state craft). Because if we don't get politics right, everything else risks extinction." – Charles Krauthammer writing in the Washington Post, Dec. 29, 2011.
Chris Stirewalt is the politics editor for Fox News. Brianna McClelland contributed to this report. Want FOX News Halftime Report in your inbox every day? Sign up here.