Primary rival concedes, leaving Espaillat on verge of being 1st Dominican-American in Congress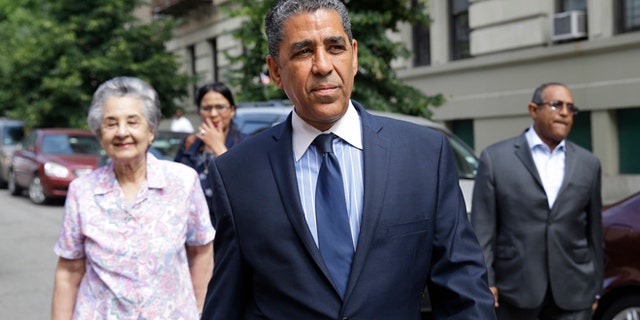 NEWYou can now listen to Fox News articles!
Adriano Espaillat's quest to become the first Dominican-American elected to Congress just got one step closer to fruition on Thursday after his main rival Democratic Party conceded defeat in the primary – earning him the party's nomination and the support of the man he hopes to replace, retiring U.S. Rep. Charles Rangel.
Manhattan Assemblyman Keith Wright received 34 percent of the primary vote to Espaillat's 37 percent in Tuesday's primary election. The difference between the two candidates in raw votes was a little more than 1,000.
In conceding defeat, Wright threw his support behind Espaillat.
"This has been a long and very spirited campaign," Wright said, according to DNA Info. "We put a lot of issues on the table … We've left it all on the battlefield, and certainly now is the time to come together. I want him to be successful."
He added, "Politics is over now. It's time to serve."
For the better part of two days, Wright had refused to concede defeat, calling for a recount and an investigation by the Department of Justice – until he appeared alongside Espaillat on Thursday afternoon outside the famed Sylvia's Restaurant in Harlem where the two men met with Rangel.
The 86-year-old congressman, who has been on Capitol Hill since 1971, is retiring at the end of his current term, and he previously endorsed Wright to take his spot representing New York's 13th District.
The district is changing from a historically African-American area to one that is predominantly Dominican – something Rangel noted in his remarks on Thursday.
"That's what America's all about. That's what change is all about," Rangel said, according to Newsday. "And the most important thing is that we ... work together."
He added that if Espaillat wins in November – which would seem a relatively easy challenge, given the district's overwhelmingly Democratic electorate – Rangel would work with his successor to help him have a smooth transition to Capitol Hill, including meeting with the black and Hispanic congressional caucuses.
In his remarks, Espaillat brought up how he would work to bring together the various communities in the district.
"There is a kinship here between the assemblyman and I and this neighborhood and the neighborhood that I grew up in," Espaillat said. "This is a special moment to coalesce and bring together all the goodwill that we have to make sure our neighborhoods are lifted."
Espaillat's next challenge comes in a general election match-up against Republican Robert "Tony" Evans.
Evans, an attorney and a former corporate banker for Citigroup, said that the tough battle between Espaillat and Wright showed that Democratic voters in the district did not see a definitive choice among the two.