Primary Guide: Mississippi gamblers place big bets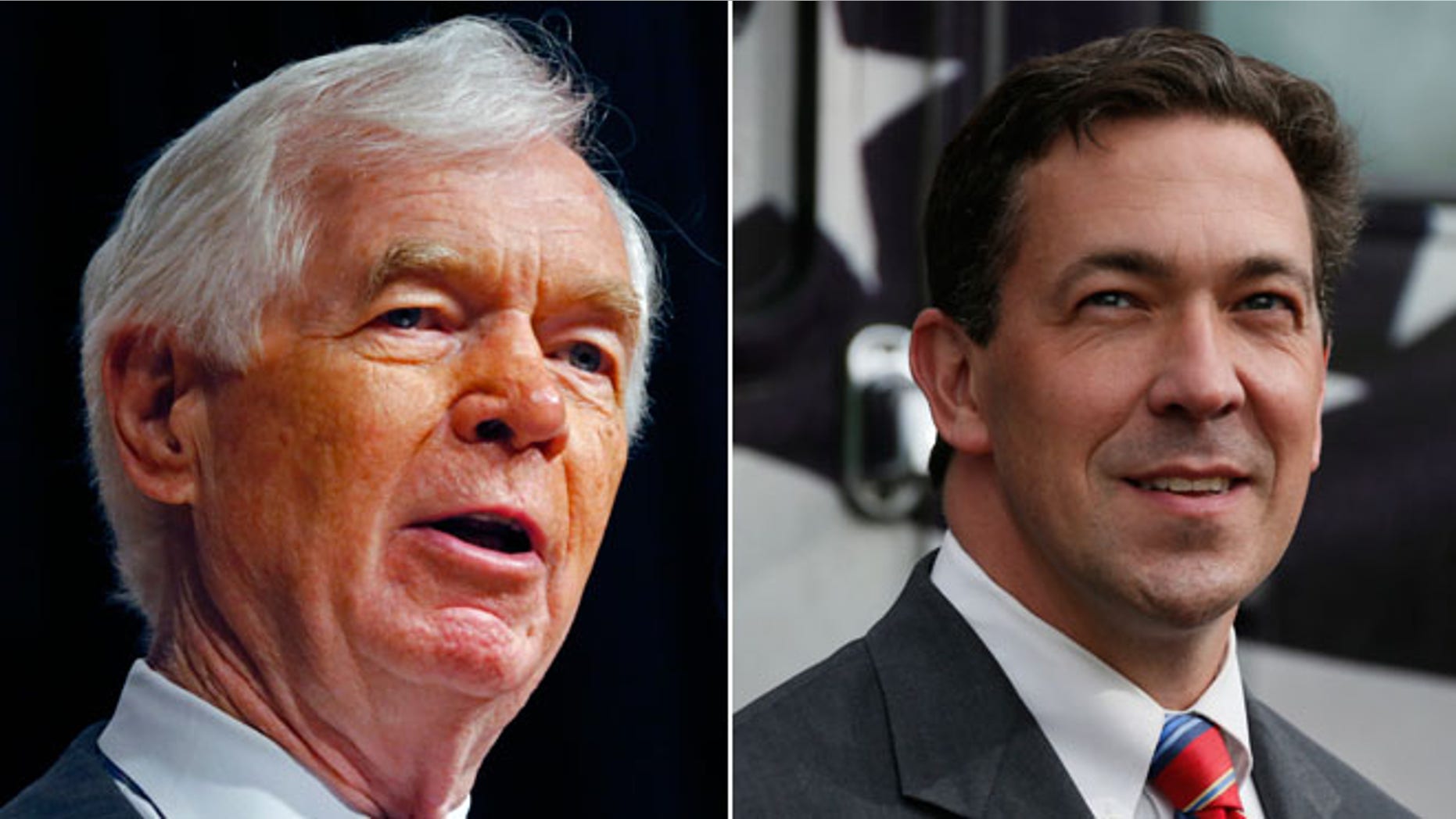 **Want FOX News First in your inbox every day? Sign up here.**
Buzz Cut:
• Primary Guide: Mississippi gamblers place big bets
• Gloves stay on in Oklahoma
• Moderate GOP tries to head off Tancredo bid
• One more round for Rangel?
• Well, ribs are delicious
PRIMARY GUIDE: MISSISSIPPI GAMBLERS PLACE BIG BETS
Thad Cochran should be toast. And he probably is. But today's wide-open Mississippi Republican Senate primary runoff is unprecedented and unpredictable. So hold on to your pralines, because just like the rest of the race, Election Day promises to be wild.
[Polls close in Mississippi at 8 p.m. ET. You can track the results with the Mississippi Secretary of State and watch Fox for coverage of tonight's key primary contests, online at FoxNews.com]
Never been here before - Mississippi's Republican Party, which had been one of the most orderly in the country for 40 years, is in the middle of an upheaval and doing it with a national audience. There's no in-state model for today's runoff contest between Sen. Thad Cochran, elected to Congress on Richard Nixon's coattails in 1972 and two-term state Sen. Chris McDaniel. Mississippi has had only one change in its Senate delegation since the Reagan administration, an orderly transfer of power from retiring Sen. Trent Lott to his successor, then-Rep. Roger Wicker. And there's really no precedent for this race in the nation. In the last 20 years, only seven incumbent senators of either party have lost primary elections. One was defeated in a state convention, two went on to win in November anyway, two were results of incumbents switching parties and one had only been appointed to the Senate two months prior. There's really only one pure incumbent defeat since 1994, and that was Sen. Richard Lugar, R-Ind. who lost in 2012. And Lugar was upended by a surprise showing by the Republican state treasurer. Everybody saw the Mississippi mud bath coming. We are in new territory here.
[Watch Fox: Correspondent John Roberts is in Mississippi and will have the latest on the hottest primary of 2014.]
Incumbents usually win - McDaniel beat Cochran in the primary three weeks ago by 1,386 votes out of 313,483 ballots cast. A third candidate, who didn't mount any campaign, drew 1.5 percent of the vote and kept McDaniel under the 50 percent threshold he needed to win outright. Rather than meeting Lugar's fate, five-term incumbent Cochran was pushed into a runoff election. Political experience says that more ideologically pure candidates do better in runoff elections, which are contested among the smaller, more activist group of voters willing to participate in a second primary vote. That's how dark-horse candidates like Sen. Ted Cruz, who vaulted from second place in the first round in Texas' 2012 Senate primary to landslide victory in the runoff, defeat frontrunners. Cruz won the lion's share of support from the other candidates backed by activists, consolidating the opposition after the first round and leaving the initial winner, a more moderate establishment figure, unable to increase his share and dead in the water. But again, this race is not typical. While more ideologically pure candidates fare better in primaries, so too do incumbents. The only incumbent senator in recent memory to face a runoff was across the river from Mississippi in Arkansas where Blanche Lincoln lost in round one in 2010 but came back to win convincingly in the runoff three weeks later.
[In a last minute cash infusion, the National Republican Senatorial Committee sends $175,000 to help Cochran.]
Intensifier effect - What McDaniel is looking for is the Cruz experience, but against an incumbent. We have no precedent for that on the Senate level, but in 2010 moderate Rep. Bob Inglis, R-S.C., lost his first round by about 10 points to local prosecutor Trey Gowdy. In the runoff, Gowdy crushed the incumbent by 46 points. That's not going to happen in Mississippi, when the runoff is essentially a rematch. But the safest bet is that McDaniel will benefit from a similar intensifier effect and expand his margin from three weeks ago for a clear, but not landslide, victory.  Cochran and his backers in the state and national GOP establishments, however, have a plan to change the electorate by bringing Democrats into the open primary. Any registered voter in the state, except those who already voted in the Democratic primary, are eligible to participate today. With Democratic nominee, former Rep. Travis Childers, unlikely to win the seat in November, Cochran has been making his appeal on the grounds that he can and will deliver federal spending to the state.
[Watching you - NYT: "The [Senate Conservative Fund, Freedom Works and the Tea Party Patriots] will deploy observers in areas where Mr. Cochran is recruiting Democrats, [President of SCF Ken Cuccinelli] said. J. Christian Adams, a former Justice Department official and conservative commentator who said he was advising the effort, described the watchers as 'election observers,' mostly Mississippi residents, who will be trained to 'observe whether the law is being followed.'"]
How many Democrats for Cochran? - In 2007, Mississippi Democrats saw huge turnout for the race to choose a challenger to then-Gov. Haley Barbour, R-Miss.: about 447,000 voters. In this year's largely uncontested Democratic primaries, only about 86,000 votes were cast, a drop off of 361,000 votes. So the Cochran team had a big haystack in which to start looking. They needed to find Democratic voters who were eligible and persuadable and who would be willing to vote. One particular focus has been with black voters, who have heard allegations of racism against the Tea Party and a focus on the benefits of federal spending. While the campaign of the Republican incumbent who lost two weeks ago, House Majority Leader Eric Cantor, makes an unconvincing claim that crossover Democrats cost him his seat, Cochran is trying to shoo them into polling places. If Cochran can expand the electorate without turning off his core supporters with such an overt plea to Democrats, he can win. McDaniel has little hope of increasing turnout: the June 3 vote was the largest in state GOP history.
[Increase in absentee ballots - Jackson (Miss.) Clarion-Ledger: "More voters have filed absentee ballots for [today]'s runoff election than in the June 3 primary, but some circuit clerks say the higher number may be due to more people taking vacations than signaling a higher turnout at the polls in the runoff….The Secretary of State office is reporting 19,144 absentee ballots have been requested as of 9 a.m. [Monday]. This compares to 18,036 total absentee ballots requested in the June 3rd Democratic Party and Republican Party Primary Elections."]
Cochran's counties - Three weeks ago, the state's more populous and moderate counties, those along the Gulf Coast and Mississippi River, showed their support for their incumbent senator. Today, Cochran needs to retain those supporters and to squeeze votes from Democrats. Luckily for Cochran, the counties in which he performed well a few weeks ago are also the richest in potential Democrat votes. Cochran will look to Democrats in and around his hometown of Jackson – Hinds, Madison and Rankin counties – as well as costal Harrison County.
McDaniel's base - McDaniel's supporters reside in the northern, more rural counties as well as his Pine Belt state Senate district, centered on Jones County which includes Ellisville and Laurel.
A word about polling – Simply stated, there is no reliable public polling on this race. That's not to say there aren't polls, but what's available is all from partisan pollsters with partisan attitudes about the electorate. That's not to say they won't be predictive, but, as we just discussed, turnout is anybody's guess.
WITH YOUR SECOND CUP OF COFFEE...
Ever wonder what it looks like when one star "eats" another star? That amazing moment is part of "Hubble's Time-Lapse of a 'Light Echo'": "Scientists have been keeping an eye on an unusual star called V838 Monocerotis since 2002, when it had an explosion that made it, for a few weeks, 600,000 times brighter than our sun. Ever since then, light from that outburst has been rippling across the universe and illuminating space dust in what the European Space Agency calls "the most spectacular 'light echo' in the history of astronomy." The echo alone, according to NASA, spans six light years of outer space. And, now, thanks to a time-lapse look from Hubble photos of the light echo, you can watch the way the echo has transformed—about 20,000 light-years away from Earth at the outer edge of our Milky Way galaxy—over a four-year period."
Got a TIP from the RIGHT or LEFT? Email FoxNewsFirst@FOXNEWS.COM
POLL CHECK
Real Clear Politics Averages
Obama Job Approval: Approve –  41.6 percent//Disapprove – 54.1 percent
Direction of Country: Right Direction – 28.5 percent//Wrong Track – 63.5 percent
Generic Congressional Ballot:  Democrats – 42.2 percent// Republicans 41.6 percent
GLOVES STAY ON IN OKLAHOMA
National groups have tried hard to make today's Oklahoma Senate primary into another round of the tea party-versus-establishment bare-knuckled bout being fought in Mississippi. But this is a gloves-on contest where attack ads have done more harm than good. Recent polls show Rep. James Lankford with a slight lead over former Oklahoma House Speaker T.W. Shannon with former state Sen. Randy Brogdon trailing in the race to succeed Sen. Tom Coburn, R-Okla. Lankford has been campaigning on his national-level experience, while Shannon, backed by the Senate Conservatives Fund, former Gov. Sarah Palin, R-Alaska, and Sen. Ted Cruz, R-Texas, has pushed his fiscal conservatism and thrown veiled jabs at Lankford on the national debt. Face-to-face debates have been civil with both candidates emphasizing agreement on issues like ObamaCare repeal, but on the air, the tone hasn't always been so friendly.
[Polls close in Oklahoma at 8 p.m. ET. You can track the results with the Oklahoma State Election Board and watch Fox for coverage of tonight's key primary contests, online at FoxNews.com]
Downside of outside money - In contrast to Nebraska, where a lesser-known GOP Senate insurgent candidate Ben Sasse was able to turn the tables and defeat establishment-backed Shane Osborn with the help of out-of-state groups, today's race in Oklahoma shows how attack ads powered by outside money can backfire. The much venerated Coburn, though not officially picking sides, went to bat for Lankford over political ads that "crossed an important line" saying in a statement, "they simply aren't truthful and they mischaracterize James Lankford's service in Congress." With many Oklahomans decrying the dark money sponsored spots, Shannon, who said he couldn't control the ads, was compelled to renounce them.
OK another runoff? - If neither candidate holds 50 percent of the vote today, it will force Lankford and Shannon into an Aug. 26 runoff election. If 50 percent is reached, today's primary election will essentially decide the winner of the seat, considering that former Massachusetts Gov. Mitt Romney won the state by more than 30 points in 2012 and Oklahoma hasn't elected a Democrat to the Senate is more than 50 years.
[Watch Fox: Chief Political Correspondent Carl Cameron is live in Oklahoma to bring the latest results from the race.]
MODERATE GOP TRIES TO HEAD OFF TANCREDO BID
In Colorado today, former Reps. Bob Beauprez and Tom Tancredo, Secretary of State Scott Gessler and former state Sen. Mike Kopp are the Republicans vying for the chance to unseat Democratic incumbent Gov. John Hickenlooper in November. NYT: "Moderate Republicans were warning that Mr. Tancredo's name on the ballot could doom their chances in crucial races across this swing state…. Fifteen years after he built a national reputation as an inflammatory foe of illegal immigration, Tom Tancredo, 68, is still campaigning, without apology, as Tom Tancredo. He skipped the debates ahead of Tuesday's four-way Republican primary. He defied calls to drop out of the race. He embraces marijuana legalization. He says President Obama should be impeached, but notes that "you can't criticize him because he's black and if you do, you're a racist."… Republicans here say, his candidacy could hurt their efforts to unseat the Democratic senator, Mark Udall, who is locked in a tight race with Representative Cory Gardner, a Republican from eastern Colorado. And they worry that Mr. Tancredo's anti-immigration reputation could tip the scales in a competitive House fight in suburban Denver, where the Republican incumbent, Representative Mike Coffman, embraced an immigration overhaul after redistricting brought more Hispanic voters into his district."
[Polls close in Colorado at 9 p.m. ET. You can track the results with the Colorado Secretary of State and watch Fox for coverage of tonight's key primary contests, online at FoxNews.com]
What a difference four years makes - Back in 2010 the GOP was more than happy to have Tom Tancredo run for the governor's mansion on a third party ticket where he drew votes from Republican primary winner Dan Maes, who lost the party's support in a campaign plagued by numerous scandals. Tancredo, known for his explosive stance against illegal immigration lost to Democrat John Hickenlooper.
ONE MORE ROUND FOR RANGEL?
NYT: "On the eve of the Democratic congressional primary, Representative Charles B. Rangel and State Senator Adriano D. Espaillat, who is trying to unseat him, held dueling news conferences on Monday a block apart in Washington Heights — a proximity that helped set off a shouting match between their supporters….The outcome could depend on how many voters Mr. Rangel and Mr. Espaillat can woo from the other's base. Mr. Rangel, 84, born and raised in Harlem, is a founding member of the Congressional Black Caucus who is seeking his 23rd term. Mr. Espaillat, 59, who lives in Washington Heights, would be the first Dominican-American in Congress."
[Polls close in New York at 9 p.m. ET. You can track the results with the New York State Board of Elections and watch Fox for coverage of tonight's key primary contests, online at FoxNews.com]
OTHER RACES TODAY
Maryland - The Old Line State's hotly contested Democratic gubernatorial primary with hopefuls Lt. Gov. Anthony G. Brown, Attorney General Douglas F. Gansler and state Del. Heather R. Mizeur will be decided today. The Republicans are Harford County Executive David R. Craig, state Del. Ronald George, Larry Hogan and Charles Lollar. Polls close in Maryland at 8 p.m. ET. You can track the results with the Maryland State Board of Elections and watch Fox for coverage of tonight's key primary contests, online at FoxNews.com.
Utah - Seven of Utah state legislature seats' primaries as well as county elections are today. Polls close in Utah at 10 p.m. ET. You can track the results with the Utah Lieutenant Governor.
Florida – Voters will choose a replacement for disgraced former Rep. Trey Radel, R-Fla. from a field that includes Republican Curt Clawson, Democrat April Freeman and Libertarian Ray Netherwood. Polls close in Florida at 7 p.m. ET. You can track the results with the Florida Department of State and watch Fox for coverage of tonight's key primary contests, online at FoxNews.com.
South Carolina - A handful of local South Carolina primaries will be decided in a runoff today. Polls close in South Carolina at 7 p.m. ET. You can track the results with the South Carolina State Election Commission.
BOEHNER TO GIVE $1.5 MILLION TO HOUSE GOP CAMPAIGNS
USAT: "On Tuesday, [Speaker John Boehner, R-Ohio,] will announce at a closed-door meeting that he is transferring $1.5 million from his campaign war chests to the [House Republican] campaign committee, bringing his total contribution to $17 million so far for the 2014 elections, more than any of his House colleagues. All told, Boehner has helped raise $88 million for Republicans for the 2014 campaign… The breadth and pace of Boehner's fundraising runs counter to speculation in recent months that he is mulling retirement. His February purchase of a Florida condo, the exit of a handful of his senior aides for private sector jobs, and frustrations with an unruly House GOP conference have fueled such talk. Boehner has publicly maintained that he wants to remain in the job."
TWEET DELETE: LOBBYISTS BLOW SHAHEEN'S COVER AT FUNDRAISER
New Hampshire Journal: "Massachusetts was again a central topic in the New Hampshire U.S. Senate race Monday as Republicans hit Sen. Jeanne Shaheen, R-N.H., for promoting the Affordable Care Act during an event at one of Beacon Hill's most influential lobbying firms, while a new Democratic web ad again exploited Republican Scott Brown's ties to the Bay State.… At the same, the state Republican Party chided Shaheen for visiting the influential Boston lobbying firm O'Neill and Associates, where, according to a Twitter post by the firm, she discussed 'the effects of the #ACA (Affordable Care Act) on NH #healthcare landscape.'"
[Bay to Granite - 2012 Republican presidential nominee Mitt Romney, a Massachusan who knows a thing or two about wooing New Hampshire voters, will endorse Brown next week and hit the trail for the former senator.]
PICK SIX
Republicans have their sights set on six seats to win back control of the Senate from Democrats. So which seats are most likely to flip from blue to red?  Based on your tweets and e-mails, the current consensus among Fox News First readers is: Arkansas, Montana, Louisiana, South Dakota, North Carolina and West Virginia.
Share your top six picks. Email them – just your top six, please – to FOXNEWSFIRST@FOXNEWS.COM or tweet @cstirewalt.
WELL, RIBS ARE DELICIOUS
Fairbanks Daily News‑Miner: "When Anuson "Knott' Poolsawat, owner of Knott's Take Out in North Pole, makes a promise to deliver food he keeps it, even if the obstacles seem insurmountable. Knott forded Clear Creek near Salcha Saturday evening to deliver an order of Thai and American food from his restaurant on Badger Road to Mike Laiti and Brandon Borgens…. They called in an order to Poolsawat when they were about an hour outside of town, but shortly after calling him they were stopped at the Clear Creek bridge. The highway over the bridge was closed by Department of Transportation and Public Facilities when a sinkhole appeared in the middle of the road because of heavy rainfall. 'I called him and said, 'Hey man, I can't make it,' and he said, 'Not a problem, I'll come cross the waters,'' Laiti said. 'He called me and said, 'Should I bring a boat?'' Poolsawat arrived a while later with several take out boxes containing Thai barbecue ribs, Thai fried rice and a 'dinosaur egg,' a hardboiled egg that's fried and covered in a sweet sesame sauce. He hiked up his shorts and waded through the creek, holding the take out up above his head. At its highest point, the water reached about up to Poolsawat's hips."
AND NOW A WORD FROM CHARLES…
"Iran has a very clear interest; it stated it directly, to support the Shi'ite government as a Shi'ite dictatorship. That's why it backs [Prime Minister of Iraq Nouri al-Maliki]. It's wrong about him winning the election. He lost the election. He got 92 seats the parliament is 330. Do the math. He isn't near a majority." –Charles Krauthammer on "Special Report with Bret Baier"
Chris Stirewalt is digital politics editor for Fox News. Want FOX News First in your inbox every day? Sign up here.