Pressure is on Marco Rubio to stay strong in debate and rank higher in polls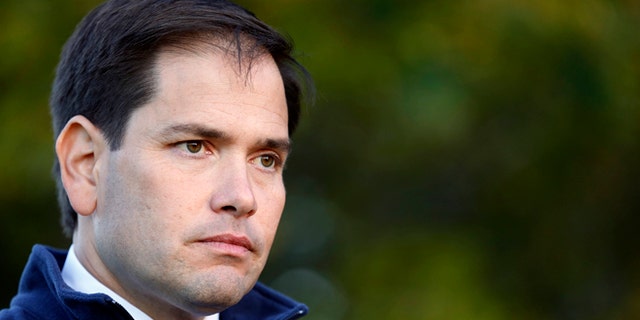 In the third GOP debate on Wednesday night, Sen. Marco Rubio will be walking a tightrope, political experts say.
He has managed to hold his own quite well, rather steadily staying among the top four GOP presidential contenders in polls of Republican likely voters.
The Florida first-term senator is the only career politician who can boast of such a feat. The others – billionaire Donald Trump and retired neurosurgeon Ben Carson – who have dominated the top slots in polls never have held elective office, proudly campaign on being "outsiders."
But being third or fourth in the polls, and staying out of the crossfire of headline-making barbs and controversial views, is now seen as too safe, experts say, and the pressure is on for Rubio to show a little spark and move up in voter surveys.
Donors, for one, are looking at Rubio to have a breakout moment, according to Politico, which says that billionaire super PAC donor Paul Singer wants more assurance about Rubio's staying power – and ability to get stronger as a candidate – before he'll commit to contributing to what the publication characterized as the senator's "shoestring" campaign "run out of a tatty Capitol Hill row house."
Citing two people "familiar with the hedge fund manager's thinking," Politico said that Singer evidently still needs to be convinced that Rubio can create a large national campaign, with a broader fundraising operation. Singer and Rubio met in New York in early October, Politico said.
Former Mississippi Gov. Henry Barbour, who is a member of the Republican National Committee, believes that Rubio can allay fears and doubts with continued strong rankings in future polls.
Some experts expect other candidates to take shots at Rubio in the third debate, testing his resolve not to engage in stage fights with other candidates, and instead display his academic knowledge of such things as foreign policy and immigration.
His one-time mentor and friend, former Florida Gov. Jeb Bush, has stepped up his attacks on Rubio, in recent days calling him the "GOP Obama."
"Jeb is running a big, robust campaign built to go the long haul with more depth in March primary states than other campaigns," Politico quoted Barbour as saying. "On the other hand, the Rubio campaign is smaller and has been less aggressive building out. For Rubio to win, it will be because he keeps performing well."
"If he can continue his strong debate performance, he will have more cash and volunteers to smartly ramp things up."
Rubio, Politico notes, is careful not to blast Bush, whose supporters he could gain should the former governor – who has had to make cuts in his campaign – lose even more momentum.
"He sits close to the party's center ideologically, and his favorable ratings with Republicans are consistently strong," wrote Ross Douthat of the New York Times. "He's an effective debater with a great personal story and an appealing style, and a more impressive policy portfolio than most of his rivals."
Rubio has been diligent about keeping campaign costs under control.
"If you are still standing in May, running smaller or leaner now is going to look very smart. If you are out, not so much," said Chip Felkel, a South Carolina GOP consultant, according to Politico.
"Rubio's team has prided themselves on this lean approach, and on their commitment to digital rather than boots on the ground," Felkel also said. "They are making a pretty gutsy bet that you don't need a presence anywhere except online. That may make your campaign more agile, sure, but I am not sure that equates to strength."
Like us on Facebook
Follow us on Twitter & Instagram