President Obama's Handshake With Raul Castro Angers GOP Lawmakers, Cuban-Americans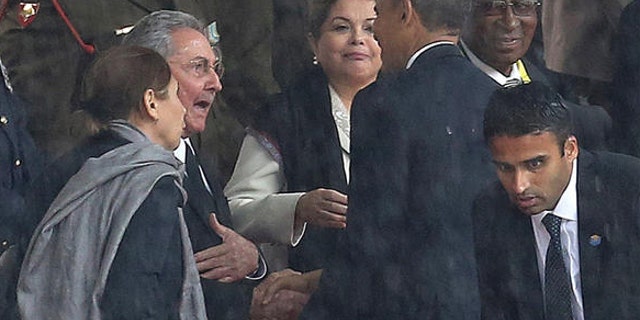 The saying has it that a picture is worth a thousand words, but pictures of a controversial handshake seems to be worth more like a million.
Photographs of President Barack Obama shaking hands with Cuban leader Raúl Castro at Tuesday's memorial service for South Africa president Nelson Mandela elicited a strong condemnation from Republican lawmakers, including those of Cuban heritage.
The White House said Obama was just being polite by shaking hands with Castro while making his way to the podium to pay tribute to Mandela. But critics said the gesture would benefit Castro by giving him the appearance of legitimacy.
"Yeah, it was a joke," said Sen. John McCain, a Republican from Arizona, according to The Hill. "It does give Raúl Castro who is a total dictator, prisons filled with dissidents, a propaganda boost. It does."
Cuban-American politicians Sen. Marco Rubio and Rep. Ileana Ros-Lehtinen, both Republicans from South Florida, also criticized the handshake.
"If the president was going to shake his hand, he should have asked him about those basic freedoms Mandela was associated with that are denied in Cuba," Rubio said, according to The Hill.
At a House Foreign Affairs Committee meeting, Ros-Lehtinen asked Secretary of State John Kerry about the handshake.
"Sometimes a handshake is just a handshake," she said. "But when the leader of the free world shakes the bloody hand of a ruthless dictator like Raúl Castro, it becomes a propaganda coup for the tyrant. Raúl Castro uses that hand to sign orders to oppress and jail democracy activists."
Administration officials pointed out that when Obama spoke at Mandela's service to a crowd full of world leaders, he stressed the need to respect human rights.
"There are too many leaders who claim solidarity with Madiba's struggle for freedom but do not tolerate dissent from their own people," Obama said. "And there are too many of us on the sidelines, comfortable in complacency or cynicism when our voices must be heard."
Sen. Ted Cruz, a Texas Republican whose father emigrated from Cuba, walked out of the service when Castro began to deliver his remarks.
"Sen. Cruz very much hopes that Castro learns the lessons of Nelson Mandela," said a Cruz spokeswoman, who was quoted by ABC News. "For decades, Castro has wrongly imprisoned and tortured countless innocents. Just as Mandela was released after 27 years in prison, Castro should finally release his political prisoners. He should hold free elections, and once and for all, set the Cuban people free."
Cruz was the only member of the U.S. Senate, and one of only two Republicans in Congress, to attend the service.
Sen. Patrick Leahy, a Vermont Democrat, said on Twitter that all the brouhaha about the handshake was "petty" and "off key."
"Can you imagine what Nelson Mandela would say?" he asked.
Of course, Tuesday's honoree was an admirer and friend of Raúl Castro's brother, Fidel – a relationship that many Americans frowned upon. Mandela always defended the elder Castro, pointing out that he had actively supported the struggle to end Apartheid in South Africa. He was also a vocal opponent of the U.S. embargo on Cuba.
Columnist and Cuban-American Miguel Perez recently wrote of Mandela, "He was one of the greatest leaders of our time, a champion for human rights and racial equality. The world is a better place because Nelson Mandela lived among us. But ... I can think of at least one small part of the planet where he turned a blind eye to human rights and racial equality, and where his complicity with dictators will forever stain his legacy." Perez continued, "Unfortunately — and disgracefully — when Mandela looked toward my native Cuba, he was blinded by his loyalty to Fidel and Raúl Castro."
Follow us on twitter.com/foxnewslatino
Like us at facebook.com/foxnewslatino