President Obama Recalls His Mother During Trip Abroad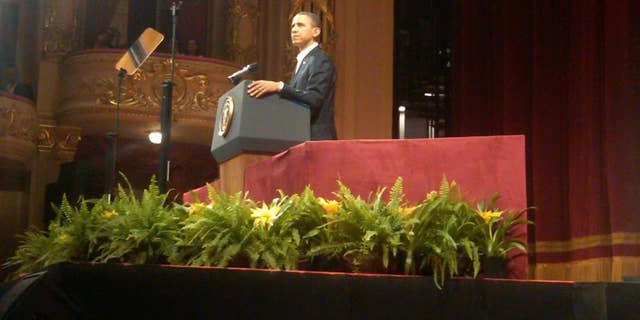 NEWYou can now listen to Fox News articles!
President Obama spoke about his mother, Stanley Ann Dunham, Sunday in Rio remembering a movie she took her young son to about Brazil - almost choking up when talking about her death.
It's not the first time the president has spoken about his mother on a foreign trip. While mostly reticent about his family when speaking in the United States, the president has begun incorporating childhood memories into speeches abroad highlighting portions of his life to foreign audiences.
In Rio de Janiero at the Teatro Municipal, Obama recalled his "earliest impressions of Brazil" - a movie his mother took him to see called Black Orpheus, set in the favelas (shantytowns) of Rio during the period of Carnival.
"My mother loved that movie, with its singing and dancing against a backdrop of beautiful green hills, and it first premiered as a play right here in the Teatro Municipal. My mother is gone now, but she would've never imagined that her son's first trip to Brazil would be as President of the United States," the president told the 2000 person audience.
This is not the first time Obama has mentioned his mother while travelling abroad. Last November, Obama visited Indonesia where he lived as a young boy and repeatedly spoke about his mother.
"The fact that you would choose to recognize my mother in this way speaks to the bonds she forged over many years with the people of this agnificent country," Obama said.
The Indonesia trip was a little walk down memory lane for the president and he fondly recalled his favorite foods as a child and called out words in Bahasa.
This is the presidents first trip to Latin America since taking office.