President Obama Gives Spotlight to Former President Clinton, and Clinton Happily Takes it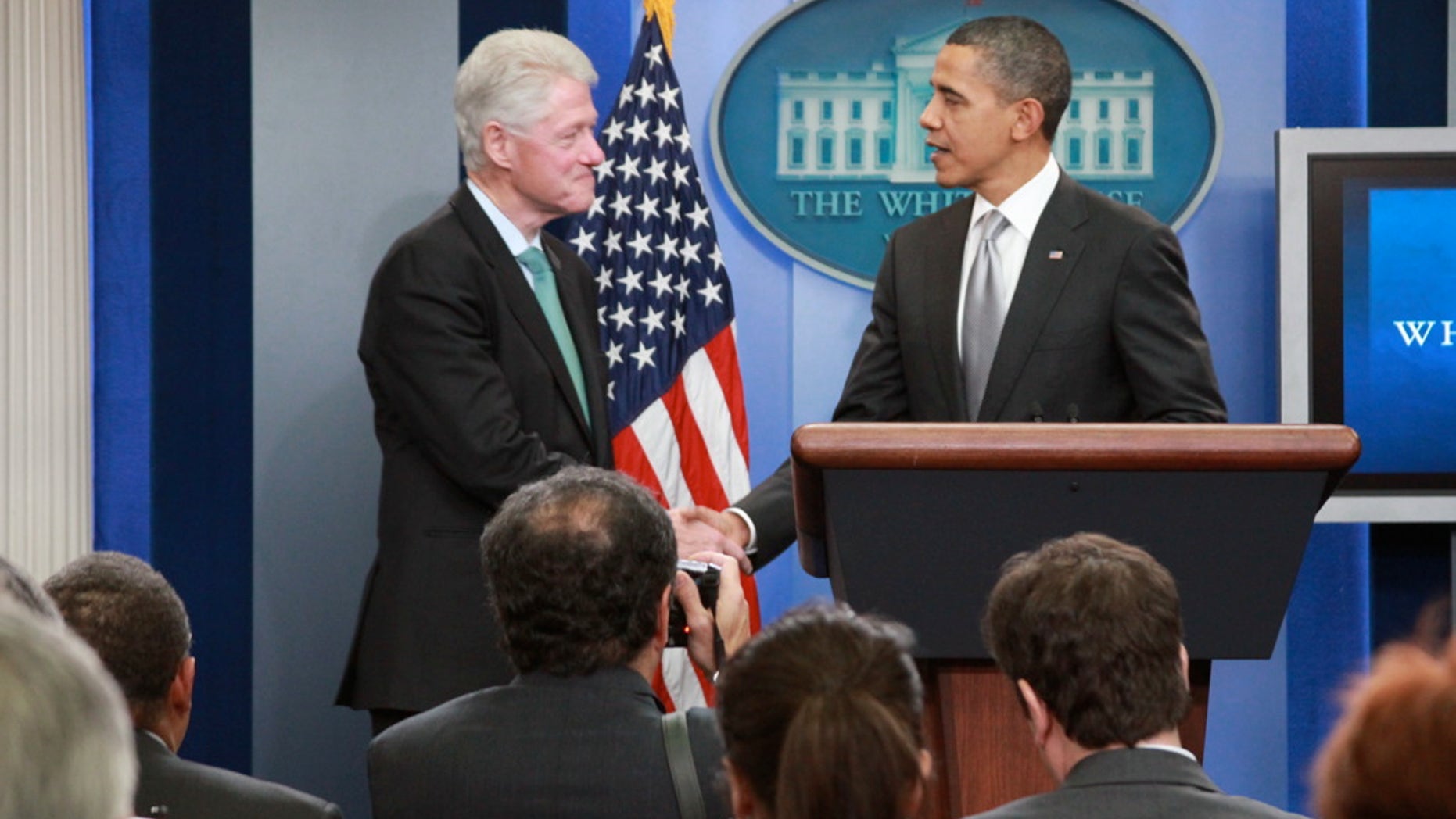 Two living presidents together in the same room is always an historic moment, but Friday at the White House briefing room it came to a whole new level - but then again, when Bill Clinton is involved, that can happen.
What made the occasion even more rare is that the sitting president actually left the room, and the former president continued to carry-on with his own press conference (and seemed to be enjoying every minute of the spotlight).
President Clinton shared his support for President Obama's deal with Republicans on how to handle the Bush-era tax rates, and also gleaned some insight into a how Democratic president can handle a Republican Congress, something he has been praised for doing well in 1994.
It all played out something like this:
President Obama and former President Clinton meet at 3:00 pm ET in the Oval Office. Around 4:20pm ET, Obama and Clinton hold a hastily called together press conference in the White House briefing room. Obama spoke for a couple minutes and says that he's going to let Clinton speak "briefly," but noted Clinton may decide he wants to take questions. It wasn't very brief. Clinton took the microphone, commenting and answering questions for about 30 minutes. When Clinton took to the lectern, he did say, "first of all, I feel awkward being here, and now you're going to leave me all by myself." And Obama did leave Clinton all by himself after about 10 minutes into the news conference, saying he had things to do, including a Christmas party and the press was in "good hands."
"I've been keeping the First Lady waiting for about half an hour, so I'm going to take off," Obama said.  Clinton replied, "I don't want to make her mad, please go."
Current Press Secretary Robert Gibbs several times tried to call "last question," but Clinton kept on talking.
Mark Knoller is a White House Correspondent for CBS Radio and has covered every president since Gerald Ford. He said he's never seen anything quite like what played out Friday afternoon. "I don't recall an episode like this before. Former presidents have visited the WH on prior occasions for ceremonies or meeting, but don't recall any having the WH briefing room lectern turned over to them by the sitting president as happened today," Knoller said.
Clinton also called on Knoller by name in the briefing, showing he still knows the ropes of the White House press corps.
"He seemed at ease and very much in his element. I asked if he was glad to be here as an advisor and not governing, and he quick shot back: "Oh I had quite a good time governing," Knoller said.