President Campaigns for Governors, Influence Uncertain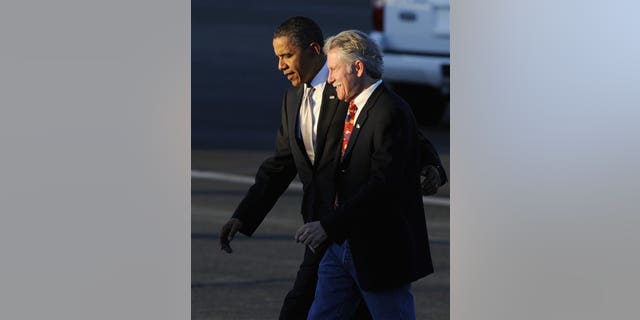 Judging from the media coverage, it would seem that the administration has been primarily focused on Senate races. But while on the road, Mr. Obama has also been campaigning for governors, although political analysts question whether his appearances will influence election outcomes.
With 37 governorships in play, Mr. Obama has only stumped for gubernatorial candidates in blue states he won in 2008. Nearly all the Democratic candidates in these elections are in tight races. On Saturday, Mr. Obama appears in Minnesota with candidate Mark Dayton, who is vying against Republican Tom Emmer for the governor's seat.
Who wins governorship is especially significant given it's the governors who will either veto or approve redistricting decisions, on the horizon pending the release of the 2010 Census results.
"(Congressional) lines can be redrawn in a way that dramatically favors one party or another and so these lines will be in place for the next ten years of Congressional races," Nathan Gonzales, political editor of the Rothenberg Political Report, says, adding, "It's important for the parties to be the ones drawing those maps because they will be the ones benefitting from those maps for the next 10 years."
Mr. Obama's message at these rallies have been in line with the one he delivers on behalf of Congressional candidates: the midterm election is a choice between the failed policies of the past, i.e the policies of Republicans, and the future.
In line with their attitudes towards House and Senate races, voters are expected to factor in the economy when deciding who to vote governor.
"Normally governors races are insulated from federal issues, but because the top issue is the economy, economic issues play up and down the ballot," says Gonzales, adding, "It's often governors who have had to make tough decisions either by raising taxes or cutting spending, which can be unpopular when it comes to programs."
Former Bush White House Spokesperson Dana Perino questions whether the president's presence will actually make much of a difference for the candidates.
"Will Obama's visits help them at this point? Probably won't hurt them, but turnout is going to be lower for Democrats than for Republicans," Perino says, suggesting an anti-incumbent sentiment will overtake any enthusiasm boost Mr. Obama could bring. "At the end of the day when the votes are counted, I don't think his campaigning there will have much of an impact."
Regardless of whether President can influence outcomes in November, Perino, a Fox News Contributor, notes the winners will have a major impact on the direction of the nation come 2011.
"Governors are on the front line of implementing federal policy, as well as protecting states' rights," she says. "They also are generally well-liked by their constituents who feel closer to them than the people who 'go to Washington.' "
Laying Groundwork for 2012?
If Mr. Obama helps deliver victories for the governors in next month's midterm, history is unclear as to whether there will be a reciprocal benefit for the President in 2012.
Larry Sabato, Director of the University of Virginia's Center for Politics says, "Two years is a long time. Historically, there is no correlation between the results of the midterms and the general election. They are completely different election years, typically with different issues and different voter turnout."
Yet Sabato acknowledges there is no exact science at play here, noting that in 2008, Obama did win North Carolina, a typically red state.
"Maybe it made a difference for Obama that the governor was Democratic," says Sabato referring to then governor Mike Easley.
Political analysts say keeping Democratic governors in office does have an advantage for a Democratic president seeking reelection.
"From a party organization and fundraising standpoint, you can't beat a governor," says Perino.
"I think it helps logistically," says Sabato. "They can raise money more easily, they can organize rallies. Governors have lots of people at their command to do that."
But just like in this year's midterm elections, the outcome of the 2012 election cycle will have everything to do with the big picture of how Americans feel about the state of the country.
"If the economy turns around, doesn't make a difference who the governor is," says Sabato. "If it doesn't, Obama would lose even if Strickland is in office," he adds, referring to Ohio Democratic governor Ted Strickland whose state has been hard hit by the economic downturn.
In the most recent Real Clear Politics poll average, Strickland trails his republican opponent John Kasich 43.4 percent to 48.8 percent.
Obama Stumps for Gubernatorial Candidate Saturday
On Saturday afternoon Mr. Obama will be in Minnesota for candidate Mark Dayton, who is running against Republican Tom Emmer. It's a state where the anti-incumbent or anti-establishment sentiment may help the Democrats.
"I think Minnesota is one place where Democrats are actually looking better. In part, because you have 8 years of a Republican governor," says Gonzales.
"With Tim Pawlenty leaving office, it's easier for Democrats to make the change argument for Republicans have been in power." The most recent Real Clear Politics poll average has Dayton up 41.3 percent to 35.0 percent.
President Obama traveled to Portland, Oregon on Wednesday for former Governor John Kitzhaber, who in the most recent Real Clear Politics poll average has him in a tossup with Republican opponent Chris Dudley, 47.3 percent to 46 percent.
"The biggest mistake we can do right now is go back to the same policies that caused all this hurt in the first place," Mr. Obama said in Portland. "And I say this not because I want to re-litigate the past. I just don't want to re-live the past."
But critics argue voters see the last two years of the Obama administration as "the past" too, and want change from it.
"I think in Oregon it's about the economy but also about change and the establishment," says Gonzales, noting, "Republicans haven't held the governorship in Oregon in decades."
"I think President Obama wants to win as many governorships because as you go into 2012, it's nice to have a smiling face as you get off that plane when you are on a presidential campaign," says Gonzales.