Portrait of little-known Spanish Revolutionary War hero (finally) hung in Capitol, 231 years later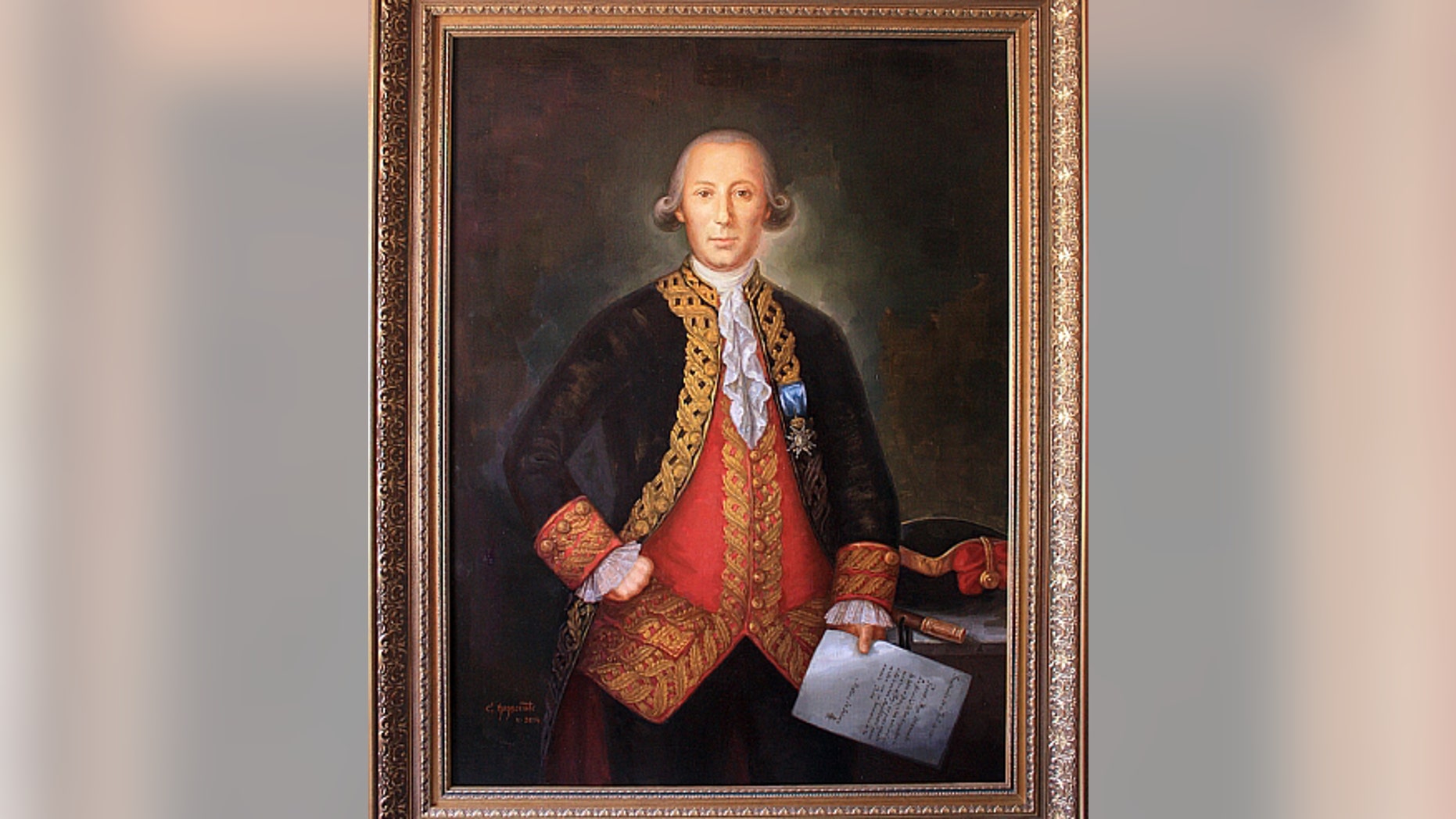 Good things come to those wait – even if takes more than 200 years.
Two centuries, and then some, after Congress vowed to hang a portrait in the U.S. Capitol of a Spanish military leader who played a critical role in the United States victory in the Revolutionary War, it is – at long, long, long last – happening.
On Tuesday evening, a portrait of General Bernardo de Galvez is being unveiled in the Senate Foreign Relations Committee Room, where Sen. Robert Menendez is presiding over a ceremony paying homage to the Revolutionary War hero.
Menendez praised Galvez, after whom Galveston, Texas was named, as "a Spaniard who helped give birth to America."
"This portrait was destined to hang in the Capitol," said Menendez, a New Jersey Democrat who is chair of the Foreign Relations Committee. "A congressional resolution was passed in 1783 honoring de Galvez for not only defeating the British in Pensacola, but ensuring that colonial troops have access to the Mississippi — opening a critical supply line."
"When we look at the contribution of Hispanics to American history, we need look no further than this man," Menendez said, "who, in helping the 13 colonies achieve independence, symbolizes the history of the U.S.-Spain relationship and the contribution of Hispanics to the American journey."
Menendez's office said in a press release that the hanging of the portrait took so long because, among other things, it got lost.
The mission of the congressional resolution of 1783 also fell through the cracks, finally gaining momentum after a woman who was originally from Spain, Teresa Valcarce, a 45-year-old labor union secretary in Washington D.C., learned of the resolution through an article her mother sent her and found herself determined to make the long-promised recognition of Galvez a reality.
Valcarce, who became known in Washington as the "Portrait Lady," eventually succeeded after making her way over to members of congress, including Menendez, at various events she attended in the capital.
Recently, Congress passed legislation granting Galvez, who served as governor of then-Spanish-controlled Louisiana, honorary U.S. citizenship.
U.S. Rep. Jeff Miller, a Florida Republican, introduced the citizenship measure, noting that the honorary distinction was a "rare and extraordinary ceremonial recognition granted to foreigners who have rendered great service to the United States."
Others who have received honorary citizenship include Winston Churchill and Mother Theresa.
Many congressional leaders conceded that they never had heard of Galvez.
"I would be less than candid if I say this is a familiar name in American history," said Rep. John Conyers, a Michigan Democrat, of the honorary citizenship measure, according to the Los Angeles Times. "But if all of my friends and colleagues, mostly from Florida, say this gentleman deserves honorary citizenship, who am I to block it?"
And how did Valcarce succeed in getting her hands on a portrait of Galvez?
The Washington Post said that the intrepid Valcarce learned that a portrait apparently commissioned of Galvez by the Spanish king to honor the military hero upon his return from battle was in a private collection in Malaga, Spain. A Spanish artist offered to copy the portrait and donate it for Valcarce's mission.
"And so it was that in June, Valcarce received a lushly brushed oil painting, roughly 3 feet by 4 feet, of Bernardo de Galvez," the Post said, "posed in an elegantly embroidered suit with a medal pinned to his chest."