Pope Francis takes swipe at Trump over DACA decision
NEWYou can now listen to Fox News articles!
Pope Francis took a swipe at President Trump over the weekend for moving to wind down the Obama-era program shielding some young illegal immigrants from deportation, suggesting the decision is not "pro-life."
Speaking to reporters aboard the papal plane on Sunday, Francis reportedly said he hopes the decision "is re-thought somewhat."
According to Reuters, Francis said young people "feel like they have no hope," and everything from drugs to suicides afflicts them when "they are torn from their roots."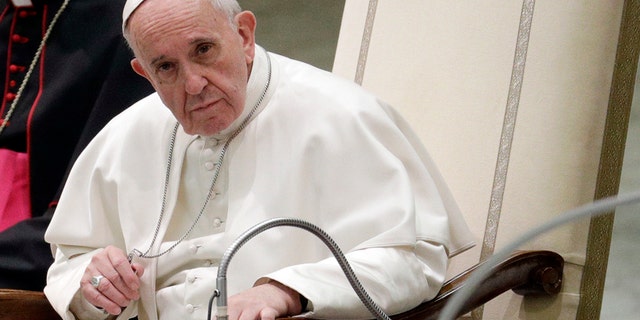 "The president of the United States ... presents himself as a man who is pro-life. If he is a good pro-lifer, he understands that the family is the cradle of life and you have to defend its unity," the pope said, according to Reuters.
This is not the first time Trump and the pope have sparred from afar.
Back in February 2016, during the presidential campaign, the pope seemed to question Trump's Christian faith in connection with his plans for a U.S.-Mexico border wall, telling reporters: "A person who thinks only about building walls, wherever they may be, and not building bridges, is not Christian. This is not in the Gospel."
Trump quickly responded, saying, "For a religious leader to question a person's faith is disgraceful."
The two have since put that dispute behind them. Trump met in May with the pope at the Vatican, as part of his first foreign trip as president. He later tweeted the visit was "the honor of a lifetime."
Pope Francis weighed in on the immigration debate after Trump last Tuesday announced he would roll back the Deferred Action on Childhood Arrivals (DACA) program. The 2012 program was meant to give a deportation reprieve and work permits to some immigrants who came to the U.S. illegally as children.
Trump made the decision under the threat of a lawsuit from Republican state attorneys general. In doing so, he called on Congress to find a legislative solution and suggested he could revisit the policy next year. In a written statement, Trump made clear his concern was more with the unilateral implementation of the policy under the Obama administration than with the policy itself.
"As President, my highest duty is to defend the American people and the Constitution of the United States of America. At the same time, I do not favor punishing children, most of whom are now adults, for the actions of their parents. But we must also recognize that we are nation of opportunity because we are a nation of laws," he said.