Politics a Contact Sport in N.J. Race Between Adler, Ex-NFL Lineman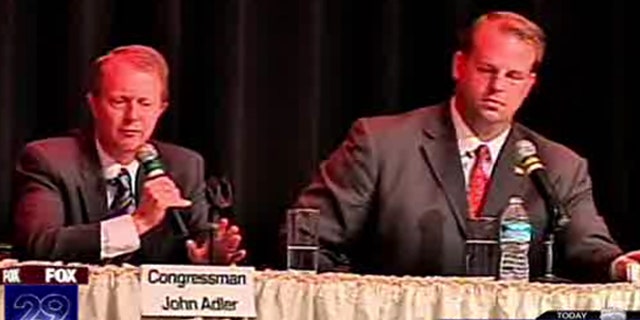 Being named one of the dirtiest players in the NFL probably counts as an asset for Jon Runyan, as the former Philadelphia Eagles star tries to unseat a first-time congressman in one of New Jersey's closest and meanest campaigns.
The race for south Jersey's District 3 congressional seat is drawing national attention as Runyan and Democratic Rep. John Adler battle it out over issues that have little to do with creating jobs. Sure, both candidates are pledging to grow the economy, but the race of late has turned to more unusual topics.
The candidates actually have quite a few things in common -- Adler voted against the health care overhaul and backed a full extension of the Bush tax cuts -- and so quirky and nasty disputes over things like Tea Party imposters and donkey tax breaks have filled the void as the nominees try to distinguish themselves.
Tea Party politics made its way into the race after Runyan's campaign starting accusing Adler's operatives of planting a fake Tea Party candidate to siphon votes away from him in November.
That candidate, Peter DeStefano, has claimed he entered the race because the field was lacking a "true conservative." But the Courier-Post, a prominent south Jersey newspaper, recently reported that Adler's campaign manager and other Democratic strategists were behind the "Tea Party" candidate's entry.
The allegations ended up being a focal point of the candidates' Oct. 11 debate, where Adler continued to deny the claims.
"I wanted to have nothing to do with it. ... As far as I know, we have nothing to do with it," Adler declared on stage.
But Runyan said Adler's not coming clean.
"Obviously, he won't address the questions that you all have," he told MyFoxPhilly.com. "Quite frankly, he's basically lying to voters, trying to trick voters."
The impact of a possible spoiler candidate in the race is amplified by the fact that the contest is so close. Though Adler is leading in fundraising, a new Richard Stockton College/Zogby poll showed Runyan ahead of Adler for the first time. The survey showed Runyan with a 3-point lead; Adler has led by between 2 and 8 points in recent polls.
But Adler's not the only one with some explaining to do. Runyan earlier copped to paying his property taxes late 33 times -- on top of that, he reportedly got a tax break on a chunk of his Mount Laurel estate by putting donkeys on it and calling it farmland.
"When New Jersey families are fighting to make ends meet, Jon Runyan is trying to rip the system off," Adler's campaign said in an ad last month.
Parallel to these off-topic debates, the candidates are still trying to make the race about the classic question of change versus experience.
Adler's got the experience. Though he's a first-time representative in Congress, he served in the New Jersey Senate for 17 years. Before that, he was on the Cherry Hill Town Council. Runyan is a former offensive lineman.
But as is the case with many political outsiders, Runyan's campaign casts his non-experience as an asset and Adler's incumbency as a liability. A recent ad from the Republican candidate called Adler a "career politician" and "part of the problem for 21 years."
Runyan got a boost Friday from New Jersey Gov. Chris Christie, who told supporters "there's nothing moderate about John Adler's record" and accused the incumbent of being a reliable vote for House Speaker Nancy Pelosi.
Adler's getting help over the weekend from Newark Mayor Cory Booker.