Political unknown, familiar name: George P. Bush expected to win powerful Texas post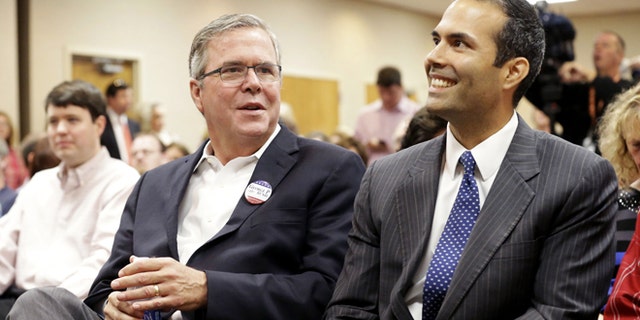 NEWYou can now listen to Fox News articles!
He is the Lone Star state's best-known political enigma.
George P. Bush, the 38-year-old scion of, yes, the country's most enduring, trans-generational political dynasty, is running for the post of Texas land commissioner and is widely expected to win by a large margin.
Unlike his rival , Democrat John Cook, a 68-year-old who served on the El Paso City Council for three terms and as mayor for two terms, Bush has never before held a political office.
Not that that seems to be hurting him much.
"People know his name, they know about him, but they don't know him," said Alfonso Aguilar, a GOP strategist who was chief of the U.S. Office of Citizenship in the George W. Bush administration. "He's at a perfect age to start his career. He's running for a very powerful position in Texas."
The job of land commissioner is said to be one of the most powerful in Texas and has proven to be a stepping stone to bigger and better positions.
If Bush wins, he would be continuing a family tradition. His father, Jeb, was governor of Florida and is widely expected to run for president in 2016; his uncle, George W., was Texas governor and U.S. president; his grandfather, George H.W., was CIA director, vice-president under Ronald Reagan and then president himself; and his great-grandfather, Prescott, was a U.S. senator.
But George P. is entering the political arena as talk centers on whether his father will run for president. He appeared on Sunday on ABC's "This Week,"but the interview made headlines only because of what he said about the likelihood of his father running for president in 2016.
"I think it's more than likely that he's giving this a serious thought and moving forward," George P. said. Asked if that meant it was "more than likely that he'll run," he responded, "That he'll run. If you had asked me a few years back ... I would have said it was less likely."
But even though his father has the spotlight right now, political observers say this is just the beginning of what many consider to be George P.'s own, very bright future.
To generate buzz someday about a higher, national political office, Aguilar said, the younger Bush will have to audition – so to speak – while in the role of land commissioner.
"After he wins, obviously he needs to do a good job as land commissioner, then he has to travel outside Texas, give speeches, talk to different audiences, meet with different groups around the country," Aguilar said.
Oddly, George P. Bush, who has been endorsed by various major news outlets, including the Dallas Morning News, would make family history if he is victorious on Nov. 4: He would be the first in his family to win an election in his maiden run for office.
Cal Jillson, a political scientist at Southern Methodist University in Texas, says that although Bush is unproven as a politician, the state's residents are generally welcoming to him.
"People like the idea of a next generation of Bushes in Texas politics," Jillson said. "He's seen very positively across the board, by Republicans and Democrats."
However, Jillson said, "People know the name, it has very positive resonance in Texas, even more positive than George H.W. Bush or George W. Bush. He's young, he's good-looking, but there's nothing substantive yet about him."
Jillson added, "He's an empty vessel... As he develops, he'll flesh out the substance of his political character."
The likely next land commissioner of Texas is a lawyer and founder of a political action committee called Hispanic Republicans of Texas.
He often has sounded like someone who is trying to cast himself as more than just a local political figure – weighing in on national issues, praising the virtues of the Republican Party while echoing many GOP talking points when criticizing Democrats and the Obama administration.
He has taken decidedly conservative Republicans stances – sometimes departing from more moderate ones embraced by his father and uncle – such as opposing abortion and same-sex marriage and supporting the defunding of the Affordable Care Act.
On the other hand, he has expressed support for more liberal immigration proposals, such as giving undocumented immigrants brought to the United States as children a chance to legalize their status, and attend public universities paying the same tuition rate as state residents.
In his campaign for land commissioner, Bush has pushed for expanding oil and gas exploration, arguing that it could generate funding for public schools.
Bush's campaign senior advisor, Trey Newton, said: "George P. Bush is a new generation conservative leader who is building a new and enduring coalition of Hispanics, young people, small business owners and working class families around his conservative message of freedom and family."
"As land commissioner, George will fight to improve public schools, create more energy sector jobs and provide better service to our returning veterans."
His rival, Cook, the former El Paso mayor, has criticized Bush as running on his name and lacking in political experience.
Cook, who says he's running to win, even if others have written the race off as a certain Bush victory, concedes the challenges of running against a state political brand.
"It's more difficult because everyone recognizes the name," Cook told Fox News Latino. "Any marketing strategy is name recognition, whether it's trying to sell Coke or Papa John's pizza or a candidate."
"But if you look at the Bush name, there are both positive and negative parts to it," he added. "The two elder Bushes got us into wars that we're still involved in, one was obviously because of oil, another was for weapons of mass destruction that didn't exist. That creates 'Bush fatigue,' there are people who aren't going to vote for the name because they don't want another Bush."
Cook says he's been an underdog before, and triumphed. When he ran to be mayor of El Paso, he said, "Nobody except my wife thought I could win."
"We spent a lot less than my opponent, and I won – and among every demographic, including Hispanic," Cook said.
What Cook has to offer, he says, is less dazzle and more experience than his rival.
"I have a better resume than my opponent," he said. "I have business experience and municipal government government experience."
Bush's lack of experience, he argued, is worrisome with a land commission job that involves 13 million acres of public land and 2,200 miles of coastline, going slightly more than 10 miles into the gulf, he said.
"If there's an oil spill, the state agency that's responsible for that clean-up being done properly is the land office," Cook said. "You need a land commissioner who is environmentally conscious."
His opponent, he said, cares more about big business than about the environment and Texas residents.
Bush speaks Spanish. His mother, Columba, is from Mexico, and his father, Jeb, speaks Spanish fluently. Bush has released a Spanish-language ad urging Latinos to vote for him for land commissioner.
In an interview with Univision's Jorge Ramos, Jeb Bush said that George P. identifies himself as a Latino.
Earlier this year, George P. mocked Democrats in a speech for suggesting that they are better representatives of young people and Latinos.
"I happen to know a little something about these two groups," he said. "In fact, I am these two groups. We don't want the Obama model, it doesn't work."
In press interviews, Bush has admitted that he has long entertained a career in politics. When he was a teenager, he shared his political plans with his grandmother, former First Lady Barbara Bush.
But she gave him a reality check.
She told him not to ride on his name. She urged him to have a career in something else, to marry and start a family, then to enter politics when he was truly ready to be a public servant.
In a 2012 interview with FNL, George P. Bush said, "I am drawn to public service. I'm intrigued by being in public office. I'm feeling the bug, the bug to jump into it. It's in my genes, I can't get it out."