Plenty of Unfinished Business Awaits Congress in Lame Duck Session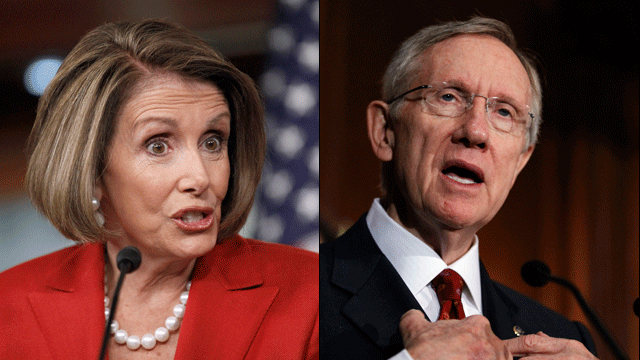 NEWYou can now listen to Fox News articles!
Democrats are hoping to squeeze debate on numerous bills into their lame duck session after the Nov. 2 midterm elections, even though the elections could shift the balance of power to Republicans once the next Congress convenes.
But it won't be easy for the Democrats to advance their agenda as time runs out, given the slow deliberations of the Senate and the possibility that Republicans will immediately gain more seats in that chamber if they win special elections in West Virginia, Delaware and Illinois.
The lame duck session convenes Nov. 15, giving lawmakers about six weeks to pass legislation if they work until Christmas and take a week off for Thanksgiving. Any bill that is still pending at the end of a congressional session dies, forcing lawmakers to start from scratch, reintroducing it at the start of a new two-year term.
At the top of the agenda will be a vote on the Bush-era tax cuts, a bitter fight that has sharply divided Republicans and Democrats.
Republicans want to extend the tax cuts, enacted in 2001 and 2003, for all Americans, including the wealthiest 2 percent, which would cost an estimated $3.7 trillion over the first 10 years.
But President Obama and Democratic leaders in Congress want to extend them only for individuals making less than $200,000 and married couples making less than $250,000. That plan would cost $3 trillion over the same 10 years.
If there is no vote during the lame-duck session, taxpayers at every income level face significant tax increases.
Democratic leaders also want to pass a massive defense spending bill that includes a repeal of the "don't ask, don't tell" law banning gays from serving openly in the military. That bill failed to clear a procedural hurdle in the Senate last week.
Gay rights advocates see the defense authorization bill as the only vehicle through which to repeal the law before Republicans could take control of the House, as many political analysts are predicting.
Democrats also had intended to put forward the DREAM Act, a proposal giving young illegal immigrants who attend college or join the military a path to citizenship.
Other priorities include an extension of long-term unemployment benefits and blocking a 23 percent cut to doctors' Medicare reimbursements scheduled to begin Dec. 1.
The extended jobless benefits program for millions of people who've been out of work for six months or more is set to expire at the end of November. Lawmakers have battled all year over the federally financed program providing up to 73 additional weeks of jobless benefits to people whose 26 weeks of state benefits have run out.
Democrats have argued that deficit spending on the program is a lifeline to the unemployed that will also boost economic revival. Republicans say they support the extension but insist any benefits be financed by cuts to programs elsewhere in the $3.7 trillion federal budget.
The House could take up a $4.5 billion Senate-passed child nutrition bill promoted by first lady Michelle Obama that would create healthier standards for food served in schools.
The Senate is considering food safety legislation giving the Food and Drug Administration greater power to order recalls and to increase inspection of food facilities. The House has passed a similar bill.
Congress may also take up legislation that would give the U.S. government the power to impose economic sanctions on China and other countries found to be manipulating their currencies to gain trade advantages – a bill that was approved by the House Ways and Means Committee on Friday and is being pushed by Sen. Charles Schumer, D-N.Y., for swift approval.
Sen. John Kerry is pushing for a vote on a new arms treaty with Russia. And another possibility, but less likely, is consideration of a long-stalled free trade agreement with South Korea.
The Associated Press contributed to this report.