Pig Farmers in U.S. Take 'Every Precaution' to Prevent Swine Flu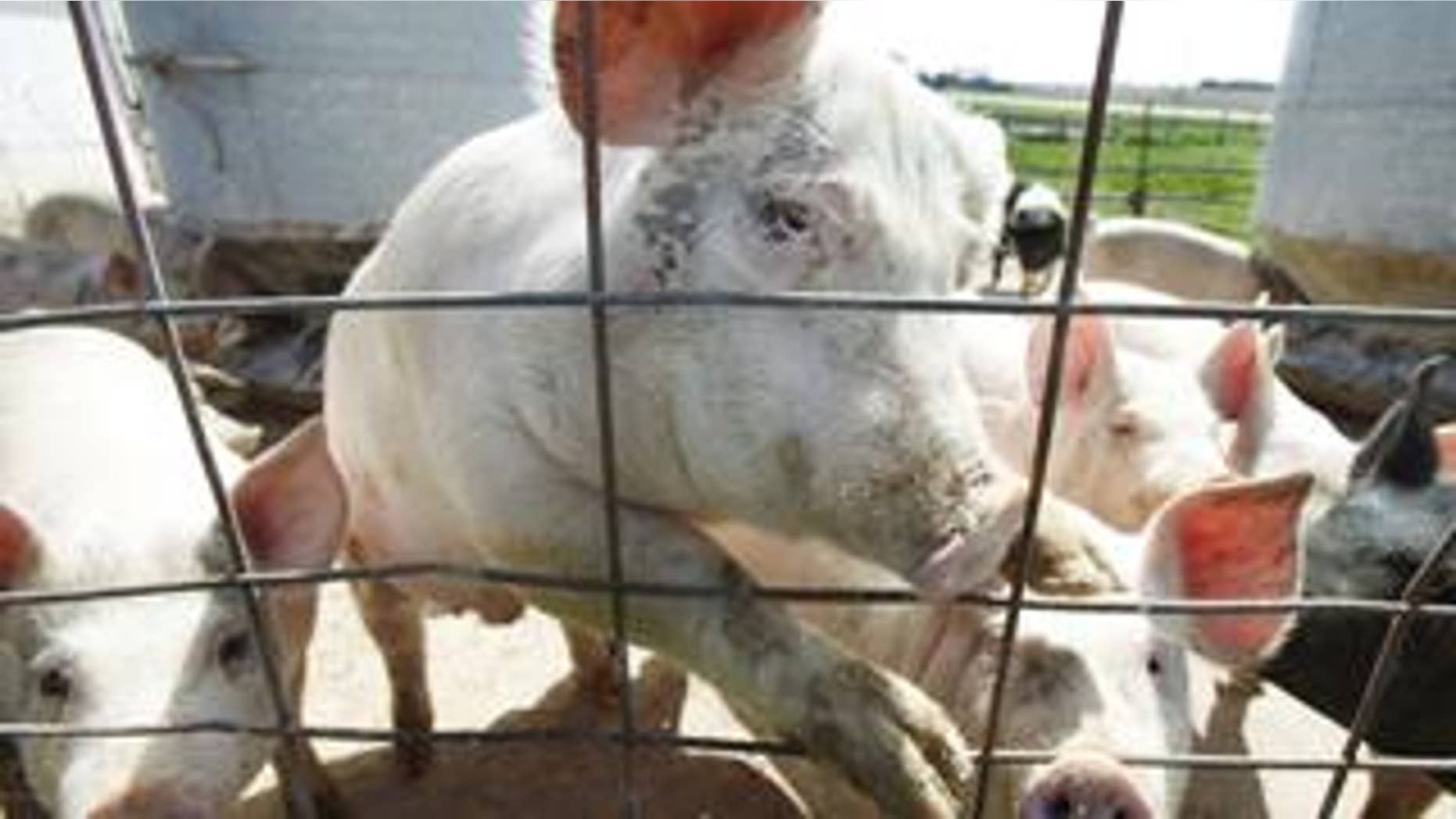 While the world is sweating out the swine flu, American hogs are sitting pretty -- unaffected by the virus that is suspected to have killed 152 people worldwide so far. And American pig farmers, who are already seeing their products banned in some countries, say they are taking every precaution to ensure the nation's livestock stay healthy.
Industry experts told FOXNews.com Tuesday that workers are required to shower as they enter and exit pig farms, change their shoes and clothing once they arrive and wear face masks to ensure that no illnesses are spread there.
Visitors are now being asked to stay away from the farms, and anyone who has recently visited Mexico, the source of the outbreak, is being kept out under a strict quarantine.
"We feel very comfortable as far as our biosecurity goes," said Dr. Howard Hill, a veterinarian and COO of Iowa Select Farms, one of the nation's largest pork farmers and producers.
"We have biosecurity programs in place that are there every single day, not just when an emergency occurs. All of our facilities are 'shower in/shower out' facilities ... and we have a policy if anybody's sick they can't enter the farm."
U.S. Warns China Not to Ban Pork.
Hill said his farms have stepped up their education for employees and oversight of their operations. Pig farmers constantly monitor the health of their stock, he said, and send in tissue samples to a national laboratory to track any illnesses that pop up.
So far, swine flu hasn't hit American pigs, and farmers say their stock are healthy. Pig farmers and some health experts object to the name and say it should be changed to reflect its absence in the swine population, a charge Secretary of Agriculture Tom Vilsack took up Tuesday.
"It is not correct to refer to this as swine flu," said Vilsack during a press conference with Homeland Security Secretary Janet Napolitano, who referred to it as the N1H1 virus, its scientific classification.
Unfortunately for pig farmers, the rest of the world hasn't taken note.
As of Tuesday, more than 10 countries had placed restricted bans on pork from the U.S. That could do real damage to the industry, which exports nearly $5 billion of products each year.
Pat Lilly, a spokesman for Triumph Foods, one of the nation's largest pork producers, said the fears are misplaced and American pork products are as safe as ever.
"Through our activities at our plant as well as the industry we take every precaution necessary in order to make sure the food is of the highest quality and safe to eat," Lilly told FOXNews.com.
"You can't get the influenza from even the raw pork product, and certainly once it's cooked then there's no concern about any type of contamination."
The national Centers for Disease Control and Prevention have also made clear that swine flu is traveling from person to person -- not from plate to plate.
"You cannot get swine influenza from eating pork or pork products," the CDC wrote on its Web site, noting that "eating properly handled and cooked pork and pork products is safe."
But that hasn't stopped pork futures from falling. Nor has it kept stocks of major producers from tumbling on news of the bans and on fears that the health scare might continue through the summer.
The pork industry, for its part, is hoping that any offsets will prove temporary.
"Summer markets are usually better for us and we hope that this is just a short-term decline in the market," said Hill, who added that "with all the precautions that are being taken right now I doubt very seriously whether [the flu will] ever surface in the swine population -- at least in the United States."