'Perfect Storm' Could Pin Senate Majority on Late Washington State Returns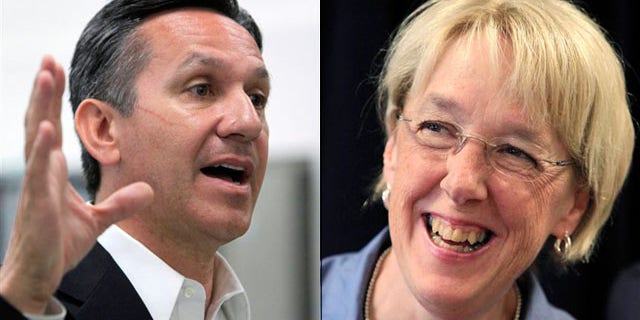 Seattle's famed baristas might want to start brewing the coffee now.
After Election Day, Washington state easily could become the scene of a marathon ballot count, with the balance of power in the Senate on the line. Though the solid blue state would seem an unexpected place for national political drama, the unusually close race for control in the Senate makes the Pacific Northwest factor heavily into Republican plans for a takeover.
And with Washington elections decided almost entirely by absentee ballot, it could take weeks before the winner of the state's senate race is declared.
The peculiarities of the state and of this election year nationally have led some, including Republican Senate nominee Dino Rossi, to describe the Washington race as the make-or-break contest that could determine Senate control.
"This is the 51st vote," Rossi told Fox News on Thursday. "With 50 seats, Joe Biden's in charge. With 51, he's not. That really makes a big difference."
If you think Rossi's exaggerating, consider this scenario: Republicans, who now hold 41 seats in the Senate, need 10 pick-ups to take control of the chamber. Assuming Republicans hold all the red seats and Democrats hold a handful of blue-leaning seats in Democratic territory, there are precisely 10 races where Democratic seats are in danger of falling into Republican hands.
In seven of those races, the Republican candidates hold modest-to-comfortable-to-double-digit leads. The three uber-toss ups are Nevada, Illinois and Washington. Not only is Washington the last of those to close, with polls shuttering at 11 p.m. ET, the state's voting rules and reputation make for a predictably slow count.
"The perfect storm would be Republicans pick up nine seats and everyone's waiting to see what happens in Washington for days," said Todd Donovan, political science professor at Western Washington University.
Somewhere in the neighborhood of 90 percent of voters in Washington state opt for a mail-in ballot. Only one of Washington's 39 counties does not vote by mail.
Those ballots have to be postmarked by Election Day but are not due until 10 days after the election. Most states do not wait that long to receive mail-in ballots.
According to a 2008 Washington election report, about a quarter of ballots come in after Election Day.
If either incumbent Democratic Sen. Patty Murray or Rossi were running away with the race, this might not matter. But the latest Real Clear Politics average of polls showed Murray leading by just 3 points, and Rossi pulled ahead by 1 point in a recent Rasmussen poll.
"If it's a close race, it's easily a week" before a winner is declared, Donovan said.
He said the early returns in Washington state on Nov. 2 could be misleading because the large, liberal and late King County -- which contains Seattle -- will probably have "hundreds of thousands" of uncounted ballots after election night. That means Rossi could start with the early lead, only to watch that erode as the King County returns are counted.
Rossi told Fox News he's not letting this high-stakes scenario get to his head and expressed confidence in his chances. The businessman and former state senator continued to hammer Murray for her votes on the stimulus package and health care overhaul and said she's "desperate" to hold onto power.
"She has an 18-year record of taxing and spending and growing government that's just flat-out indefensible," he said.
But Murray is trying to keep Rossi at bay by casting him as a Wall Street friend whose call to repeal the latest financial regulatory package is dangerous for the middle class.
The campaign said in a statement this week that Rossi would "undo" Wall Street's rules of the road and "double down on the failed Bush administration policies," as Murray aired a new ad claiming Rossi wants banks to "continue to play roulette with our money."
Both the Democratic and Republican national campaign committees have recently gone up with new ads in the race.
Rossi's had some experience with Washington state nail-biters. He lost by just 133 votes in his 2004 gubernatorial race against Democrat Chris Gregoire after two recounts. Seven months passed before results were finalized.