Pence not ruling out meeting with North Korea at Olympics
NEWYou can now listen to Fox News articles!
Vice President Mike Pence isn't ruling out a meeting with North Korean leaders in Pyeongchang at the Olympic Games this month.
"Let me say President Trump has said he always believes in talking, but I haven't requested any meeting," Pence told reporters on Monday as he departed for his six-day trip to Asia. "But we'll see what happens."
Pence — who arrived in Japan on Tuesday ahead of a meeting with Prime Minister Shinzo Abe and U.S. service members — is scheduled to make his way to South Korea for the Winter Games to lead the U.S. delegation in the opening ceremonies.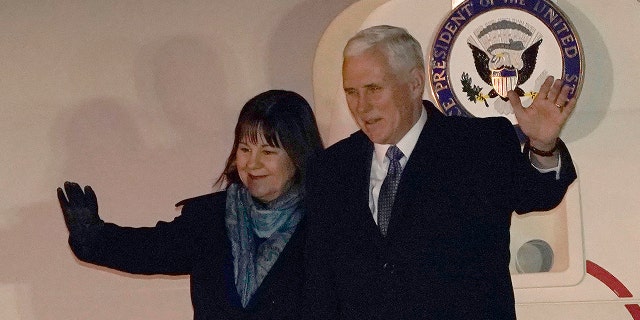 The vice president said no plans have been made for him to meet with any members of the North Korean delegation, but both he and Secretary of State Rex Tillerson have left the door open to possible interactions with Kim Jong Un's regime.
North Korea is sending its nominal head of state, Kim Yong Nam — the highest-ranking Northern official to visit the South in recent memory — to the Games.
Throughout his Asia tour, Pence said: "We'll be ensuring that whatever cooperation that's existing between North and South Korea today on Olympic teams does not cloud the reality of a regime that must continue to be isolated by the world community."
Pence will be joined by Fred Warmbier — the father of U.S. college student Otto Warmbier, who died in 2017 after detainment in North Korea — at the Games.
President Trump's daughter, Ivanka, will lead the U.S. delegation to the closing ceremonies of the Winter Olympics.
The Associated Press contributed to this report.