Pelosi Flexes Her Muscles, Draws GOP Ire, on Capitol Hill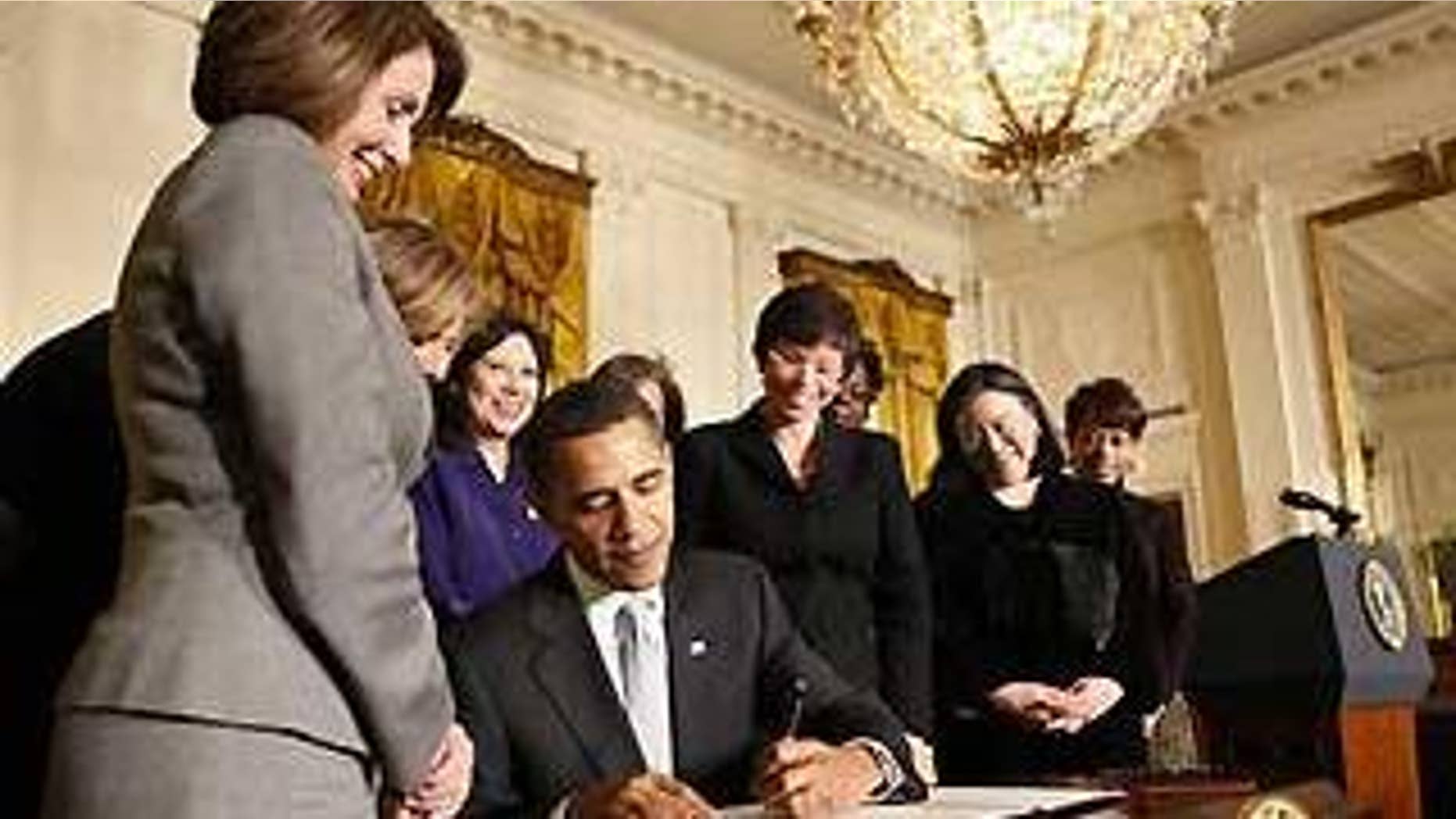 What a difference an election makes.
Two years ago, Nancy Pelosi was a new House Speaker struggling to push her agenda as Republicans thwarted her efforts to increase domestic spending and expand health care.
Today, the California liberal is flexing her clout -- loading the latest economic stimulus with Democratic priorities, posing demands to the U.S. Senate, riling Republicans, staking legislative positions left of the White House and fitting in time for photo ops with celebrities like Brad Pitt.
"With Republicans losing (seats) in 2008, she's standing up for Congress as an institution ... 'We want to be part of the process. We want to design the stimulus'," said Shirley Anne Warshaw, a political science professor at Gettysburg College and author of the upcoming book, "The Co-Presidency of Bush and Cheney."
To Democrats, Pelosi has emerged as a fearless leader who is living up to her role as a tireless ally to President Obama and an advocate for the Democratic majority.
But she also is attracting the kind of partisan ire Newt Gingrich generated during the Clinton years.
Republicans have used the House speaker as their political pinata since Inauguration Day, accusing her and her allies of shutting them out while continuing to give Obama, whose approval ratings are high, the benefit of the doubt.
One GOP leadership aide warned that Pelosi's overreaching will catch up to her, costing her party seats in the near future.
"There are a large number of House Democrats sitting in seats where President Bush and often Senator McCain won on the president level -- so those members typically campaigned by claiming to be very moderate," the aide said. "And the more the speaker strikes out in a liberal, partisan direction ... the harder she makes it for Democrats in those seats."
On several occasions, Pelosi has veered away from the moderate message and cautious style that Obama has tried to develop since taking office (even though conservatives charge that Obama has pushed far-left economic policies in his first 50 days).
On Tuesday, Pelosi said Congress needs to "keep the door open" to another stimulus package -- drawing jeers from Republicans.
"I think so far it's been pretty obvious that the stimulus package is an exercise in generational theft," Sen. John McCain, R-Ariz., told FOX News Wednesday when asked about Pelosi's comment.
The Obama administration, while not ruling out a follow-up to the $787 billion bill, has tried to make clear that a sequel was not in the works. Rep. David Obey, D-Wis., chairman of the House Appropriations Committee, suggested Wednesday that staffers were "preparing options" for another stimulus but said it is too early to discuss such a move.
Pelosi also suggested, during an interview with FOX News in January, that she was receptive to the idea of prosecuting some Bush administration officials -- something Obama has indicated he does not support.
And Pelosi even reportedly said over the summer that she wanted to push for a revival of the so-called Fairness Doctrine -- an off-the-books policy that once required broadcasters to provide opposing points of view on controversial issues -- though Obama and most senators are opposed to such a revival.
With Obama in office, though, Pelosi and Senate Majority Leader Harry Reid, have joined to pass key pieces of legislation -- the stimulus, an expansion of children's health care and a equal-pay bill among them. The Senate on Tuesday also passed a $410 billion spending bill to keep the government running through the end of the fiscal year, after Pelosi threatened to scrap the bill if the Senate changed any provisions in their version.
Pelosi's California colleague, Democratic Rep. Xavier Becerra, said he believes Pelosi's leadership style has adopted a different approach since Obama took the reins because "she has a friend and ally on many of the issues that the House took."
"I think she understands the strength of her influence and the strength of her position and I think that she uses those strengths in ways that make people feel very good about having her as a leader in the House," Becerra said. But he added she's still as tough, tenacious and inclusive as ever.
"I don't know anyone who works harder than Nancy Pelosi," he said. "I don't know anyone who travels to more places to raise the profile of an issue or help a congressman."
Democratic strategist Martin Frost, who was a Texas congressman until 2005, said Pelosi's actions reflect her increased power.
"In the first two years she was speaker, what the House did ultimately didn't matter because it wasn't going to become law," Frost told FOXNews.com. "Now she's in a position where she's able to craft legislation that will become law."
Pelosi attracted some heat Tuesday after a conservative watchdog group released a report accusing her of repeatedly requesting military aircraft for travel and using the Air Force as her "personal airline."
Judicial Watch said Pelosi was notorious for making special demands for high-end aircraft, lodging last-minute cancellations and racking up additional expenses for the military. The e-mails showed repeated attempts by Pelosi aides to request aircraft, sometimes aggressively, and by Department of Defense officials to accommodate them.
Pelosi's office disputed the accusations, pointing to White House policy enacted after the Sept. 11 attacks allowing for the House speaker to travel to his or her congressional district via military aircraft whenever possible for security reasons. Her office said she typically uses the same kind of aircraft used by her Republican predecessor, former Illinois Rep. Dennis Hastert.
Pentagon spokesman Geoff Morrell said Wednesday that Pelosi's requests had not generated complaints internally.
"All I can tell you is that they do it. They have done it for years. We continue to do it," he said. "I have heard no complaints about how it's going."
But Jenny Small, a researcher with Judicial Watch, dropped the "D" word -- "Diva" -- in describing Pelosi's demands of the military for the aircraft.
Warshaw said she wouldn't go that far, given the challenges Pelosi faces in her office.
"I would call her someone trying to manage a complex institution and a complex set of relations with the executive branch," she said.