Party Leaders Offer Bold Predictions Ahead of 'Earthquake' Election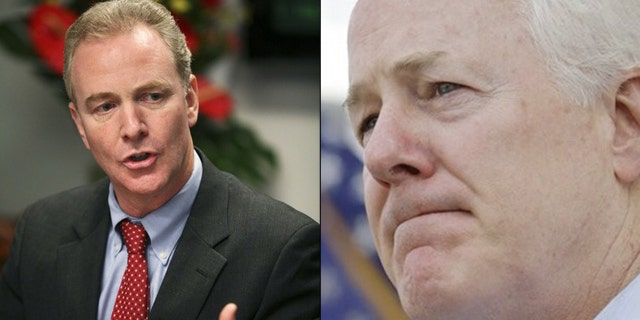 In their closing arguments, Republican and Democratic party leaders offered bold predictions Sunday ahead of an election which could shift the balance of power in Congress and fundamentally alter President Obama's policy agenda during his next two years in office.
Democrats, keeping their chins up, urged the pundits to stop writing the obituary for their congressional majority, predicting Democratic candidates would defy the odds on Election Day. They downplayed the ubiquitous comparisons to Republicans' surge in the 1994 midterm elections, claiming voters are nowhere near as enthused by the GOP this time around.
Republicans, not going so far as to predict a total congressional takeover, nevertheless said Tuesday's results are going to send a strong message to Washington.
"I think it's going to be a political earthquake, and the message will have been sent to the political left that they blew it," Sarah Palin, former Alaska governor and a potential 2012 presidential candidate, told "Fox News Sunday." "They're going to say, 'you blew it, President Obama.'"
Mississippi Gov. Haley Barbour, chairman of the Republican Governors Association, said that if Republicans win big, it will stand as "a repudiation of Obama's policies."
Party officials were competing to explain what the results of Tuesday's election would mean nearly 48 hours before polls open. With candidates making their last-minute push for votes on the campaign trail over the weekend, political leaders in Washington are on edge as they try to determine what the expected Republican gains will look like. Republicans need 39 seats to take the House and 10 to take the Senate, though polls suggest the GOP has a much stronger shot at a majority in the House.
Speaking on NBC's "Meet the Press," Democratic National Committee Chairman Tim Kaine said that the election "is a choice," and "not a referendum." He was countering Republican attempts, in congressional races across the country, to discredit Democratic candidates by linking them to President Obama's policies ranging from the heath care overhaul to the stimulus.
Kaine, along with other top Democrats, sounded an optimistic note about his party's chances.
"We believe we're going to hold on to both houses," Kaine said, speaking alongside Barbour.
Rep. Chris Van Hollen, D-Md., chairman of the Democratic Congressional Campaign Committee, predicted the U.S. House of Representatives would stay blue. He said early voting trends favor Democrats and that undecided voters are not breaking for Republicans by the margins anticipated.
"I believe Democrats are going to hold onto the House," Van Hollen said on "Fox News Sunday."
He said voters will not send a 1994-style wave of Republicans to Washington because "they don't want to return to a set of policies that got this country into a total mess," suggesting Obama's talking points from the past several months are finally resonating with voters.
Obama's principal argument as he criss-crosses the country in support of Democratic candidates has been that Republicans will take the country in "reverse" and that Democrats just need more time to set things right.
Sen. Robert Menendez, D-N.J., chairman of the Democratic Senatorial Campaign Committee, also said the Republican "brand" is nowhere near as good in 2010 as it was in 1994.
But Sen. John Cornyn, R-Texas, Menendez' GOP counterpart, said on ABC's "This Week" that the party has built a "coalition" of independents, Republicans and "disaffected Democrats" that will sweep its candidates into office on Tuesday.
"I think we'll make a lot of headway. I'm not predicting that we will get the majority this cycle. I think it probably is going to take two cycles, but there is certainly a potential there, depending on just how high and how broad this wave election is," he said.
Click here for more Fox News "Days to Decide" coverage.