Parkland massacre sparks a wave of state-level gun reform efforts
In the wake of the Parkland, Fla., high school shooting attack that left 17 dead and another 17 wounded, Florida, a broad patchwork of state-level efforts to reform gun laws have gained momentum across the nation.
Interactive Map: State-level gun reform legislation
A bevy of bills could broadly redefine gun laws across America. Click on your state below to see the latest proposed gun legislation. (Mobile users: Click here to view the map).
In total, 35 states are considering bills that would alter their gun laws. Most of them would expand regulations on firearms, although a few would loosen them. More than 100 bills that would directly impact gun laws have been introduced in the current legislative session. At least a dozen have been proposed in the weeks following the massacre at Marjory Stoneman Douglas High School in Parkland, Florida last month.
This year, there have been 49 "mass shootings" in the United States through February, leaving 50 dead and another 64 injured, according to data compiled by Mass Shooting Tracker, a crowd-sourced site that counts in its tally any shooting that leaves two or more people wounded or killed.
In the Parkland attack, 19-year-old Nikolas Cruz, a troubled and mentally ill former student, shot up the school with a legally purchased AR-15.
Cameron Kasky, a junior at Marjory Stoneman Douglas who survived the Parkland massacre, has become a vocal challenger of lawmakers who support a gun rights agenda.
"Every politician should get the message that if they keep being the NRA's puppets, then they'll never get elected again," Kasky told Fox News. "This is not an attack on the second amendment. This is simply a discussion about making buying a weapon of war something that isn't so easy. … If that's too much to ask then this isn't a democracy."
Kasky and fellow students - including Emma Gonzalez and David Hogg - have been thrust into the national spotlight since the Feb. 14 attack, calling for new gun control measures. On Wednesday, many students took part in a nationwide "walkout" aimed at honoring the Parkland victims and pressing Congress.
Gun rights advocates are quick to note that Cruz had been flagged by law enforcement numerous times throughout his childhood. More recently, the FBI failed to act on at least two tips specifically warning that Cruz could shoot up a school. Many gun rights groups believe the answer to school safety lies in stationing more cops in buildings and even arming trianed and willing teachers.
The tragedy has become a flashpoint for reform advocates across the country. Kris Brown, who runs one of the longest-standing gun control groups in the nation, said the Brady Campaign has been working with lawmakers to amend gun laws in the wake of the shooting.
"We have chapters across the country and have been very active in educating legislatures in appropriate gun policy and seeking to advance enacting of laws," Brown said.
Since Feb. 14, she said the Brady Campaign – named after Ronald Reagan's press secretary James Brady, who was seriously wounded in a presidential assassination attempt - has had 16 new chapters spring up and its social media engagement is up by 5,000 percent.
However, the implications of the Parkland massacre go beyond momentum within her organization; she's seen politicians capitulate on their previously staunch pro-gun stances in the days after the shooting. This reported capitulation is lending momentum to legislative efforts to reform gun laws.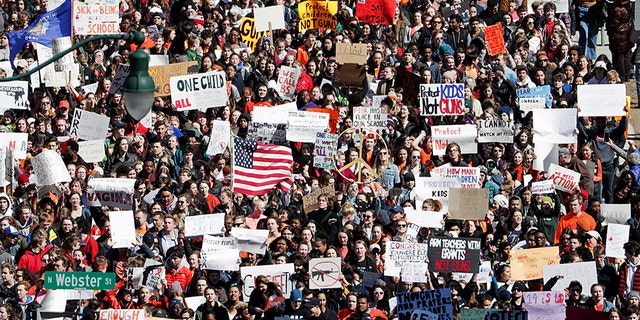 "[Florida Gov.] Rick Scott is a big example of that," Brown said. "He is undoubtedly running for Senate, and he's usually gone along with everything the NRA has done."
Scott recently signed a surprisingly progressive plan in the weeks following the Parkland shooting. The comprehensive bill will raise the age to purchase firearms to 21 years old, ban bump stocks, create a waiting period of three days to purchase a weapons, arm school employees and allocate millions to fund school security. The bill is a sharp departure from the National Rifle Association's agenda, with which Scott has consistently sided over the years.
But the effect the Parkland shooting appears to have on reform isn't a foregone conclusion to gun rights advocates like Alan Gottlieb, founder and executive vice president of the Second Amendment Foundation.
"I can't say that it has had a major impact on it," he said. "Of course, in light of any of those tragic instances, somebody will pass a law that's unconstitutional and we will challenge that."
Gottlieb said his organization will mount legal challenges to any law that they believe violates Second Amendment rights, provided there is a plaintiff. Considering the groundswell of support for assault weapon bans or laws to raise the age to purchase a firearm to 21 years old, this may become an onerous task.
There may be common ground between gun-control activists like Kasky and gun-rights advocates when it comes to common sense reforms. Gottlieb's group would support extreme risk protection orders, laws that generally mean a person's firearms can be taken away if they're a risk to themselves or others – as long as due process is built in. There are currently 27 bill in state legislatures across the nation that would, in some capacity, remove firearms from dangerous people.
The urgency of the gun-control movement has been amplified by the voices of the students who survived the Parkland shooting. Their advocacy has sparked wildfire conversation about legislative reform, and state lawmakers are taking notice.
"They're mad as hell and they're not going to take it anymore," Brown said. "I think the difference is they've really sparked something in the youth movement and kids across the country are getting up and walking out and demanding change in record numbers."
Map: U.S. states by Flourish teamBoundaries come from the U.S. Census Bureau's cartographic boundary shapefiles, 2016 edition https://www.census.gov/geo/maps-data/data/tiger-cart-boundary.html. Points data comes from the GeoNames dataset of cities with populations of above 150,000, http://www.geonames.org/export/.