Parents Protest at LA School in Wake of Teacher Scandal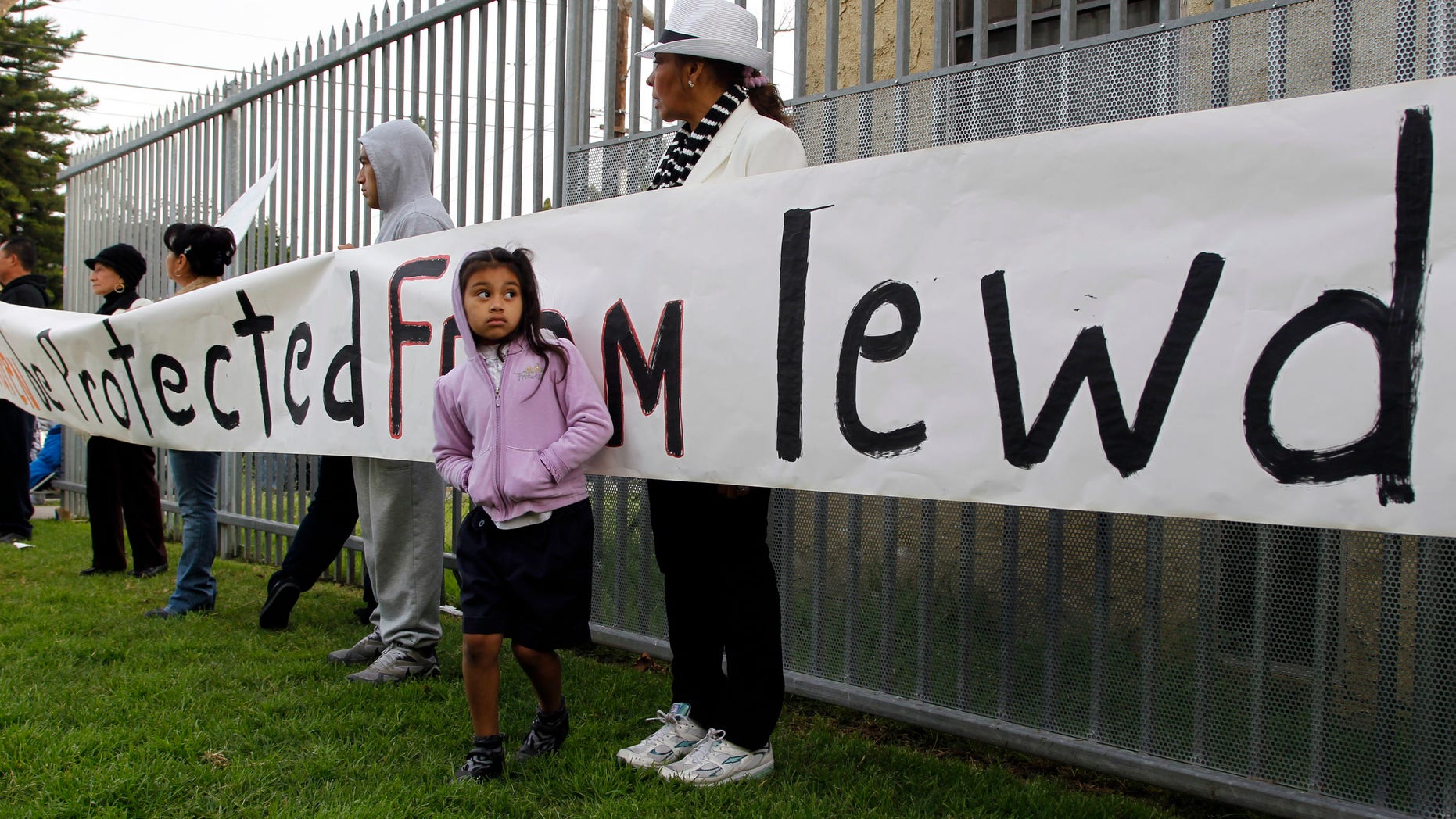 Dozens of parents, some clutching banners others chanting, began protesting Monday at the California elementary school rocked by allegations of lewd sexual conduct.
Protesters at Miramonte Elementary School, a predominantly Latino school in Los Angeles, demanded greater communication with education officials and the placement of cameras in classrooms and hallways.
Some carried a banner reading, "We the parents demand our children be protected from lewd teacher acts." School police and sheriff's deputies were on hand, but there was no violence.
The protest follows the arrest of two teachers who allegedly committed lewd acts against children at the school. One teacher allegedly force fed the students his semen and blindfolding their eyes as cockroaches crawled all over their faces.
Almost a quarter of the school's students stayed home on Monday, with attendance reaching just 72 percent, the district said.
Arianna Perez, 30, who is keeping two sons out of the school, was angry and upset as she demanded new teachers and a new principal.
"I'm not letting them in (school)," she said of her children. "They're scared to be in. I'm not going to put them in risk of (teachers) doing something to them."
Neither of her boys was a student of the two teachers named in the allegations.
"I don't want to go to the school anymore," said son Luis, 11. "I feel unsafe. and I feel like something bad's going to happen, like what happened to others."
Los Angeles Unified School District Superintendent John Deasy planned a 6 p.m. Monday meeting with Miramonte parents on a nearby high school campus. The school board met in a hastily called closed session Monday morning to discuss the Miramonte case, said district spokesman Tom Waldman.
School officials canceled classes at the school on Tuesday and Wednesday as a cooling-off period, Waldman said.
I don't want to go to the school anymore. I feel unsafe. and I feel like something bad's going to happen, like what happened to others.
Waldman was not certain what would be happening on campus, or whether faculty and staff would be there.
Last week teacher Mark Berndt, 61, who worked at the school for 32 years, was charged with committing lewd acts on 23 children, ages 6 to 10, between 2005 and 2010.
The acts cited by authorities include blindfolding children and feeding them his own semen in his classroom in what children were allegedly told was a tasting game.
Berndt remains jailed on $23 million bail and could face life in prison if convicted.
Four days later another teacher, Martin Springer, 49, was arrested on suspicion of fondling two girls in his classroom. He was being held on $2 million bail.
Springer taught at Miramonte for his entire career, which started in 1985, the district said. He taught second grade.
The school board is scheduled to discuss firing him in a closed-door meeting on Tuesday.
Investigators said they know of no connection between the cases. Berndt and Springer know each other and took their classes on at least two joint field trips in the past decade, according to the Los Angeles Times.
Latinas Dominate Victoria's Secret Show
Attorney Luis Carrillo came to the 1,400-student campus to announce he had filed a claim Monday against the school district on behalf of two girls and boy who allegedly were victims of Berndt between 2008 and 2010. A claim is a precursor to a lawsuit.
Two other attorneys have also announced plans to sue the district.
Based on reporting by The Associated Press.
Follow us on twitter.com/foxnewslatino
Like us at facebook.com/foxnewslatino