Panetta says new Pentagon strategy to pivot focus to Asia not designed to contain China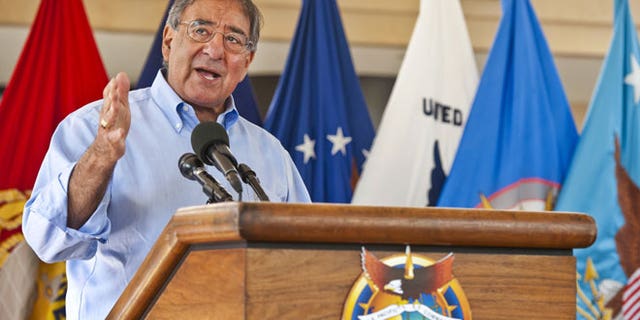 NEWYou can now listen to Fox News articles!
SINGAPORE – In his first speech in Asia since the president announced a strategic pivot to Asia, Defense Secretary Leon Panetta sought to reassure China that the new U.S. strategy to pivot military resources and focus to Asia is not designed to contain China.
"Some view the increased emphasis by the United States on Asia-Pacific as a challenge to China, I reject that view entirely," Panetta told a top level conference of Asian defense ministers sponsored by the International Institute for Strategic Studies.
At the conference known as the Shangri La Dialogue, Panetta announced that the U.S. would shift 60 percent of its naval assets to Pacific ports. Currently, the 11 aircraft carriers are split between Asia and the Middle East.
"By 2020, the Navy will re-posture its forces from today's roughly 50/50 percent split between the Pacific and the Atlantic to about 60/40 split between these two oceans - including six aircraft carriers, a majority of our cruisers, destroyers, Littoral Combat Ships, and submarines," Panetta said.
The questions from Asian defense ministers focused on whether the U.S. could afford to pivot to Asia given its current defense budget cuts.
The first question to Panetta came from a representative of China's People's Liberation Army.
"My question is, sir, could you enlighten me a little more how the U.S. plans to develop military-to-military relations with China?"
To which, Panetta outlined a series of plans to cooperate on cyber and space, creating teams to work on these difficult issues, exchanges between military commanders and capped by a visit to China later this summer by the secretary himself.
Also, after reports surfaced that a Chinese security official had been arrested on suspicion of spying for the U.S., Sen. Joe Lieberman, I-Conn., told Fox News the countries must learn to resolve their disputes without getting into a Cold War.
"China and the U.S. are so tied together economically and another Cold War is not in the interest of either that ultimately common sense will prevail." Lieberman said.
The Chinese did not send its Defense Minister or head of its military to the conference.
"There is no senior Chinese presence here at this meeting," Sen. John McCain, R-Ariz., a member of the Senate Armed Services Committee told Fox News in an interview in Singapore after Panetta's speech. "It would be nice to see some reciprocal words from China."
McCain also expressed concern about the budget realities in the U.S. and whether the Pentagon would have enough funding to follow through on the president's new strategy.
"Realities are we are retiring ships. We are having the smallest navy since World War II. We are facing sequestration, which the Senate majority leader said is fine with him. So it is a mismatch between the realities of our commitment and the funding for that commitment," McCain said after Panetta finished speaking.