Palin: I Didn't Mean to Step on Romney's Toes During Campaign Rollout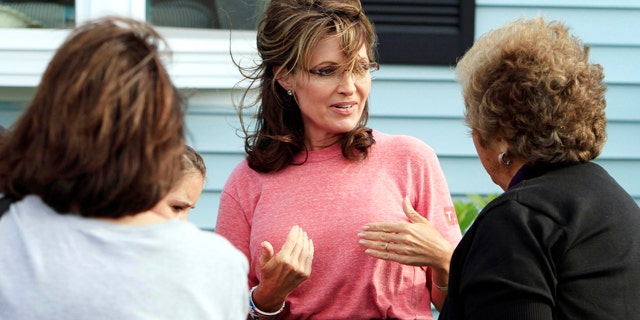 Sarah Palin said Sunday she didn't mean to step on Mitt Romney's toes by showing up in New Hampshire in her "One Nation" tour bus the day Romney announced his candidacy for president.
"The New Hampshire Leader" put Palin's clambake at the top of its coverage last Friday, the day after Romney rolled out his official campaign announcement. His announcement warranted a small picture on the Front Page and a story on Page 3.
The former Alaska governor said she wasn't trying to pull attention away from Romney, but the media just can't get enough of her. As for Romney, she said while she disagrees with his health care policy while he was governor of Massachusetts, she certainly isn't trying to diminish his image.
"I apologize if I stepped on any -- any of that PR that Mitt Romney needed or wanted that day. I do sincerely apologize. I didn't mean to step on anybody's toes," Palin told "Fox News Sunday."
"I'll step on the toes of those who are making poor decisions for our nation. I have faith that Mitt Romney is one who desires to make good, sound, fiscally responsible decisions for our nation. I don't have a problem stepping on toes of those, though, who keep screwing up," she said.
Despite the apology, Palin may still become a challenger to Romney, whose health care plan for Massachusetts has been criticized by some Republicans as being too intrusive. Palin said at least Romney is arguing against a federal version of the Massachusetts plan.
"I don't like local, state or federal level of government mandating anything in our lives, in our families, and in our businesses, unless it comes to saving lives," Palin said. "But I do understand where Mitt Romney is going with that. Obviously, he's a supporter of the Tenth Amendment. And that's what's missing in this present administration, is any respect for the Tenth Amendment, for states' rights and we need to get back to states' rights."
Palin's critique of Romney doesn't mean she's looking to supplant him in the GOP presidential race. And it doesn't mean she's not.
Palin, who launched a bus tour on Memorial Day weekend to publicize "Americana," said her trip is "not a campaign tour," and she hasn't been swayed by the reaction she has received on the road. But she didn't say where she currently stands on a potential bid.
"It's not about me. It's about this message," she said. "We have got to turn things around in 2012. Whether it's me -- throwing my name in the hat or just supporting the right candidate, the response has been great confirmation of the need for real positive change in this country."
Palin also took the opportunity to clear up some image issues, defending herself from accusations that she messed up the historical account of Paul Revere's ride during an interview last week.
"You know what? I didn't mess up about Paul Revere. Here is what Paul Revere did. He warned the Americans that the British were coming, the British were coming, and they were going to try to take our arms and we got to make sure that we were protecting ourselves and shoring up all of ammunitions and our firearms so that they couldn't take it," she said.
"But remember that the British had already been there, many soldiers for seven years in that area. And part of Paul Revere's ride -- and it wasn't just one ride -- he was a courier, he was a messenger. Part of his ride was to warn the British that we're already there. That, hey, you're not going to succeed. You're not going to take American arms. You are not going to beat our own well-armed persons, individual, private militia that we have. He did warn the British.
And in a shout-out, gotcha type of question that was asked of me, I answered candidly. And I know my American history," she said.
Palin also pounded a former aide, Frank Bailey, who recently wrote a book saying that he was told by Team Palin to write fake letters to the editor under false names and spend hours manipulating TV polls by voting on the phone. Palin called those accusations "complete lies."
"I say it unequivocally that Frank Bailey has some ethical problems of his own. In fact, out of the 25,000 employees that I was in charge of ... and with the $14 billion that we were working on ... only one person in the entire administration had to undergo ethics training. ... It was Frank Bailey who (is) still under investigation today," she said.
Palin added that she's not worried about the release of emails from her era as Alaska governor because "every rock in the Palin household that could ever be kicked over and uncovered anything, it's already been kicked over."
"I'm sure people are going to capitalize on this opportunity to go through 25,000 emails and perhaps take things out of context. They'll never truly know what the context of each one of the emails was, or each one of the issues were that I was working on that day, or in that time period," she said. "But whatever, Chris. It's like nothing surprises me anymore. ... And things like that are going to be perhaps a distraction for others. They won't distract me."