Palin, Grizzly Companion Appear on Reality Show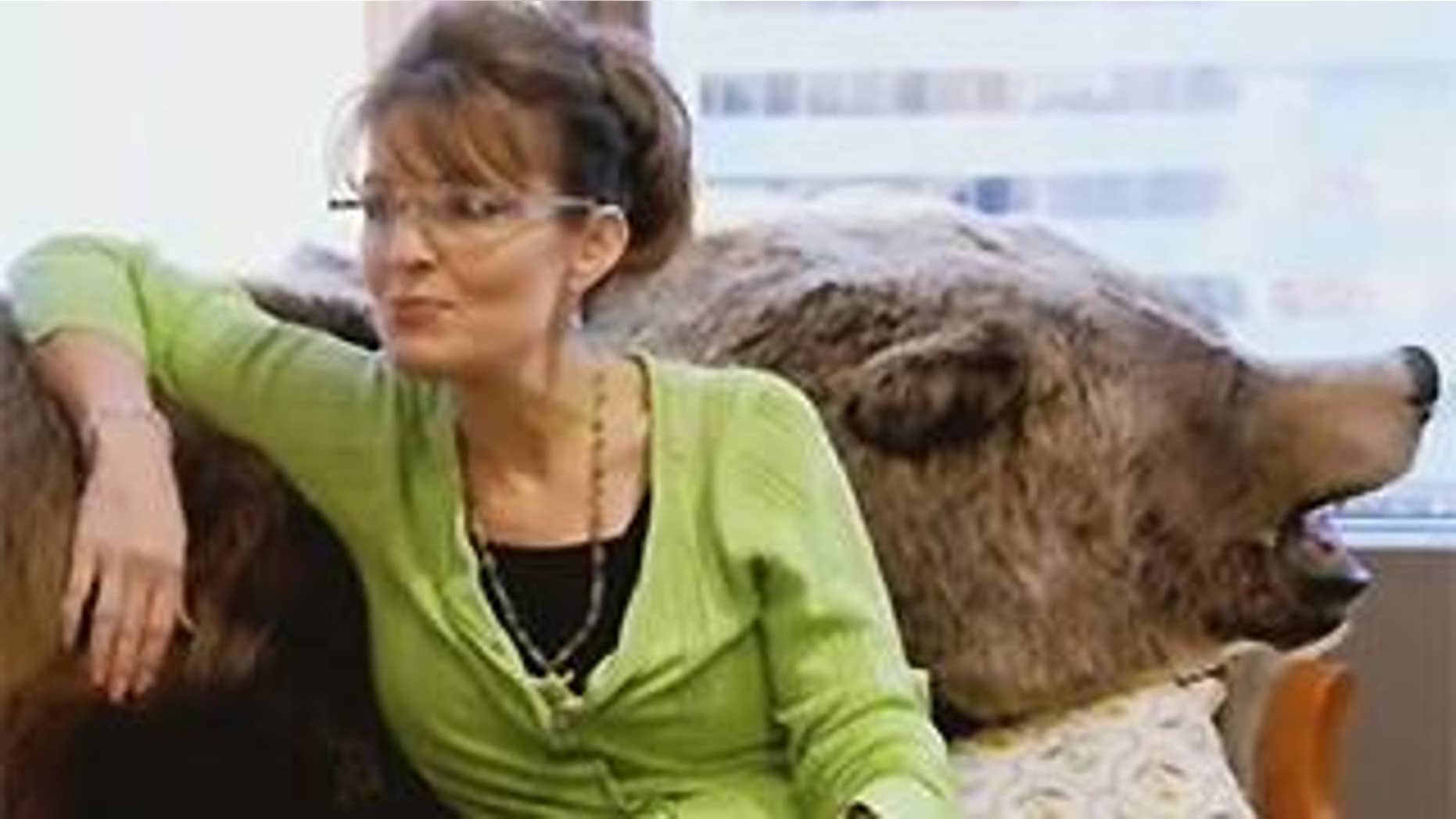 Alaska Gov. Sarah Palin recently hung out with one of the stars of the "American Chopper" reality TV series -- and their time together aired Thursday night on the popular Learning Channel staple.
Palin met with the show's star Paul Teutul Sr. in her Anchorage office on Wednesday while sitting on a sofa draped with a massive grizzly bear hide that her father killed.
The bike-building duo took a trip to Anchorage to research building a custom motorcycle to honor Alaska's 50th anniversary of statehood.
"You've got that patriotism in you that people just so respect. Thank you for that," Palin told the show's host.
Click to watch the interview on YouTube
Teutul co-stars with his son, Paulie "Junior" Teutul, in the show about their family business, Orange County Choppers, which builds pricey custom motorcycles.
Palin also met with Teutul last fall, when father and son presented a motorcycle to John McCain when the Arizona Republican senator was running for president and Palin was his running mate.
On Wednesday, Governor Palin launched a Twitter site and has since picked up more than 11,000 followers.
Among the followers are Republican Govs. Arnold Schwarzenegger of California and Rick Perry of Texas and Republican U.S. Sen. Lisa Murkowski of Alaska.
Palin's Twitter bio proclaims, "Creating New Energy for Alaskans as governor of the 49th state!" Among messages posted Thursday, Palin said Alaska still had not reported cases of swine flu. She urged residents to be vigilant against the disease by washing their hands and watching for flu-like symptoms.
Palin decided to become a tweeter herself "for the same reason many other politicians are: to get out timely, unfiltered messages," spokeswoman Sharon Leighow said in an e-mail. Palin is providing the content herself, according to Leighow.
Asked if Twitter could be viewed as a tool to reach potential voters, Leighow said "Undoubtedly, someone will view it that way. But this is just another form of communication, and communication is part of the governor's job."
Jerry Anderson, assistant director of the Alaska Public Offices Commission, said he didn't believe such new modes of communication have been addressed as far as their campaign applications go and it would be difficult to say how state laws would deal with them.
Anderson said his office is planning to update existing regulations with funds budgeted for the next fiscal year.
The Associated Press contributed to this report.