Once-homeless vet among First Lady Michelle Obama's guests at State of the Union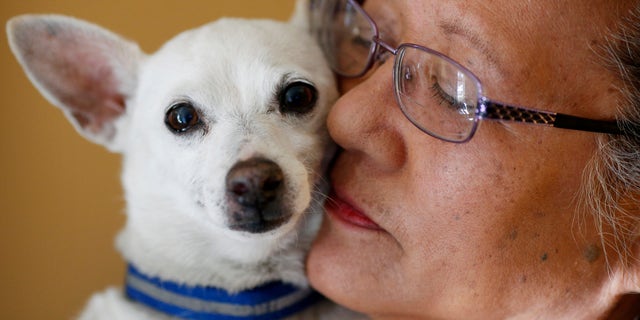 WASHINGTON (AP) – A formerly homeless veteran from Las Vegas will sit in first lady Michelle Obama's visitor box during the State of the Union address Tuesday night.
Cynthia Dias, 64, served during the Vietnam War on a hospital ship as a registered nurse and attributed her years of homelessness to post-traumatic stress disorder.
About a year ago, Dias says, she was able to move from a homeless shelter for women and children into a former motel in downtown Las Vegas that was renovated through private donations to provide 122 units of housing for veterans. While staying in Veterans Village, residents like Dias get access to health care, job training and counseling.
The Obama administration is highlighting a challenge that the first lady and Jill Biden, the vice president's wife, issued for local leaders to do more to end veteran homelessness in 2015.
Las Vegas responded to the call, and city leaders say they have enough services and programs in place to house every homeless veteran.
Dias said she's in shock from Mrs. Obama's invitation and hopes people will think about her survival when they see her.
"I survived and I'm thriving here at Veterans Village," Dias said.
"For me, it's been a heaven-sent gift to be among other veterans who are suffering from PTSD," she said. "The camaraderie that veterans have for one another, it's better medication than the anti-depressants."
The founder of Veterans Village, Arnold Stalk, said it's important to get veterans off the street first and into a stable environment. Once that happens, it's easier to provide the health care and other support they'll need to live in a home permanently.
Dias will join two other Obama guests, early supporters who the president says provided early inspiration to his campaign.
Edith Childs, of Greenwood, South Carolina, met Obama at a rally in her state in June 2007. Obama credits her with coining the "Fired up! Ready to go!" call-and-response that became a rallying cry for both of his White House bids.
Another guest, Earl Smith, was head of security at an Austin hotel when he met Obama in February 2008. He gave Obama a military patch he had carried with him for 40 years; Obama carried it with him for the rest of the campaign.
Like us on Facebook
Follow us on Twitter & Instagram