On heels of immigration executive action, Obama's approval rating among Latinos rises sharply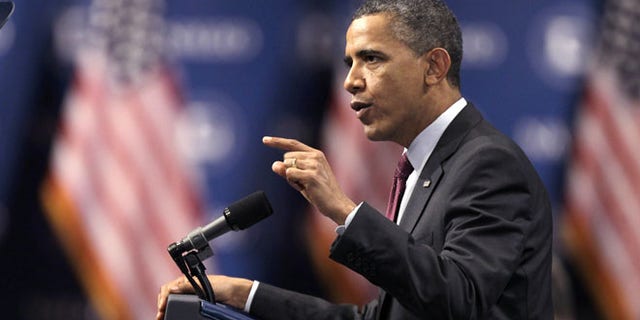 NEWYou can now listen to Fox News articles!
It's amor – for now, at least.
A recent Gallup poll shows that President Obama's approval rating among Latinos has shot up to 68 points since he announced his executive order on immigration.
The Latino approval rating is 25 points higher than the national average, 43 percent, among all voters, and 37 points higher than the rating among non-Latino whites, with 31 percent.
Obama's approval among Latinos is the highest this year.
In September, a Gallup report about Latino views on Obama noted that his approval rating among this group had sunk to 10 percentage points over the national average – lower than the typical 20 percent margin they have over others in supporting the president's performance.
That was around the time the president had indicated he was considering pushing back acting on immigration if Congress did not seem to be advancing toward voting on a measure.
Obama courted Latinos during his presidential campaigns in 2008 and 2012 on the promise of reforming immigration. It helped him land robust Latino voter support – he won 71 percent of the Latino vote -- but his promise of changing immigration policy also was a source of frustration among this voting bloc when efforts at overhauling the system stalled, and deportations reached a record high under the Obama administration.
His approval rating among Latinos has gone on something of a roller coaster during his presidency, rising to 75 percent, for instance, in 2012 after he established an initiative that gave a renewable two-year reprieve from deportation to undocumented immigrants brought to the United States as minors. This summer, his approval rating dropped to about 50 percent.
Last month, the president issued an executive order sparing potentially up to 5 million undocumented immigrants from deportation, and prioritizing the removal of criminals and people who recently have crossed into the United States illegally.
Those eligible for a reprieve from deportation are people who have lived here for at least five years, and have children who are U.S. citizens or legal permanent residents.
The president's executive action established a new program called Deferred Action for Parental Accountability, or DAPA, slated to launch by next spring. DAPA builds upon a 2012 program called Deferred Action for Childhood Arrivals, or DACA, which gave a renewable two-year reprieve from deportation to undocumented immigrants who came to the United States before the age of 16 and met other criteria.
Obama said that he opted to act unilaterally on immigration because Republicans in the House, where they have a majority, had blocked any attempt to move forward on comprehensive reform of the system.
He said that while the Senate last year managed to draft and pass a bipartisan comprehensive immigration reform bill that both tightened border security and provided a path to legal status for millions of undocumented immigrants who meet a strict set of criteria, efforts to do something similar in the House had stalled.
Republicans have said that Obama cannot be trusted because he has circumvented them on such things such as his health care bill, and they said that they were leery of passing a comprehensive immigration bill because they fear he will ignore the enforcement end of it.
Republicans also are divided among themselves on just how to address immigration. On Tuesday, after House Republicans met to discuss how to respond to Obama's executive action, they indicated to reporters that they were considering various steps to block it, including voting on a measure to try to stop parts of it from becoming implemented.
Follow us on twitter.com/foxnewslatino
Like us at facebook.com/foxnewslatino