On Campaign Trail, GOP Presidential Candidate Rick Perry Finds Immigration Keeps Coming Up As Issue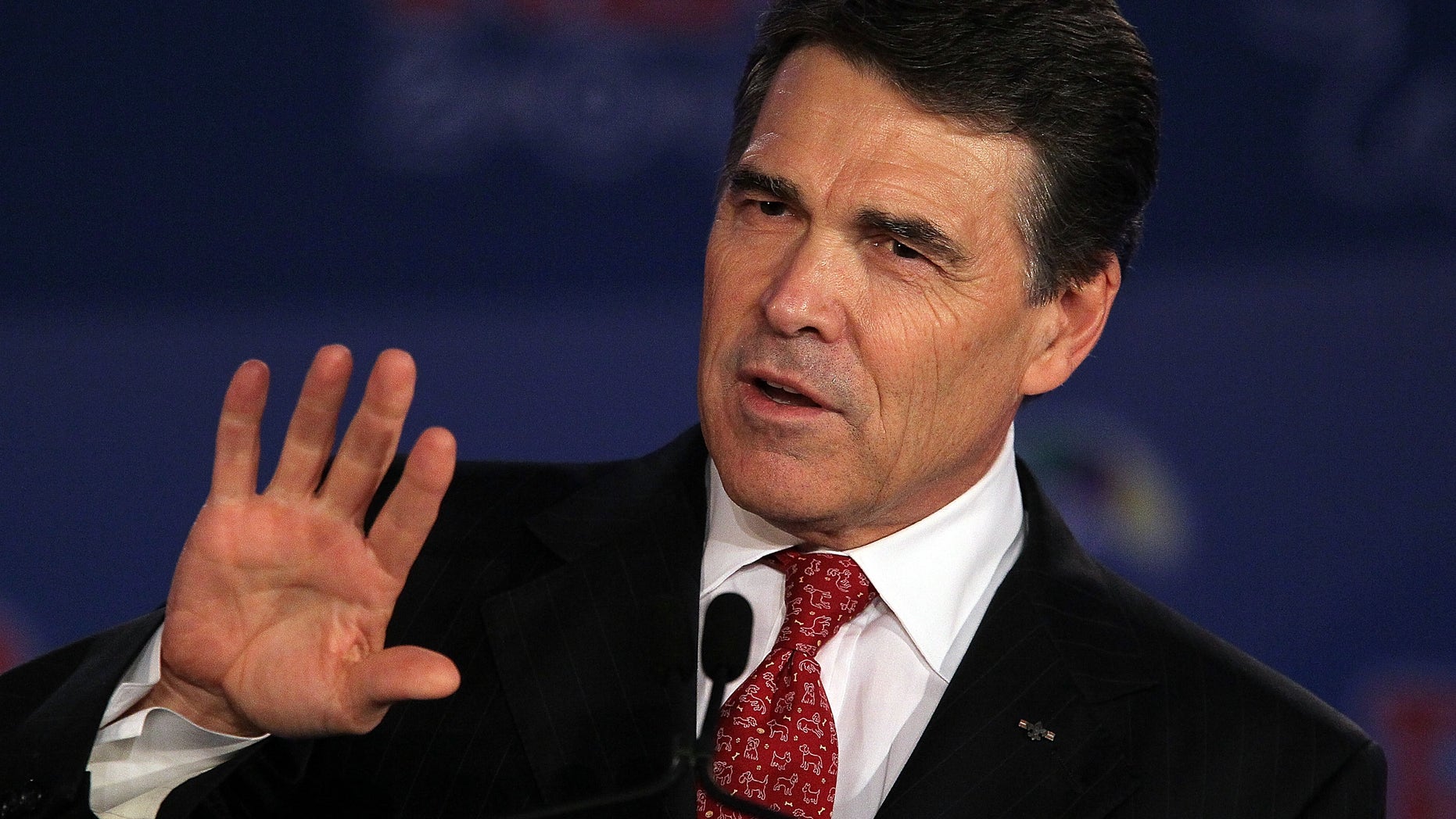 He was campaigning in New Hampshire, but Republican presidential candidate Rick Perry found himself explaining his views on how to deal with the U.S.-Mexican border.
Speaking to hundreds of Granite State voters at a private reception Saturday, but, the Texas governor was asked whether he supported a fence along the Mexican border.
"No, I don't support a fence on the border," he said, while referring to the long border in Texas alone. "The fact is, it's 1,200 miles from Brownsville to El Paso. Two things: How long you think it would take to build that? And then if you build a 30-foot wall from El Paso to Brownsville, the 35-foot ladder business gets real good."
Instead, Perry said he supported "strategic fencing" and National Guard troops to prevent illegal immigration and violence from Mexican drug cartels.
The answer produced an angry shout from at least one audience member. And it exposed an ongoing rift with some conservative voters over Perry's immigration record.
Tea party activists in Texas have been particularly upset by his steady opposition to the fence. He also signed a law giving undocumented immigrants in-state tuition for Texas universities. And Texas tea party groups sent Perry an open letter this year expressing disappointment over his failure to get a bill passed that would have outlawed "sanctuary cities," municipalities that protect undocumented immigrants.
Perry has surged to the lead in national polls since joining the presidential race just three weeks ago. But New Hampshire Republicans are just getting to know him.
"I think there are a lot of questions out there still," said tea party activist Jerry DeLemus, chairman of the Granite State Patriots Liberty PAC. "We don't know him very well."
Even in New Hampshire, he said illegal immigration is a key issue with his members and raised concerns about Perry's immigration policies. DeLemus said a border fence should be part of any policy.
"Any deterrent is a good deterrent," he said after Perry's second private reception in Chichester.
Saturday's visit marks the third time Perry visited the first-in-the-nation primary state since joining the race.
Despite having deep Southern roots and conservative social positions, the Texas native has indicated he will compete aggressively in New Hampshire, where both Republicans and independents vote in the primary election.
This is based on a story by The Associated Press.
Follow us on twitter.com/foxnewslatino
Like us at facebook.com/foxnewslatino