Oklahoma senator accused of assaulting Uber driver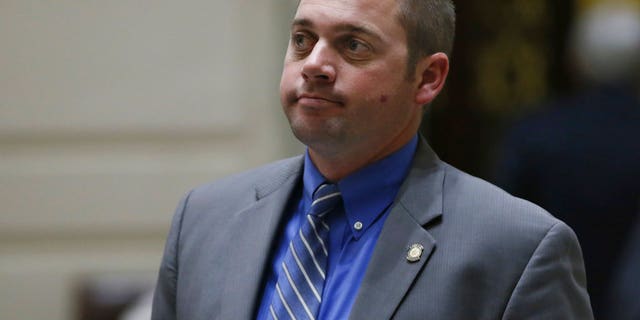 An Oklahoma state senator has been accused of assaulting an Uber driver last month in the state's capital.
Sen. Bryce Marlatt, R-Woodward, is accused of forcefully grabbing an Uber driver and kissing her neck on June 26 while she drove him to a hotel, according to a law enforcement official.
Marlatt has not been arrested or charged while authorities continue to investigate the incident.
Names have been redacted from the police report, but someone familiar with the situation in the Oklahoma County District Attorney's office confirmed that the accused is Marlatt, of Woodward.
ALASKA REPORTER SAYS STATE SENATOR SLAPPED HIM
The Uber driver reported the incident to Oklahoma City police two days after she claimed it happened, on June 28, by flagging down a police officer near the state Capitol.
Marlatt told the Woodward News that he was "shocked" at the allegations, and that he "immediately reached out to Uber in an effort to get to the bottom" of the accusations.
UBER DRIVER CHARGED WITH KIDNAPPING TORONTO WOMAN
Uber said they are cooperating with police regarding the matter.
"What's been reported is not tolerated and has no place on the Uber app. We are working with the Oklahoma City Police Department and will provide any information to them that would be helpful for their ongoing investigation," Uber Media Relations told FOX 25.
Marlatt has served in the Oklahoma Senate since 2008.
The Associated Press contributed to this report.