Oklahoma House passes 'Constitutional Carry' gun bill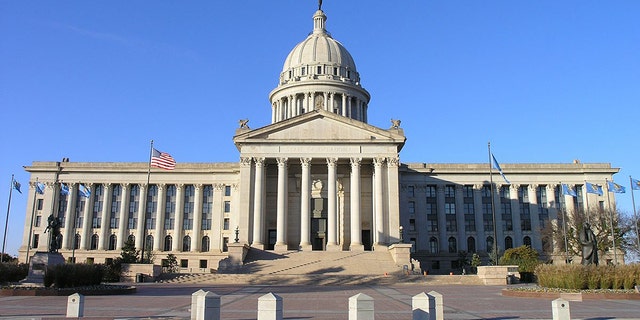 The Oklahoma House of Representatives on Wednesday passed what has been dubbed as the 'Constitutional Carry' gun bill in a 59-28 vote.
The bill would allow all law-abiding Oklahomans to carry a loaded, concealed handgun without a permit, permitting handgun owners in the state to carry their weapon in most public places. However, some areas where firearms are already prohibited by law -- such as the ones listed here -- are still exempt.
Additionally, the bill's author, Rep. Jeff Coody, R-Okla., filed an amendment that would permit handgun owners to also carry in a wildlife refuge or management area.
Coody was not immediately available for comment when contacted by Fox News on Thursday.
Supporters of the bill, which also does away with training and background checks for handguns, argue it protects a gun owner's right to self defense.
"Would it surprise you that the majority that have committed heinous crimes either have mental health conditions or the background checks have not been followed up? We're failing on that end. We need to concentrate on that end and not hinder our law-abiding citizens," Rep. Justin Humphrey, R-Okla., who supported the bill, said.
"There's not mandated training, but a law-abiding citizen who avails himself of a weapon would be extremely foolish not to seek training, Coody said, according to the Tulsa World. "My position has always been that responsible citizens will get more training that (sic) required under existing law."
Another supporter and member of the Oklahoma Second Amendment Association said the bill allows people in the state to protect themselves and eliminates the costly permit process.
The association, which backed the bill, told Fox News in a statement that it is "a positive step forward for lawful, peaceful citizens to exercise their Second Amendment right to carry, for self-defense without permission from the government, which has been prohibited in Oklahoma since statehood in 1907."
Opponents say the bill presents certain safety and training issues. They also argue that now is not an appropriate time to expand gun rights, citing recent mass shootings, such as the one in Parkland, Fla., in February, KOCO5 reported.
One of the bill's opponents, Democratic state Rep. Shane Stone, said that while he is a supporter of the second amendment, "we need to have reasonable restrictions," he told Fox News on Thursday.
Many of Coody's arguments were "inconsistent with the constitution," he said, adding that the bill is "anti-safety and anti-law enforcement" because the bill, if signed into law, could put law enforcement officers at risk.
"It's too far out there," said Stone.
"I do not support the rights of law enforcement to feel not threatened or safe to the detriment of my own constitutional rights," Coody said in response to the law enforcement argument, according to KFOR.
Stone said many of his constituents agreed with his perspective, echoing similar sentiments as the bill was debated Wednesday night.
The Senate is expected to decide on the bill by next week, the representative said, adding that he thinks the chances of it passing are "pretty good."
If passed, it will be presented to Gov. Mary Fallin for a signature. Stone said he doesn't expect Fallin to veto the bill.