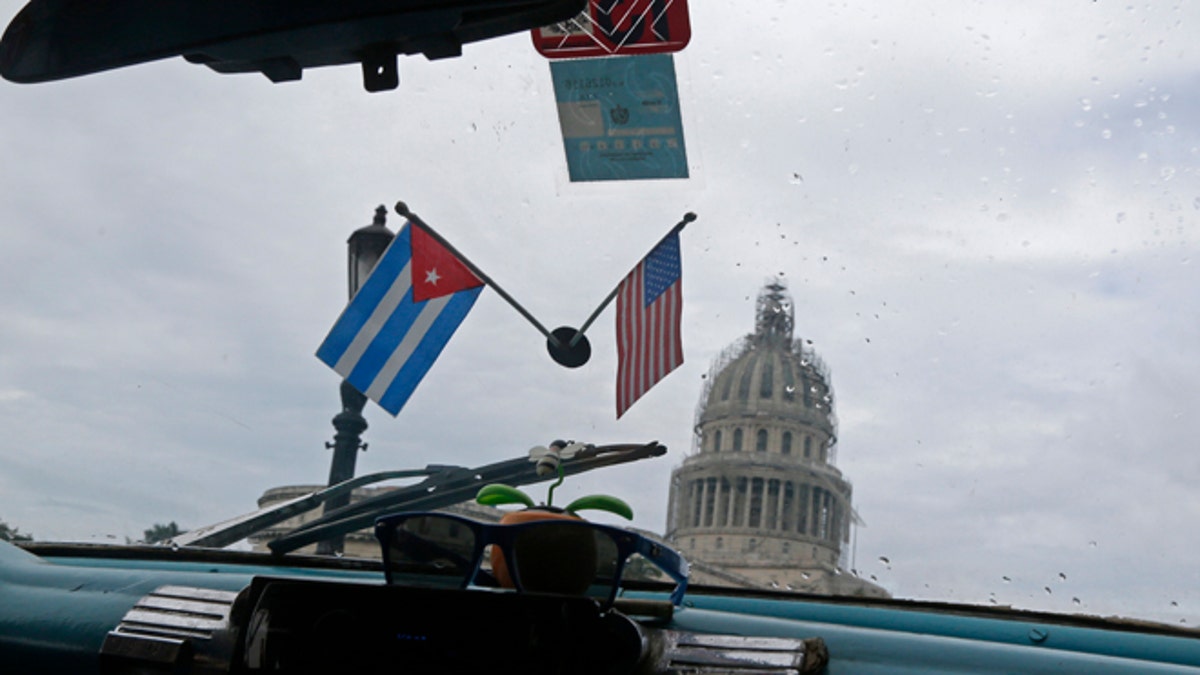 HAVANA (AP) – The success of President Barack Obama's new Cuba policy depends partly on hotel hand towels.
Not just hand towels, but working air conditioning, breakfast waffles and the hundreds of other amenities that American tourists will demand when they flood to Cuba in numbers that travel experts expect to double this year, thanks to the loosening of travel restrictions on Friday.
U.S.-based Cuba travel companies say there's simply no more room in the handful of top-end Cuban hotels that meet international standards. That means that if visitors come in numbers as great as expected, they will have to find lodging either in grim, lower-end state facilities or one of the most vibrant parts of Cuba's small, new private business sector: family-run guest houses that offer independent sources of private income to thousands of Cubans.
That scenario is exactly what Obama said he hopes to achieve. When he announced the policy on Dec. 17, the president said that the U.S. wants to be "a partner in making the lives of ordinary Cubans a little bit easier, more free, more prosperous."
The first test of the new U.S. approach may come down to where new American travelers choose to lay their heads at night.
"A significant increase in U.S. travelers would overwhelm the system and overwhelm the availability of the Cubans to keep tabs and keep controls on these travelers," a U.S. official involved in the execution of the new policy told The Associated Press on Friday. "The hotels aren't going to be able to handle it. You're going to see a spillover into the private sector, which is a good thing."
The official spoke on condition of anonymity due to lack of authorization to speak publicly about the new policy.
Juan Hernández Rabelo, 65, is taking English lessons three times a week to help him communicate with future clients at Casa Vitrales, an immaculately restored high-end colonial guest house he runs with his son in Old Havana.
"This is going to help our business and the country," Hernández said of Obama's new policy. "It opens new opportunities for guest houses to absorb a greater number of tourists."
The new Treasury Department rules that went into effect Friday eliminate a burdensome and costly requirement for specially licensed tour groups to obtain federal permits to take U.S. travelers to Cuba on trips with educational itineraries that needed approval in Washington.
Most U.S. travelers still will be required to go on supervised group trips, but now virtually any U.S. company or organization can offer such trips without the paperwork and inspections that discouraged past expansion of travel to Cuba. Some tour operators, already seeing unprecedented interest in legal travel to Cuba, expect some tourists to simply ignore the restrictions.
Companies that have been organizing travel to Cuba for years say they expect legal travel to Cuba to at least double this year, from a figure of roughly 90,000 American visitors annually over recent years.
And any significant surge, they say, is guaranteed to overwhelm Cuba's travel infrastructure.
"Even with 90,000 Americans going a year it's a nightmare to get the hotel rooms," said Collin Laverty, owner of Cuba Educational Travel. He said his company he's seen booking double over the last three weeks, to about 1,000. He said that he, too, expected Cubans to begin investing in more guest houses that are legitimate lodging options for visiting Americans.
"You've already started to see that," he said. "In the last few years, all of a sudden you've seen people who realize if I invest a little more, increase the water pressure, then you're actually competing with a four-star hotel."
Cuban state authorities say they are confident that the country can handle a surge in tourists and that they have already been getting ready for at least 1 million Americans a year, a number they expect to come after the U.S. embargo is ended by Congress.
"The country has enough hotel capacity to absorb an increase of this magnitude. We've prepared ourselves for that day," said José Manuel Bisbe, president of Havanatur, one of Cuba's main state-run tourism companies.
U.S. experts say that may be overly optimistic, particularly because the U.S. ban on pure tourism means the most developed high-end destination, the Varadero beach resort about 80 miles east of Havana, effectively remains off-limits to U.S. visitors. And even Bisbe acknowledged that some of Cuba's current offerings are sub-par.
"In terms of quality of service it's certain that we have a series of problems that we have to solve," he said.
The restrictions on Cuban travel have made the island either a surreptitious destination for young people who go illegally through Canada or Mexico, or an expensive, boutique product for older and better-off Americans.
Barbara Dresner, the retired owner of a New York of clothing stores, joined a five-day Havana jazz tour that cost about $5,000 per person and said she was unpleasantly surprised by some aspects of the five-star hotel where she stayed.
"There are no washcloths," she said Thursday night. "In American hotels, they always have washcloths."