Obama's Message Multiplier Heads to Cleveland; More Bad Polls, Forecasts for Dems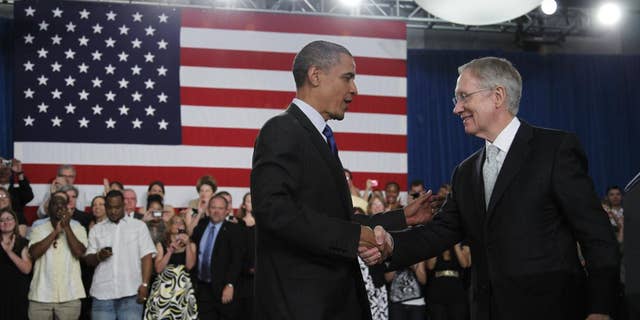 President Obama continues his week-long focus on the economy today with a proposal allowing companies to write off 100 percent of the cost of capital investments for the next 16-months
Obama will lay out the plan in a speech in Cleveland, where House Minority Leader John Boehner laid out the Republican plan two weeks ago.
Obama seems to really have a thing about Boehner. He's dug at him in both of his White House Correspondents Association routines and attacked him specifically in his Labor Day speech in Wisconsin Monday. Obama pointedly refused to call Boehner by name, referring twice to "the Republican who's already planning to take over as Speaker of the House."
Under Bush-era stimulus rules, businesses were able to write off half of their capital investment. Obama will propose doubling the rate and extending the deduction through the end of 2011. The White House says that the plan will reduce government revenues by $200 billion up front but lessen to $30 billion over 10 years since businesses would eventually have deducted depreciated value of equipment anyway.
Business response so far seems to be something of a shrug. While companies would be glad to have the exemption renewed and expanded, concerns about the expiration of the Bush tax cuts and the implementation of Obamacare still weigh heavily on their minds. And tax credit or no tax credit, if consumers aren't buying, then companies won't invest. Said one businessman to Fox News: "You can write off your losses too, but that doesn't make me want any more of them."
The choreography of Obama's economic rollout is noteworthy.
On Monday, he fired up a labor rally crowd with a pugilistic speech about Republicans and laid out his plan to spend $50 billion fixing roads, bridges and runways. Having done so much for government worker unions, Obama was looking to give the hard-hat set something to remember come November.
Now, Obama will address the business community with his offer of a tax exemption. Obama will also likely tout his other "targeted" tax proposals, like his research and development spending exemption and a small-business waiver program. We also might expect to hear about his proposal to have the government dump cash on community banks in hopes of spurring small- business lending.
In his Friday press conference, Obama will likely have turned to the other portion of his proposal - a new program that would have the federal government assume the mortgages of "underwater" homeowners. This will be the most controversial portion of the package.
Harry Reid has vowed to make the president's mini-stimulus the Senate's top priority when members return next week and Obama will be looking to show maximal action and apply maximal pressure to Republicans to support his economic hodgepodge.
The president's rollout reminds us of his first two years in office - lots of message choreography. Obama spent his transition and opening months in office focusing on the economy and stimulus, then it was cap and trade, then it was Obamacare, then it was the Dodd-Frank bank bill. We've seen the president trying to compartmentalize again - taking foreign policy last week and economic policy this week.
Obama may opt to talk of nothing but the economy and the perfidy of Republicans between now and the election, but his multiple, deliberate changes of course focus of his presidency have contributed to the growing belief that Obama and his party are out of touch.
Obama's team may be congratulating itself for it's week-long economic blitz, but the net effect is the same as the first year. Too many topics produces confusion.
More Bad News for Dems
The ABC News/Washington Post poll, which has been friendliest to President Obama and Democrats, has some shocking news today for the majority party, including a 13-pont disadvantage in the generic ballot among likely voters.
Other key points:Obama's approval down 4 points since July to 46 percent
Only 41 percent approve Obama's handling of the economyFor the first time, more people say Obama's policies are hurting the economy (33 percent) than are helping (30) percent. Obama had a 14-point edge in April.
For the first time, less than half believe Obama shares their values and for the first time, more than half believe he hasn't brought change to Washington.
A 19-point Democratic issue advantage on the economy has evaporated since January.
The Post/ABC poll comes on the heels of the third of the political prognosticators, Stuart Rothenberg, who weighed in with his own forecast for the fall, foreseeing a GOP "wave" that produces a pickup of 37-42 House seats for the GOP and holds out the possibility of a 55-seat gain. Also greeting Democrats today is a Politico frontpager that breaks down the key races that could deliver Republicans the 39 seats they need to take control. It's nothing shocking, but it's a good reflection of where the conventional wisdom is in Washington. They have a Democrat whispering that the party is looking at a 25-seat loss, but those 39 members will all read their names.
Panic is a complicating emotion. The president has pinned his party's plan for the fall on a final legislative push. But how much harder will that push become now that Democrats have lost hope of a recovery, economic and political?
PHOTO CREDIT:
AP/File photo