Obama's immigration plan goes before top court, Justice Kennedy calls it 'upside down'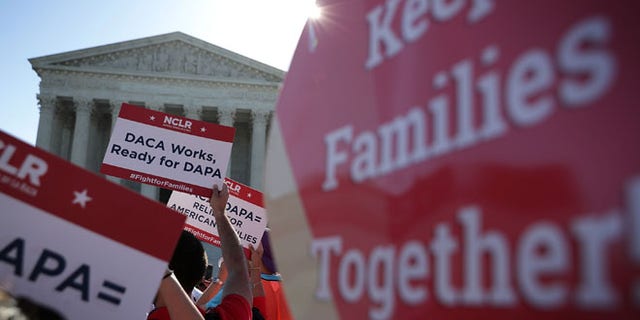 NEWYou can now listen to Fox News articles!
Even for a Supreme Court case, this is an extraordinarily high-stakes challenge.
It involves the powers of the president, and just how far he can go in acting alone when Congress will not pass a measure he or she wants. It involves the always emotionally-charged and deeply complex subject of immigration, specifically people who live here illegally and are the parents of U.S. citizens or legal residents.
The Supreme Court on Monday started hearing arguments in a Texas-led case challenging two executive immigration actions that could affect millions on people in the United States who are undocumented.
The Obama administration is asking the high court to allow it to put in place two programs – 2012's Deferred Action for Childhood Arrivals (DACA) and 2014's Deferred Action for Parents of Americans (DAPA) – that could shield roughly 4 million people from deportation and make them eligible to work in the United States.
As justices heard oral arguments on Monday, advocates for more lenient immigration policies staged rallies outside the Supreme Court building. Several members of Congress held a press conference calling for a ruling in favor of President Obama's executive action.
Donald B. Verrilli Jr., the government's top appellate lawyer, started the court session by saying that Obama had a constitutional right to set the agenda for immigration enforcement.
But some of the justices made it clear they did not see it that way, according to The New York Times.
Justice Anthony Kennedy questioned whether Obama could single-handedly decide that millions of people would get a reprieve from deportation.
He said "that is a legislative task, not an executive task."
"It's as if the president is defining the policy and the Congress is executing it," Justice Kennedy said. "That's just upside down."
Chief Justice John Roberts Jr. asked Verrilli if the president would also be within his rights to declare that all undocumented immigrants are legal if he so chose.
Verrilli said he would not because there are laws that don't allow a president to take such action.
MALDEF President Thomas Saenz, presented oral arguments on behalf of several mothers it represents.
"The justices seemed closely engaged throughout the entire argument," said the Mexican American Legal Defense and Educational Fund head.
"As expected, the issue of Texas' standing to be in court and challenge the president's time-honored and constitutional exercise of discretion in immigration enforcement received particular attention," he said. "We look forward to a decision that will enable the Administration to provide relief to the Jane Does and so many others building families and contributing to our nation's prosperity."
Meanwhile, the chair of the Congressional Hispanic Congress, Linda Sanchez, said on a statement:
"These immigration executive actions are a game changer for our community. DACA and DAPA are two simple but important actions that would allow young people and parents of U.S. citizens the ability to stay in this country, work, and pay taxes."
Rep. Joaquin Castro, a Texas Democrat, said Obama executive action is necessary because of repeated congressional inaction on immigration.
"With this case, the Supreme Court has the opportunity to uphold DAPA and expanded DACA and provide peace of mind to millions of families who contribute to our nation and call America home," Castro said on Monday. "Until Congress passes comprehensive immigration reform, President Obama's lawful actions bring some order to our nation's broken system."
Proponents of strict immigration enforcement see the court challenge as one that is about whether a president can grant "amnesty" with the stroke of a pen.
D.A. King, a prominent national activist for stricter immigration policies, said to Fox News Latino: "The whole world is watching to see if 'fundamental transformation' includes immigration law being re-written from the Oval Office while [the Supreme Court] offers its stamp of approval. We hope the court agrees with Obama when he made it clear that he lacks the power to do executive amnesty with the lament 'I am president. I am not king.'"
"Under the old constitution Obama does not have the authority to simply use 'prosecutorial discretion' for five million individuals. If he did, he would have used it on day one of his second term," said King, who lives in Georgia. "Would Barack Obama and the chanting mob outside the Supreme Court be as rabidly anti-borders if the hordes of illegals were English-speaking, potential conservative voters pouring across the border from Manitoba?"
Texas is leading 26 states in challenging the executive actions announced in 2014, which have been put on hold by lower courts. They say the programs need to be blocked because President Obama overstepped his authority under the existing immigration laws and the Constitution.
The high court is expected to decide by late June whether the efforts can move forward.
The court also could decide that Texas and the other states don't have the right to sue in federal court, a procedural outcome that would largely sidestep the divisive immigration issue.
Another possibility is a 4-4 tie following Justice Antonin Scalia's death in February. That would leave the programs in limbo, almost certainly through the end of Obama's presidency.
The Associated Press contributed to this report.