Obama Wins Senate Approval of START Nuclear Arms Pact With Russia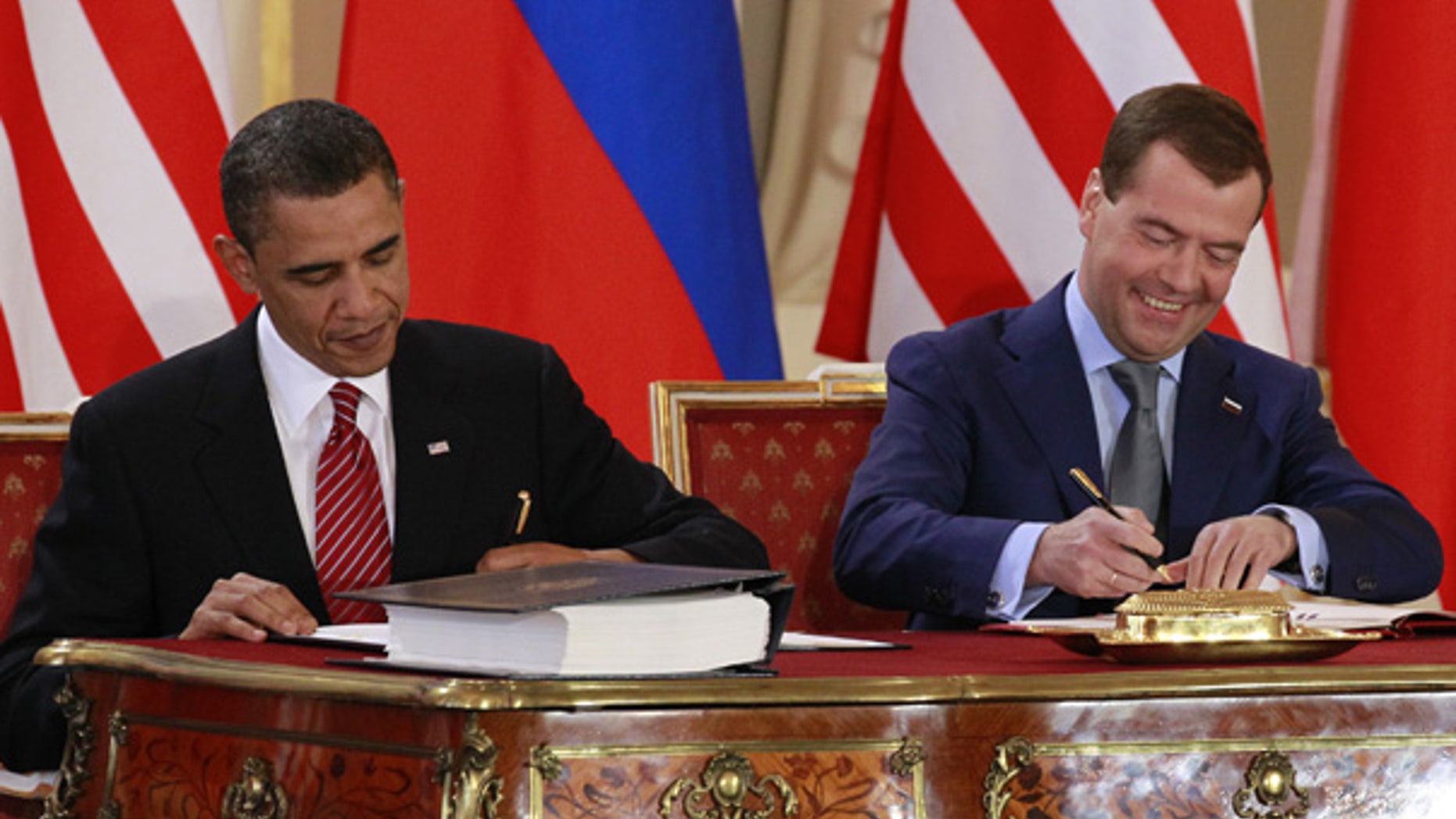 WASHINGTON -- After wearing down Republican opposition in the last days of the 111th Congress, President Obama secured a major victory Wednesday with Senate adoption of a resolution to ratify the nuclear arms reduction treaty with Russia.
At a wide-ranging news conference later in the day, Obama hailed the Senate ratification.
"This treaty will enhance our leadership to stop the spread of nuclear weapons and seek the peace of a world without them," he said. "The strong bipartisan vote in the Senate sends a powerful signal to the world that Republicans and Democrats stand together on behalf of our security."
Vice President Biden presided over the Senate's 71-26 vote to approve one of the president's signature foreign policy accomplishments as Secretary of State Hillary Clinton sat in attendance.
"The information and insight from these inspections forms the core of our ability to "trust but verify" compliance with New START.  A responsible partnership between the world's two largest nuclear powers that limits our nuclear arsenals while maintaining strategic stability is imperative to promoting global security," Clinton said in a statement after approval.
The White House lobbied furiously to win support from 11 Republicans who joined Democrats in a 67-28 procedural vote Tuesday to end debate on the pact and give Obama the two-thirds majority he needed for the final Senate vote on Wednesday that was supported by 13 Republicans.
Click here to see how your senator voted.
"This historic Senate vote makes our country safer and moves the world further away from the danger of nuclear disaster," Senate Foreign Relations Committee Chairman John Kerry, a Democrat, said after the vote. "
The treaty will leave the United States "with enough nuclear warheads to blow any attacker to kingdom come," said the Senate's No. 3 Republican, Lamar Alexander of Tennessee. Alexander had endorsed the accord, saying he was assured U.S. defenses would not be weakened.
Obama and Russian President Dmitry Medvedev signed the New START in April. It would limit each country's strategic nuclear warheads to 1,550, down from the current ceiling of 2,200. It would also establish a system for monitoring and verification. U.S. weapons inspections ended a year ago with the expiration of a 1991 treaty. "START" stands for Strategic Arms Reduction Treaty.
The administration was adamant that it be ratified this year because the Democrats' majority in the Senate is set to shrink by five in January and waiting could have meant months of delay or defeat.
Republicans accused Democrats of rushing approval of the treaty for political reasons. They have asserted it would limit U.S. missile defense options and argued that it has insufficient procedures to verify Russia's adherence.
When Arizona Sen. Jon Kyl, the leading Republican on negotiations over the treaty, suggested a delay last month, Obama appeared unlikely to find the nine Republican votes needed for passage.
But he and top members of his administration lobbied intensely, with Obama postponing his Christmas vacation in Hawaii.
Obama has insisted the treaty is a national security imperative that will improve cooperation with Russia, an argument loudly echoed by the nation's military and foreign policy leaders, former Presidents George H.W. Bush and Bill Clinton and six Republican secretaries of state.
In a fresh appeal for ratification, Defense Secretary Robert Gates said Tuesday that the treaty would "strengthen our leadership role in stopping the proliferation of nuclear weapons, and provide the necessary flexibility to structure our strategic nuclear forces to best meet national security interests."
Biden and Clinton made a rare visit to the Capitol Tuesday to lobby lawmakers.
In the end, Republicans acknowledged they'd been outgunned.
"We know when we've been beaten," Republican Sen. Orrin Hatch told reporters hours before Tuesday's vote.
Republicans had tried to kill the treaty by forcing changes in its language that would have sent it back for negotiations with Moscow. Democrats were working to appease some Republican senators by letting them raise these issues in legislation accompanying the treaty that would not directly affect the agreement.
Most Republicans remained opposed.
"The administration did not negotiate a good treaty," said Kyl, the Senate's No. 2 Republican leader. "They went into the negotiations it seems to me with the attitude with the Russians just like the guy who goes into the car dealership and says, `I'm not leaving here until I buy a car."'
The Associated Press contributed to this report.