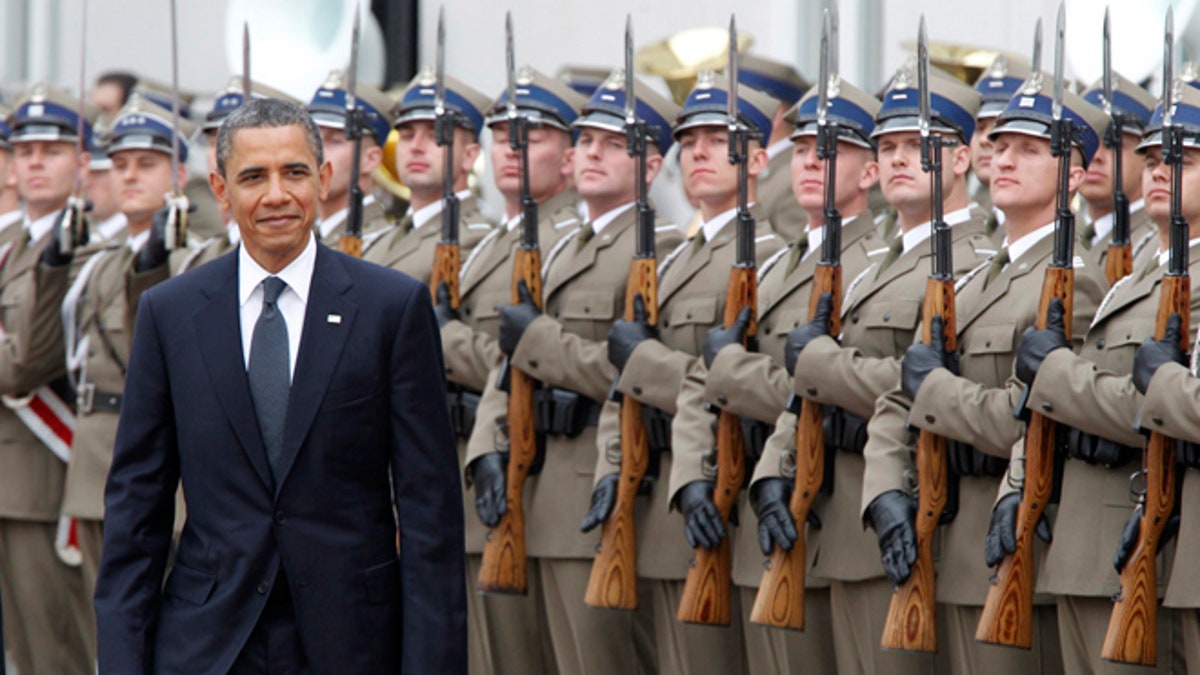 President Barack Obama will press European leaders this week to keep up pressure on Russia over its threatening moves in Ukraine, while seeking to assuage fears from Poland and other NATO allies that the West could slip back into a business-as-usual relationship with Moscow.
Obama's four-day trip to Poland, Belgium and France comes against the backdrop of successful national elections in Ukraine and signs that Russia is moving most of its troops off its shared border with the former Soviet republic. Yet violence continues to rage in eastern Ukrainian cities and there remains deep uncertainty about whether Ukraine's new president-elect can stabilize his country.
U.S. officials contend that, even with some signs of progress, Russia has not taken the necessary steps to ease tensions and could still face additional economic sanctions. Obama will look for Western allies to show a united front during a meeting of the Group of Seven major industrial nations that was quickly arranged after leaders decided to boycott a meeting Russia had been scheduled to host this week.
But at least some parts of Obama's visit will challenge the notion that the West has isolated Moscow. Russian President Vladmir Putin is scheduled to join U.S. and European leaders in France Friday for a day of events marking the 75th anniversary of the D-Day invasion at Normandy. Putin will also hold one-on-one talks with French President Francois Hollande, his first meeting with a Western leader since the Ukraine crisis began.
"Putin may not get to host the G-8, but if he gets to go to Normandy with everybody, it begins to diminish the appearance of isolation," said Steven Pifer, the former U.S. ambassador to Ukraine who now serves as a senior fellow at the Brookings Institution.
The White House says Obama will not hold a formal bilateral meeting with Putin, though the two leaders are expected to have some contact. Officials also disputed the notion that Putin's presence constituted a return to normal relations, noting that Obama and other leaders have talked with the Russian president throughout the crisis with Ukraine.
Yet those reassurances may be of little solace to NATO allies who sit near the Russian border, particularly Poland, where Obama will open his trip Tuesday. In April, the U.S. moved about 150 troops into Poland to try to ease its security concerns, but Obama is likely to get requests from Polish leaders for additional support.
"He's going to hear a very strong message from Polish officials that the mission has not been accomplished," said Heather Conley, a Europe scholar at the Center for Strategic and International Studies. "In fact, the work has only begun."
While in Warsaw, Obama will also meet with regional leaders who are in town to mark the 25th anniversary of Poland's first post-communist free elections. Among those leaders will be Ukrainian President-elect Petro Poroshenko, who won Ukraine's May 25 election and will hold his first bilateral meeting with Obama.
"We very much admired that the people of Ukraine have turned out in huge numbers to elect President-elect Poroshenko," said Ben Rhodes, Obama's deputy national security adviser. "We've admired his commitment to pursue dialogue and to aim to reduce tensions and put Ukraine on a positive path."
From Warsaw, Obama will head to Brussels to meet with leaders from the other G-7 nations: U.S., Britain, Germany, France, Italy, Canada and Japan. The wealthy nations will discuss ways to wean Europe off of Russian energy supplies, as well as gauge interest in levying more sanctions on Russia.
The U.S. and European Union have each sanctioned Russian businesses and individuals, including some people in Putin's inner circle, and threatened the prospect of broader penalties on Russia's key economic sectors. But with European nations that have close economic ties with Russia already wary of those sector sanctions, Obama is likely to face an uphill climb in cementing those commitments amid the recent signs of progress with Ukraine.
"I think there is no political appetite for further sanctions," Conley said of the European nations.
Many of the G-7 leaders will also travel to Normandy for the 70th anniversary of the Normandy invasion. But all eyes will be on Obama and Putin, who have a history of tense public encounters even before the Ukraine crisis worsened their relationship.
Obama and Putin will both attend a leaders' lunch and a ceremony at Sword Beach, one of the five main landing areas during the Normandy invasion. The U.S. president will also attend a separate ceremony at Omaha Beach, the largest of the assault areas during the June 6, 1944, invasion.
The president's trip comes during an intense stretch for his foreign policy agenda. He made a surprise visit to Afghanistan last week, followed by an announcement that he would be bringing the U.S. military commitment in Afghanistan to a close by the end of 2016. Obama also delivered a major foreign policy speech last week that aimed to push back at critics who say he has been too cautious, including in his dealings with Russia.
And on Saturday, the White House announced that the U.S. had freed Sgt. Bowe Bergdahl, the lone U.S. prisoner of the Afghan war, after nearly five years in captivity.