Obama to Supporters: I Understand Your Frustration Over Compromise With GOP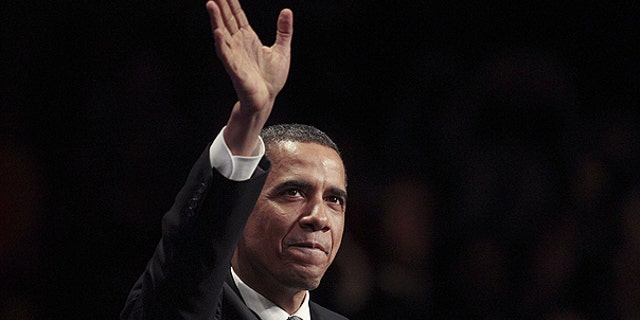 SAN FRANCISCO -- Easing into his 2012 campaign, President Obama is telling his supporters he understands their frustration over the compromises he's made with Republicans, while preparing them for more to come.
It's a timely warning given the upcoming vote on raising the debt ceiling and the ongoing debate over long-term deficit reduction, both issues Obama says can only be solved if Republicans and Democrats work together. But further compromises could prove a tough pill to swallow for many of Obama's liberal backers, who have grown tired of watching the president cede ground to the GOP on spending cuts and tax breaks for the wealthy.
During a raucous fundraiser focused on young people in San Francisco Wednesday night, Obama said his supporters are not alone in their frustration.
"There are times when I've felt the same way you do. It's a big, complicated, messy democracy," he said. "We knew this wouldn't be easy."
Obama's three-day West Coast swing -- his most extensive travel since announcing his re-election bid -- offered a glimpse of how Obama will seek to reenergize the independents and first-time voters who carried him to victory in 2008. Obama's rallying cry is that more work needs to be done in order to make the vision of America he promised a reality, and he is the only one who can see those hopes through.
"It is going to take more than a couple of years," Obama said. "It's going to take us more than one term to finish everything that we need to do."
Obama senior adviser David Plouffe offered a more sobering political forecast to the hundreds of young supporters gathered for the nighttime rally.
"This is going to be a close campaign," Plouffe said. "The one thing we better assume is that it's going to be closer than the last one."
After a third fundraiser here Thursday morning, Obama was to make stops in Reno, Nev., and Los Angeles. The president was scheduled to return to Washington Friday afternoon.
Obama was coupling his fundraising efforts with a series of town hall meetings aimed at selling his plan for cutting deficit spending directly to a wary public.
"The deficit is real, our debt is real. We've got to do something about it. But how we do it is going to make a huge difference," Obama said during a smaller, high-dollar fundraiser Wednesday night.
The president and Republicans have both offered plans for bringing down the deficit, but vast differences exist over how to do so. The president is calling for $4 trillion in deficit reduction over 12 years, through a combination of spending cuts and tax hikes on the wealthy, while House Republicans have passed a plan that would reduce the deficit by nearly $6 trillion in a decade, in part by overhauling Medicare and Medicaid.
The president and Republicans have accused each other of pitching "radical" plans.
"I think it's fair to say that their vision is radical," Obama told a town hall gathering Wednesday at the headquarters of Facebook, the huge social network company.
Brendan Buck, a spokesman for House Speaker John Boehner, returned fire. "What's radical is piling up $9 trillion more in debt on the backs of our kids and grandkids," he said, echoing a GOP criticism that Obama's plan would accomplish too little.
Obama's mixing of politics and policy on this West Coast swing is a harbinger of things to come as he balances campaigning with the duties of the presidency.
White House aides insist the president is only involved in the reelection campaign from a distance at this point. But with fundraisers and campaign-style town hall meetings quickly becoming staples in his schedule, it's clear Obama is already in re-election mode.