Obama to Navy SEALs Who Raided Bin Laden: 'Job Well Done'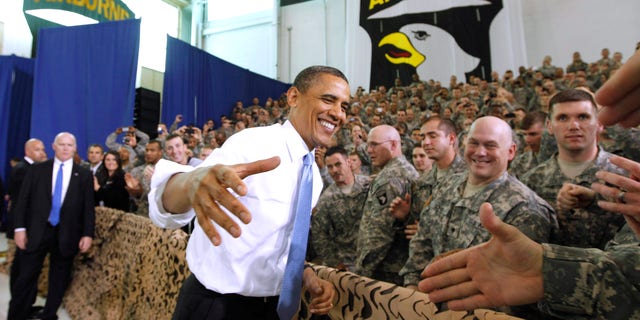 President Obama on Friday met with the assault forces who carried out the strike on Usama bin Laden, awarding them a presidential citation and praising them for a "job well done."
After the president's private meeting with those Navy SEALs at Fort Campbell in Kentucky, he delivered a rousing speech to about 2,200 troops recently back from Afghanistan -- where the fighting and search for an endgame continues despite the death of the terrorist who masterminded the killing of nearly 3,000 Americans on Sept. 11, 2001.
"This has been a historic week in the life of our nation," he said. "Thanks to the incredible skill, courage of countless individuals, intelligence, military over many years, the terrorist leader who struck our nation on 9/11 will never threaten America again."
The soldiers clad in fatigues were in a celebratory mood and greeted the president's words with thunderous applause. Before the president arrived, troops wearing combat boots broke out occasional dance moves.
But with the White House reluctant to be seen as "spiking the ball," Obama in his comments reminded the troops that the war against Al Qaeda is far from over.
That was underscored by a new Al Qaeda statement released Friday that threatened retaliation for bin Laden's death and said that Americans' "happiness will turn to sadness." Its authenticity could not be independently confirmed.
"We are aware of it. We've seen the reports," White House Press Secretary Jay Carney said earlier Friday. "What it does obviously is acknowledge the obvious, which is that Usama bin Laden was killed on Sunday night by U.S. forces. ... We're quite aware of the potential for (terrorist) activity and are highly vigilant on that matter for that reason."
Fort Campbell is home to the famous 101st Airborne Division, and many of its combat teams have returned recently from tours of duty in Afghanistan. But another draw for Obama is the 160th Special Operations Aviation Regiment, the highly specialized Army unit that carried Navy SEALs to bin Laden's compound in Pakistan five days ago.
Obama's visit to Fort Campbell, accompanied by Vice President Biden, comes a day after he traveled to New York to lay a wreath at ground zero and talk with firefighters, police officers and family members of those killed on Sept. 11.
At the same time the president was turning his focus back to the rest of his agenda and the country's struggling economy. Before arriving in Kentucky, Obama visited a plant in Indianapolis that produces transmission systems for hybrid vehicles.
He used the stop to promote his clean-energy agenda and welcome news that the economy added more than 200,000 jobs last month. "We are regaining our footing," Obama said at Allison Transmission.
April's labor market report marked the third straight month in which more than 200,000 jobs were created, the best three-month hiring spree in five years and a sign of increasing confidence in the private sector.
"We've made this progress at a time when our economy's been facing some serious headwinds," the president told workers, citing high gas prices and the earthquake in Japan.
"There will undoubtedly be some more challenges ahead, but the fact is that we are still making progress," he said. "And that proves how resilient the American economy is, and how resilient the American worker is, and that we can take a hit and we can keep on going forward."
The Associated Press contributed to this report.